So, Bella Hadid and The Weeknd Are Reportedly Hanging Out Again
Excuse me while I freak out.
---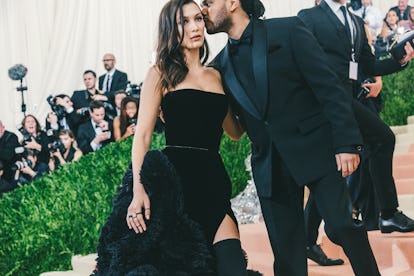 Getting back together with your ex is all the rage amongst the young and famous at the moment, so maybe it wouldn't be a shocker that The Weeknd and Bella Hadid may be very on trend.
The "Starboy" singer was photographed leaving ex-girlfriend Bella's apartment after "spending several hours there," according to a photo agency that snapped shots of him departing the building, Elle reports. The pair split in the fall of 2016 after more than a year together.
In an interview with Teen Vogue shortly after their split, Bella admitted that her breakup with The Weeknd was a lot harder on her than people may have realized. "It was my first breakup…and so public. As an outsider, you might think I handled it so well, but it's always in your heart, and you always feel it very heavily. It'll be hard for a while. Love hurts, but you have to pull through," she said. From an outsider's perspective, it definitely did seem like she was handling it well, especially when she lived the most epic breakup fantasy by casually strutting past her in lingerie while he performed at last year's Victoria's Secret show.
The Weeknd spent most of 2017 in an Instagram-official relationship with Selena Gomez (the two first publicly appeared together at the Met Gala in May), but they broke up a few weeks ago reportedly due to their busy, competing schedules. Selena has since been spotted adorably re-coupling with her most infamous ex, Justin Bieber, all over Los Angeles. Now, it seems like there's evidence to suggest that Bella and The Weeknd may be doing the same on the East Coast.
"I'll always respect him, and I'll always love him," Bella said of The Weeknd in 2016. "Sometimes you want to be sad about it or handle it differently, but at the end of the day, you never want to burn a bridge that you've fought so hard to build."
Of course, we should know by now to be careful about trying to decipher the state of Hadid's love life through paparazzi shots. She blasted multiple outlets for assuming that she had rebounded with model Jordan Kale Barrett when the two were spotted hanging out. She confirmed that the pair had more of a sibling-like bond.
So take it all with a grain of salt. Maybe the Weeknd was just finally picking up a tooth brush he left their last year. We don't know.
Related: Why Are All the Young Celebs, from Justin Bieber and Selena Gomez to Alex Turner and Alexa Chung, Getting Back Together?
See What's Trending in W Video: