Are Bella Hadid and Drake Dating? Are Jenny Slate and Jon Hamm? Or is It Just a Slow News Day?
As the summer settles in are things in Hollywood getting steamy? Or are we just desperate for Bella Hadid content?
---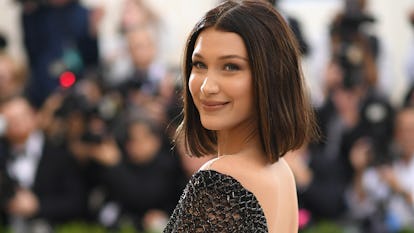 Dimitrios Kambouris/Getty Images
It was literally just a week ago that certain corners of the internet were abuzz with rumors that Bella Hadid had struck up a possible romance with fellow 'it' model Jordan Kale Barrett. The proof? Creepy paparazzi photos taking from the street of the pair hanging out at Hadid's New York City pad.
As it turns out though, the pair are just old friends, and Hadid slammed the press not only for running with the spurious gossip but for running the photos in the first place. She even publicly thought about the possibility of having to move due to the privacy invasion.
Yet, here we are a week later, and the rumor mills are once again spinning that Hadid is now maybe "a thing" with Drake. Of course, sure, at this point Drake has been linked to just about every single female celebrity under the age of fifty, but you'd think following the Barrett embarrassment there'd be a little more hesitation about rampantly declaring Hadid and anyone a possible item until at least July.
The story goes that the pair were both spotted outside West Hollywood hotspot The Nice Guy last night. They arrived at different times, but, oh boy, left around the same time at 3:30 a.m. Of course this could all be explained by the fact that, well, for a place to be considered a hot spot in the Los Angeles it's probably not uncommon at all for more than two famous faces to be there at the same time. It's also possible the pair left around the same time because the spot's hotness was cooling down.
Hollywood Life reported, however, that the pair left through separate doors and in separate cars, though the site claims that the the SUV Hadid left in belonged to Drake (he took his own Maybach).
Maybe they're the next hot couple! Maybe they're just friends (Drake is certainly friends with Hadid's ex The Weeknd)! Maybe an online gossip outlet rushed to assumption and got a fact or so wrong on the way there. Maybe Hadid will address it on Twitter like she did last week's rumors.
Or maybe she won't. Hey, at least this time around no one was aiming zoom lenses into anyone's private homes.
Meanwhile, Jon Hamm and Jenny Slate are caught up in a similar situation, but in this case they were actually leaving the same place at the same time. Paps caught them exiting a movie theater together, and, well, you know where this is going since both are currently single. Someone on Twitter has probably already declared them #Slamm (better than #Hate). Never mind that just a few weeks ago Hamm was caught leaving a movie theater with Kate Beckinsale and that apparently didn't mean anything.
Unlike Drake and Hadid, we also know that Slate and Hamm know each other. They like first met when Hamm hosted Saturday Night Live and Slate was a cast member in 2014, and more recently both starred in indie flick Aardvark. In between, they've been pictures numerous times hanging out together at awards shows and other Hollywood flicks. Here they are at the Independent Spirit Awards back in February:
Maybe its just a case of two friends hanging out. Maybe there's actually the next big 'it' couple! Maybe it's Drake who is actually dating Slate and Hamm who is wooing Hadid, and this was just a big planned fake-out to distract us all from the truth! Or maybe it's just a slow news day.
The site Lainey Gossip was the first to start the speculation, but even they admitted the pictures are a week old and they're only running them because a reader was curious.
In any event, if you're a single celebrity you probably shouldn't be spotted out and about anytime over the rest of the summer within 50 feet of another celebrity of your preferred sex lest you want to wind up on the gossip sites.
Related: Bella Hadid: "I Am Proud To Be a Muslim"
Bella Hadid, a Bubble Bath, and Jenga: What More Could You Want?: