Why Are All the Young Celebs, from Justin Bieber and Selena Gomez to Alex Turner and Alexa Chung, Getting Back Together?
It's celebrity cuffing season, everyone.
---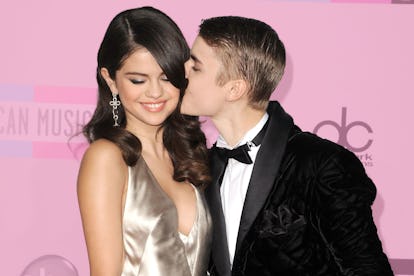 Composite. Steve Granitz/Getty Images
It took scant days from when Selena Gomez's breakup with The Weeknd was reported (though it reportedly had occurred some weeks before) to when she reunited with eternal on-again, off-again boyfriend and newly re-christened Man of God Justin Bieber. Since then, they've commenced bike-riding, attending Hillsong church services together, and swapping wardrobes—or, at least, Gomez has commenced borrowing Bieber's hockey jersey, incorporating it into a wardrobe that also includes one of The Weeknd's windbreakers.
It's been just a few weeks since Alexa Chung, who only dates people who share her name, reportedly asked a DJ to turn off an Arctic Monkeys song at a club, and yet she, too, has apparently reunited with ex-boyfriend and Arctic Monkeys frontman Alex Turner. They were spotted getting cozy at a fireworks display Sunday night, according to the British tabloid Metro, a scene straight out of a Taylor Swift song.
This is all to say that it's not just your imagination; young celebrity couples are reuniting in droves lately, whether just a few days after their last split or a few years. Could it be, even Hollywood's rising stars are obligated to participate in cuffing season? Or, alternately, it could simply be that the end of the world, looming political and environmental disaster, is a great context in which to decide if your love is really, really real—real enough to attend rugby matches and church together.
Take, for example, actress Chloë Grace Moretz and burgeoning photographer-slash-Beckham offspring Brooklyn Beckham, who were maybe, and then definitely, back on as of early fall, after breaking up at the end of last summer. Now, they're appearing on each other's Instagram stories and attending sporting events (a true mark of celebrity couple-dom, as Gomez and Bieber can apparently attest) in far-flung destinations like Dublin, Ireland, which is not where the Blarney Stone is but it sure is close.
Liam Hemsworth and Miley Cyrus, who split briefly in 2013, have apparently actually been married for six months, at least according to an anonymous "source" discussing the matter with the Australian magazine NW, which reported they married in April. This particular rumor has circulated several times before—NW, for example, had previously claimed they married at a small, spur-of-the-moment New Year's Eve ceremony in 2016, because they just really want it to be true; and an Instagram by Billy Ray back in March, in which Miley wore a dress that looked suspiciously like a wedding gown, prompted additional speculation—but really never gets old. Who doesn't love a surprise celebrity wedding with a bit of intrigue?
And, briefest of all, Cardi B broke up with Offset of Migos for all of a couple hours over Instagram Stories before they got engaged on stage in the middle of a concert. Six days later.
Of course, this particular phenomenon is not without precedent in Hollywood: Perhaps most famously, Elizabeth Taylor and Richard Burton married, and then divorced, and then married again, over a scandal-ridden decade-plus after they met on the set of Cleopatra. More recently, Miley Cyrus's own parents Tish and Billy Ray filed for divorce in 2010, reconciling the next year and then filing for divorce again in 2013. (As of last month, they had called the whole thing off again.) Angelina Jolie and Brad Pitt started talking again several months after they announced their separation—but while their divorce seems to have stalled in recent months, it's still with a healthy amount of skepticism that we approach rumors of their reconciliation.
So we leave you with this: Charlie Heaton and Natalia Dyer were recently spotted holding hands in Paris. Their relationship isn't even official yet, so, obviously, they haven't yet had the time to break up—but when they do, just hold out for the inevitable makeup.
Related: Did Justin Bieber Cancel His Tour to Dedicate Himself to God, or Just to "Ride Some Bikes"?
All the Famous Women Justin Bieber Has Been Spotted With Over the Years