Miley Cyrus "Doesn't Envision" Marriage, Despite Still Being Engaged to Liam Hemsworth
"I'm just riding this out," Cyrus casually explained while wearing her engagement ring.
---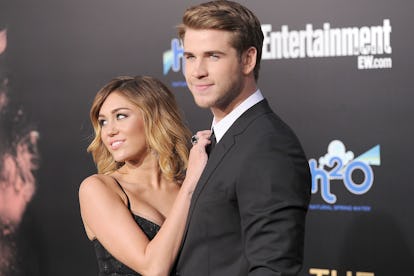 Jason Merritt/Getty Images
It was only about a month ago that Liam Hemsworth sparked the latest round of rumors that he might finally be marrying his on-and-off partner of the last seven years, Miley Cyrus, when he was seen with Miley's mom, Trish, wearing a silver wedding band on the family estate. But Cyrus is now clarifying that those rumors are most definitely false—even though she is still wearing the engagement ring Hemsworth, whom she first met in 2009 on the set of the Nicholas Sparks movie The Last Song, gave her in 2012. (The pair took a break in late 2013, but have been back together and re-engaged since the beginning of last year.)
"I'm just riding this out," Cyrus casually told the Sun on Sunday of their relationship. "I don't envision marriage. I'm 24. I hope I get to live a little bit more. I have too much living to do."
That may sound a bit flippant, but Cyrus, after all, never thought she'd get back together with Hemsworth: "Three years ago, if you'd asked me if I'd be here, this happy with this man, I'd have been stunned," she continued, adding that they "kept a great friendship really private" after breaking it off.
Still, Cyrus definitely seems glad the pair did take a break because it allowed them "to become individuals"—and apparently for the singer to gain some wisdom.
"It's good for people to have that space to grow individually. Otherwise, when you're with someone from 16 until 24, you grow into the same person," she said, adding that these days, "it feels like nothing changed except we grew up a lot."
The Many Looks of Miley Cyrus
At the 2006 Academy of Country Music Awards, Miley Cyrus donned a purple, beaded dress that would totally inspire all the middle school mean girls for their 8th grade formal.
Photo by Getty Images
At the Monster House premiere in July 2006, Cyrus dared bare some upper calf. Racy.
Photo by Getty Images
For the 2008 Grammys, the then-Hannah Montana actress attempted a more grown-up look in white Celine—a simple dress that perfectly accentuated her weirdly orange skin and lengthy extensions.
Photo by Getty Images
At the 2009 Academy Awards, the pop star bounced back to her squeaky clean image in Zuhair Murad, channeling a glitzy mermaid instead of off-duty Lindsay Lohan.
Photo by Getty Images
At a 2009 premiere of the Hannah Montana Movie, the singer-actress paired a neon pink blouse with a bohemian leather necklace, boot cut jeans, and platform sandals—a look that was undoubtedly celebrated across Tween-America.
Photo by Getty Images
At the December 2009 Jingle Bell Ball, Cyrus paired studded combat boots with metallic accessories and shimmering hot pants. A sassy hand-on-hip pose completed this I'm Not A Starlet, Take Me Seriously look.
Photo by Getty Images
Anne Hathaway, is that you? At the 2010 Academy Awards, Cyrus donned a princess-y, floor-length Jenny Packham gown and a classic up-do that forced us to do a retroactive double take.
Photo by Getty Images
With Hannah Montana in her not-so-distant past, the starlet showed some still-tattoo-less skin at the 2011 CNN Heroes event in a low-cut Roberto Cavalli dress. Unpictured: a sign that read, "I'm up here."
Photo by Getty Images
In 2012, the uneven hemline was totally ubiquitous, so the singer naturally paired her Jenny Packham gown with a dark tan and ombre curls for Muhammad Ali's Celebrity Fight Night in March. Because three overdone trends are better than one.
Photo by Getty Images
A teased coif this elaborate must have left Cyrus with little time for unimportant activities like pairing pants with her white Jean Paul Gaultier jacket at the 2012 Billboard Music Awards. Blame the hairspray.
Photo by Getty Images
For the 2013 premiere of Paranoia, Cyrus showed off her ladylike side with a mod, patchwork leather Proenza Schouler dress and white Celine pumps. And no, before you ask, they are not the same ones that she wore in 2008. Clearly.
Photo by Getty Images
At her 2013 Bangerz Record Release party, Cyrus donned a white crop top, overly distressed white jeans, and classic black-and-white creepers. And the icing on the monochromatic cake? Black star-shaped pasties that would make even Lil Kim jealous.
Photo by Getty Images
That definitely seems to be true for Cyrus; her new album might be titled Younger Now, but it's also quite intentionally a break from her previous releases, which she's lately taken to doing country covers of while wearing glittery blue cowboy boots. (Yes, that includes singles like "Party in the U.S.A." and "See You Again.")
The album's first single, "Malibu," was Cyrus's first proof of that; she wrote it about Hemsworth, whom she lives with in Malibu on a compound called Rainbow Land, which also plays host to seven dogs, two pigs, and two miniature horses, as is frequently the backdrop to Hemsworth's Instagram. The song also proves that she can hardly be accused of being unclear with Hemsworth, as one of the lyrics is "I never would've believed you if three years ago you told me I'd be here writing this song."
One thing's for certain: The engagement ring, which Cyrus told Ellen DeGeneres last year "wasn't really [her] aesthetic," definitely fits in better with her newly pared-down look than her previous one. "This is really weird because this is like, real jewelry and most of my jewelry is made out of gummy bears and cotton candy, and they don't look that good together 'cause they kind of mix up," she said. Now that she seems to have put gummy bears aside, it looks like she won't be needing to "replace it with an actual unicorn or a Looney Tune" anymore.
Miley Cyrus Bares All in W Magazine
Related: Chris Hemsworth Admits He Almost Lost Out Thor to His Younger Brother Liam Hemsworth
Miley Cyrus Gets Steamy for Planned Parenthood in Marilyn Minter's Studio: