Cardi B Shares Her Instagram Do's and Don'ts, and Why You Should Post "Every Two Hours"
The 24-year-old rapper and social media sensation has over 7 million followers for her bold and hilarious viral commentary.
---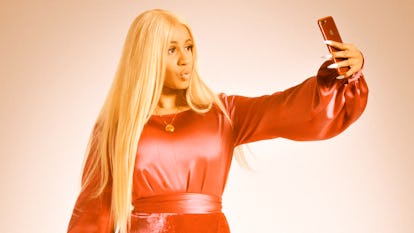 Photo by Alex Hodor-Lee.
"My personality is humongous," said Cardi B one afternoon this summer in a boastful deadpan. She then cocked her head and winked: "Just like my ass."
This is a classic Cardi-ism, meaning it could only come from the 24-year-old Bronx-born rapper who got her start as an exotic dancer and now has over 7 million people who follow her "stream-of-consciousness genius," as Fader described it, on Instagram. With fans like Solange Knowles, Remy Ma, and Taraji P. Henson in her corner, Cardi B, born Belcalis Almanzar, occupies the online space somewhere in-between Joanne the Scammer and Rihanna with her empowered, "no filter" commentary, and she's quickly climbing the ranks of the music industry, too.
In 2015, Cardi B's viral videos landed her a role on the VH1 reality television series, Love & Hip Hop: New York, but she left after only a year to pursue music full time. Today, she not only has a single with Offset of Migos, but also a rumored relationship with the rapper and a debut single of her own with Atlantic Records called "Bodak Yellow." At this year's BET Awards, she was nominated for Best New Artist and Best Female Hip-Hop Artist, and at Summer Jam 2017, Remy Ma brought her out with Young M.A., Lil Kim, and Queen Latifah, to perform Latifah's 1993 hit single "U.N.I.T.Y."
Cardi B has taken her knack for viral catchphrases and translated them into layered, hard-hitting lyrics, all of which she writers herself. When talking about Christian Louboutins on "Bodak Yellow," for example, she raps: "These expensive, these is red bottoms / These is bloody shoes," in reference to both her past and present status. Perhaps the lyrics were always there, Instagram just happened to be the perfect vehicle for them.
Below, Cardi B dishes on the do's and don'ts of the social media platform that helped introduce her humongous personality and many talents to the world.
Do you remember your first Instagram? I do! I think my handle was called @bacardibb. I used to post very promiscuous photos of myself…
Have they since been taken down? My Instagram got deleted a lot of times. I used to do rough jokes and curse a lot.
How did it make you feel to have your account deleted? You know what? The first time it got deleted, I didn't really care. But when I got really popular, and my Instagram with 100,000 followers got deleted, I felt like my world was dead. And then it got deleted again when I had 600,000 followers, and they gave me a hard time. It took almost three weeks to get it back. I was so mad and hurt at Instagram. I wanted to call them and tell them: I worked so hard to get these followers, for you to just take it away from me…I didn't do anything crazy. I'm not showing my vagina or tits. I'm not being racist. Why would you delete something I worked so hard on? It messed with my business and I had pictures from years and years ago, so it deleted my memories. They gave it back, but that wasn't the point.
Describe yourself using three emojis: The evil smiley face, because I have a mind full of evil, funny thoughts; the laughing/crying face, because I'm always laughing and making jokes; and then the side-eye emoji because people do ridiculous things that piss me off every single day, every hour.
What pisses you off on social media? Everybody has an opinion, without getting asked. Everybody wants to assume things about you and tell you how to live your life. Some people just have the meanest, harshest, dirtiest, most disgusting thoughts.
How do you block it out? It's not easy for me to block it out all the time. I'm getting better at it, because at first I felt like I couldn't handle it. I wanted to curse everyone out and I used to get depressed. I don't know if I'll ever be able to have it completely not bother me, but it's like 70 percent better.
Your fans also love you, though. How does it make you feel to see that community online? It makes me feel great. Like, I can't believe they love…me? What's so great about me?
What are some lyrics of yours that you think make the best captions? "Little bitch, you couldn't f—- with me, if you wanted to." And, "If you see me and I don't speak, that means I don't f—- with you."
How many times a day should you post? I would suggest you post every two hours.
What's the best way to slide into someone's DMs, especially if you're into the person? I don't slide; you slide into me. If you want them to slide, give a couple of likes and comments. Be consistent.
Is there a good opening line? Hahahaha and laughing emojis are always cute.
How do you tell a friend they're doing too much? You pull them to the side and say, 'I don't want people to think…' That's how you have to phrase it. For example, 'I don't want people to think that you're a hoe.'
Do you follow exes or block them? No, I want them to see me. I want you to watch me crush you.
Is there anything you would never post? I'm not as open as I used to be. I'm a little bit more filtered, and it kind of sucks, but it's the price you pay to get paid.
How do you unplug? Do what?
Unplug. What do you mean, unplug?
Like disconnect. Oh, just go to sleep. I'm on my phone 24-7. I see everything; I hear everything; I am the voice of the streets.
Watch Cardi B's "Bodak Yellow," below.
Related: Is it Ok to Ignore a Friend Request? Emily Post is Here with a New Guide to Internet Etiquette
Are you addicted to social media?