Taraji P. Henson's Years of Hard Work Has Paid Off: Now She's Invited to the White House
The Empire and Hidden Figures actress reflects on her recent successes, and how she got there.
---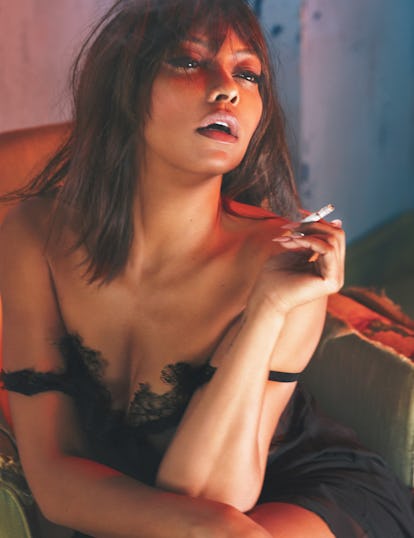 Photograph by Mert Alas & Marcus Piggott, Styled by Edward Enninful; Hair by Shay Ashual at Art Partner; makeup by Aaron de Mey at Art Partner; manicure by Mei Kawajiri for Chanel at Orme Square. Set design by Andrea Stanley and Emma Roach at Streeters.
Taraji P. Henson does not mince words when describing the Washington, D.C., in which she grew up. "Honey, I'm from the hood," she remarked during a visit to her hometown in December. "Crack. Murders. Whole neighborhoods going under in a flash." Consider it a testament to Henson's most dominant traits—her ferocity, her resolute optimism, her unshakable philosophy that life is something to be ­conquered—that she hardly seemed to find it remarkable to be recalling her hard knock roots from a decidedly more rarefied perch in the nation's capital. Inside a suite at the Four Seasons, she was curled up on a couch in a supple white robe, treating herself to a manicure, sipping a Veuve Clicquot mimosa, two days away from screening her latest movie, Hidden Figures, for Barack and Michelle Obama at the White House. "This is the life I always saw for myself," she went on. "You have to see yourself inside the dream, you know? Why you gonna do something to fail? No, baby, that ain't me! I always wanted to be one of the big dogs."
Henson, in person as onscreen, exerts a gravitational force that whips you into her exuberant orbit. As she dishes out pearls of wisdom in rat-a-tat bursts, the temptation is to compare her with Cookie Lyon, the volcanic, stereotype-subverting matriarch she has embodied with singular verve for three seasons on Empire, Fox's blockbuster hip-hop melodrama. Indeed, while the two women have some ­notable ­differences—chiefly, that Cookie is a fictional former drug dealer who served 17 years in prison, and ­Henson is a very real, 46-year-old classically trained actress who has honed her chops during two decades in Hollywood—both have a knack for bending the universe to their will. "Yeah, to a lot of people I'll now be Cookie forever, and that's all good," ­Henson said. "But I've always been like this. When I was a girl, my daddy used to pay me a dollar for every minute I could keep quiet. Most I ever made was, like, five bucks."
Watch Kate Moss, Jennifer Lopez, Taraji P. Henson and Jessica Chastain Sit for their Revealing Screen Tests
Henson's path to becoming the big dog she is today—household name, Golden Globe winner, age-defying pop phenomenon, proud owner of a new home in Los Angeles she has likened to a resort—has been a convention-­shattering study in tenacity. A mother before she graduated from Howard University, she set out for Los Angeles at 26 with $700 in her pocket and a young son, Marcell, to support. "And I spun that $700 into an empire, didn't I?" noted Henson, who over the past year published a memoir, Around the Way Girl, and released a line of cosmetics with MAC, in addition to shooting Empire and Hidden Figures. "People thought I was crazy, but being a mom early enhanced my talent. It opened up a side of me that I didn't know I had, that sense of duty and protection, and it kept me grounded in Hollywood." While other actors her age were out networking at clubs, she was prepping for PTA meetings and shuttling her son to soccer and basketball games, all while securing steady work in TV and film. Now that Marcell is an adult, Henson has "pushed play" on certain aspects of a life she had put on pause. "I'm still that young, vivacious girl, but I have the wisdom of a woman. Now I can go to the clubs and know my limit. I'm not throwing up…I'm not going home with some fool!"
From Henson's first break, as Yvette in John Singleton's 2001 Baby Boy, to her turns as Shug, the pregnant prostitute in Hustle & Flow, and Queenie, the foster mother in The Curious Case of Benjamin Button (for which Henson received an Oscar nomination), she seemed poised for stardom, only to find herself waiting for wider recognition. Still, Henson has little interest in critiquing Hollywood's notorious gender and racial biases. "Is it getting better for women, black women? I don't know. It's been great for me! I own six properties, I'm out of the hood, and my son don't know the hood." She let out an infectious cackle before growing ­serious. "Now, have they put all the zeroes on my check that I deserve?" she asked, noting that ever since Tyler Perry flew her to a meeting on his private jet, she's been hankering for one of her own. "That's the question, but not even for me because I don't write the checks. I just keep working hard, knowing it will come."
A Salute to 5 Powerful Women: Jennifer Lopez, Donatella Versace, Kate Moss, Taraji P. Henson, and Jessica Chastain
It is this inner fortitude, more than her outward swagger, that she channels as Katherine Johnson in Hidden Figures, a role Henson accepted to remind audiences that Cookie represents only one ­dimension of her talents. In the film, she delivers a subtle, masterly performance as the trailblazing African-­American mathematician who, in the segregated early 1960s, calculated the trajectories for NASA's Friendship 7 mission, which allowed John Glenn to become the first American to orbit the Earth. Whereas Cookie scalds, Katherine operates at a low simmer; for Henson, what both roles have in common is that they inspire and empower. "Growing up, math and science was for boys," she said. "I wasn't allowed to have that dream. I don't want another little girl growing up believing she can't be a rocket scientist. Fuck that!"
As Henson polished off her mimosa, her brashness ­subsided—well, somewhat—when discussing the upcoming screening with the First Family, whom she's gotten to know in recent years. "We go back," she said. "I don't have them in my speed dial, but maybe after I screen the movie." Last fall, when the Obamas invited prominent African-Americans to a party at the White House, Henson couldn't attend, because she was on set shooting Empire. "I was feeling my feelings, thinking I wasn't going to get to say goodbye to them before they left the White House." Right at that moment she received an e-mail inviting her to a final gathering celebrating President Obama's eight years in office. "Didn't I just ask for that?" she exclaimed. "You see how powerful I am?"
Suddenly, Henson grew quiet, as if for the first time recognizing how extraordinary it is to have made such fantasies a reality. "It is quite groundbreaking, isn't it? It's supposed to be over for me at 46, but here I am. I'm a late bloomer, and I'm okay with that. Know why?" She paused once more, narrowing her eyes into a catlike glower: "Late bloomers last looong."
Taraji P. Henson's Style Evolution, From Baby Boy to Empire
After roles on TV shows like ER and Smart Guy, Taraji P. Henson exploded onto the scene with the 2001 film Baby Boy. She took to the red carpet like a pro—wearing a sequined top, lace-up suede skirt, and hair accessory to the film's Century City premiere.
Photo by Getty Images.
Henson has never been afraid to deviate from style norms. Exhibit A: the printed jumpsuit, pink sunglasses, clear platforms, and pink fake flower she rocked at the Rush Hour 2 Hollywood premiere.
Photo by Getty Images.
What could be better for the premiere of The Matrix Reloaded than a black vinyl trench coat, fishnets, and pumps? Kudos to Henson for theme dressing like a pro.
Photo by Getty Images.
On theme yet again, the star stunned at Usher's 25th birthday party in 2003 in a red mini dress and white lace-up boots. The dress code was "flashback 1978" and she nailed it.
Photo by Getty Images.
Naturally, Ms. Henson dresses down occasionally. The star was decked out in denim—in her own unique way, of course—at the Fall 2005 Rock & Republic Fashion Show.
Photo by Getty Images.
The late 2000s saw a more refined Taraji. For the 2009 BET Awards, the actress kept things simple in a one-sleeve long black dress, putting the focus on her new cropped 'do.
Photo by Getty Images.
The star took a more retro approach for the premiere of The Karate Kid in L.A. with a metallic shift dress, low black sandals, and a silky asymmetric bob.
Photo by Getty Images.
Still rocking the asymmetric bob, Henson showed up at a 2014 screening of No Good Deed in a vermillion crop top, matching pencil skirt, metallic pumps and a lavender mani.
Photo by Getty Images.
Henson attended the 2015 Met Gala with designer Alexander Wang, shining in one of his black and white dresses for Balenciaga. Picture perfect? We think so.
Photo by Getty Images.
The actress wowed in a strapless black Alexander Wang dress at the 19th annual Accessories Council ACE awards.
The actress continued her fashion world takeover at the CFDA Awards. With smoldering smoky eyes, glittering shoes, and a custom Vera Wang gown, Henson stole the show.
Photo by Getty Images.
The actress wore a perfectly-fitted black Alexander Wang Pre-Fall 2016 dress with silver grommets to the designer's show at New York Fashion Week.

Getty Images
Henson looked chic in a mini Emanuel Ungaro dress at the premiere of Empire.

Getty Images