Christian Louboutin, World's Most Famous Shoe Designer, Dips His Toes in Fragrance
He talks about his debut trio of scents, his good friend Frederic Malle, and designing fragrance just like shoes. "According to your mood or your moves, your fragrance is going to change," Louboutin says.
---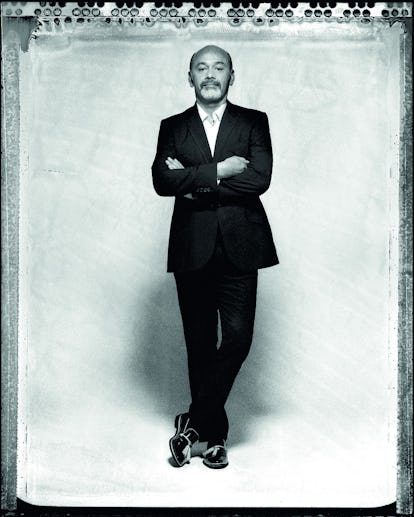 Christian Louboutin's childhood security blanket was scented.
"I'd put my father's scent on a handkerchief and smell it as I watched TV with my sisters," the French footwear designer, who has just debuted his first range of women's fragrances, recalled. "I couldn't have been older than ten."
The world's most famous footwear designer, who has also done nail polish and makeup lines, drew upon his longstanding relationship with scents for his new trio of perfumes – Bikini Questa Sera, Tornade Blonde, and Trouble in Heaven. Turns out the man is quite the scent aficionado. Just don't ask him to wear vetiver.
So, why three fragrances? I didn't set out do three, I just could not reduce down to one. When we started, there were a lot [of selections]. Then I was narrowing it down and narrowing it down. At one point, it was down to five that I really liked, but two of the five were quite similar. I finally narrowed down to three, and then I couldn't narrow down anymore. They are quite different, and I like it that way. Also, it's connected to my personal story. I have three sisters, so often I narrow things down to three. It's like the idea of a best friend, you know? I can't say, 'Ok. This one is my best friend.'
It's confining. They smell different on different skins, too. Also, a woman can be wearing one in the morning and another at night. That's also how I function.
Do you address shoemaking similarly? When you're designing your shoes, do you have different sisters in mind when you're designing different styles? Absolutely. I'm building a family, basically, of the shoes. Sometimes, for instance, I have a strappy sandal, then I have another strappy sandal and another. I'm thinking, 'If I'm a girl and I'm a strappy sandal type of girl, which one would I go for?' I probably keep that one because you may not need too many strappy sandals. I'm always thinking let's try to keep the essence of every shoe in a few versions.
Well, as soon as I asked that question, I thought it's silly to compare how many pairs of shoes we wear compared to how many fragrances. It's usually more limited with fragrance. It's definitely more limited for fragrance, but I have this one friend who's close like a sister and she wears a few fragrances. If she travels to a hot country, she's not going to have the same scent, because her skin reacts differently to the heat. According to your mood or your moves, your fragrance is going to change.
Would you consider your sisters to be your muses for fragrance? Or, certain women? No, not my muses for fragrance, but it's been reshaping the way I see women. Even during 24 hours, you see a different person. That's what makes a personality, it's what makes life. To me, it's always been difficult to reduce women down to one kind. Impossible.
But did you have any female friends about whom you were thinking, "She would wear this one" or "She would like that one." Yeah, and I was often wrong.
Ha! Really? I was often wrong, but I was wrong on people who are very, very loving of fragrances, because suddenly a new fragrance was needed and they added something they didn't already have. For instance, my sister Ferida, clearly she's a Trouble in Heaven lady, but then she smelled Bikini Questa Sera and she became a Bikini Questa Sera lady. She prefers that scent because she doesn't have it already and she loves it.
Do you have any interest in making men's fragrances? Yes, absolutely. It's exciting because, first of all, I'm a man. I've been working on it but it's a long process. I don't dislike the long process in the sense that I'm not in a rush, so I really want to take my time. It will really make sense in a lot of ways. Not only the smell, but the story.
Have you always worn scent? Always cologne, 4711. You know where it came from? There was a pharmacy and they were selling it there. I loved the packaging. It was exactly like this blue ring you're wearing. I smelled it and I liked it and I kept it.
Oh, sure! Actually there was this [other] one from when I was a kid. I would put it on a handkerchief and smell it while I was watching TV, probably getting high [off it], I guess. It was called Eau Cologne Amber by Mont St Michel. I always did that at my parents' apartment. I love that smell of amber. And, also Caron Pour un Homme.
Did it make you feel comfortable? Why did you do it? Well, I was not at the age to go out and wear it. I was like 10 or 11, so I was watching TV with my sisters. I just liked the smell. I didn't like the idea of having it on me, but just like licking an ice cream cone, I liked to have it close to me. Instead of eating an ice cream, I was holding my handkerchief.
Your security blanket was scented… The other one I've been wearing a lot is Frederic Malle Bigarade Cologne.
That one gets a lot of love. It's popular. But you know, he did that one because of me. I'm quite proud of that. I've known him and his entire family for a long, long time. I told him to open a shop. I said, take the shop opposite mine on the street. Do a bloody shop, it's not that difficult! Because he sort of was reluctant. I said, "You should do it. If I can do it, you can do it." He's much smarter than I am. At one point, he asked what I wear, I said, I always wear cologne. He said, "I'll try to do a cologne and you tell me what you think". So he did Bigarade, which was his first men's. He started because I said I would not wear a big scent, only cologne. It's perfume, but it's very cologne-ish. He does others, which are fine. But when I wear Eau d'Hiver, it turns metallic. And I love his Vetiver Extraordinaire, but I have an allergy to vetiver.
What's your favorite look on a woman? Bright, open eyes, or sleepy eyes. That's one of my favorite things.
Meaning bed-face in the morning? No. Half-closed eyes, looking down. I love that look.
What beauty look on women do you not get? Purple lips. Lavender, light purple lips. It looks like the person is dead. It looks like you have no blood at all.
If we pulled back your shower curtain, what would we find? Frederic Malle shower gels and Aesop cleansers.
What's in your dopp kit? My beard trimmer, that's very important. My toothbrush and Email Diamant toothpaste. It's fantastic. There's a bullfighter on it. It's like a song. Diamond animal in French.
What products can't you live without? Actually, I love Kiehl's. Those moisturizers. Also, I cannot live without Granado and their black soaps from Brazil. It's a fantastic company.
Where do you get your hair cut? In general, when I'm at a shoot, I ask. Honestly, a gardener could do it. it's very easy.
Are there women's products you envy or wish you could borrow? Probably hair spray, because it would mean I'd have big volume above my head!
Getting Ready for Tom Ford's New York Show with Cindy Crawford