OG Female Rapper Remy Ma Is a Member of The Wing, Remembers Going to the Grammys 12 Years Ago
The female rapper Remy Ma got her first Grammy nomination in 2005 for "Lean Back," which she wrote with Fat Joe. Today, she's back after six years in prison with two more nominations and a membership at The Wing.
---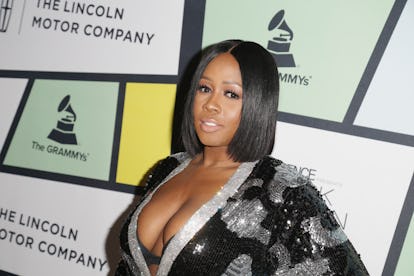 Leon Bennett
The legendary female MC Remy Ma received her first Grammy nomination in 2005 for "Lean Back," which she wrote with Fat Joe as a member of the Terror Squad. And nearly 12 years later, after serving six years in prison, she's back with two more Grammy nominations: Best Rap Song and Best Rap Performance for the club banger/prayer "All the Way Up."
Born in the Castle Hill Projects in the Bronx, Remy (born Reminisce Mackie Smith) was first discovered by the late MC Big Pun. After his death in 2000 though, she was taken under the wing of Fat Joe and the Terror Squad. Ma released her first solo album, There's Something About Remy: Based on a True Story in 2006, which was bookended by public feuds with Foxy Brown and Nicky Minaj. But a year later, Ma would turn herself in to the New York authorities. She was sentenced to eight years in prison for assault and illegal weapon possession, and while still in the courthouse, she married her now-husband, the rapper Papoose.
When Ma was finally released in 2014, not only had the music industry changed, but also culture as a whole. To be a public figure again, she had to compete with artists who were in elementary school when she left, plus she had to figure out Twitter and Instagram. But she's a fast learner—today, she has a combined social media following of almost 3.5 million. In 2015, she joined the cast of VH1's Love & Hip Hop: New York, and in 2016, she became a founding member of women's social club The Wing. Before attending the Grammys for the first time in 12 years, she offered up her culture diet.
What's the first thing you do in the morning? I'm doing this diet right now, so I weigh myself.
Books that changed your life: You know what, most people would probably say this deep book, but I would say the book that changed my life was Stephen King and Peter Straub's The Talisman. It totally took my imagination somewhere else. When I read it, I was probably around five or six-years-old. It was the first book my mom ever gave me, and since then, I've been a super huge fan of Stephen King and everything I read relates to his genre. Right now, I'm been reading Acheron by Sherrilyn Kenyon. It's 1,500 pages and it's other-worldly. I've actually read it before, but I'm one of those weirdos that goes back and re-reads books.
Do you read horoscopes? I didn't used to, but a friend of mine who I met when I was away [in prison]—she was the first person I met and we've been friends ever since—she pointed out to me how much of a gemini I was. I realized that everyone I relate to is a Gemini, like the Tupacs and the Biggies and the Left Eyes and the Prices and the Busta Rhymes…and the Donald Trumps and Kanye Wests… Geminis say what they want and don't care what people think.
Are you binge-watching any TV shows right now? Right now I'm all about HGTV and the DIY channel. I live to decorate and design. I recently bought a house and I'm probably going to spend the next four months of my life turning it into something else. I watch those shows and I'm like, I know I can do this! I wake up and watch them; I go to sleep and watch them; I watch them on demand. It's sick. If I ever meet Chip and Joanna I might kiss them.
Do you decorate your house with any art, or are you mostly just into interior design? I'm not really into art, but you can catch me in Lowe's or Home Depot in the paint section. My kids call me "Bob the Builder." They'll come home and be like, "Where's the furniture?" and I'll be like, "Oh, it didn't go with the new paint color I'm about to throw on."
What about movies? Have you seen any in theaters recently, or watched at home? You guys must have eyes on me! I went to the movies last night. I'm a moviehead and my movie selection is related to my book selection. I went to see Fantastic Beasts. But I love Harry Potter and Lord of the Rings. I watched Labyrinth growing up. My favorite movies though—I like adventure, but I also like horror—so I would have to say, The Amityville Horror and The NeverEnding Story. Growing up, my step-dad owned a video store, so everyone had a VCR in their room and we saw every movie when it came out.
Your tweets read like rhymes. How do you approach Twitter? The thing with Twitter is, I kind of missed the Twitter era. When I was away, Twitter became big, and then when I came home it wasn't as popular as Instagram. So, when I go on Twitter, it's when I want to say something to-the-point. I take freestyles and tweet every four bars. I feel like when I space out each stanza, you have to really listen to it and get the message. And people respect that. We're at a point in music where people really care about the bars and the music and what you're saying. It's cool to have a great beat, a great hook, and to be able to dance, but it's also fun to have wordplay. You can catch me with a logic puzzle. When I'm writing, I'm trying to engage peoples' minds. And when I put it on Twitter, it's my time to give people something to think about.
You're a member of The Wing, which is super cool. Want to tell me about that? Well! Firstly, you're absolutely right—it is super cool! I'm super cool! [Laughs.] Audrey Gelman started the whole thing and she's like this little ball of firecracker yummy greatness. She expressed that she was a fan of mine and went through all these people to reach me to tell me that she wanted me to be a founding member. When I went to the opening, I was like, Alright, are we going to be bashing guys here? And I'm cool with that—I love my husband, but I love my girls, too. And it ended up being just so empowering. There were so many different women from so many different walks of life. Everyone was just positive—nobody was hating on anyone else; nobody was being catty; nobody was giving anyone the side-eye or looking them up and down. It was a really good feeling. It also didn't hurt that there is the cutest vanity room. And the food was good, too. The Wing is really something we need though. I wish that moment I felt at The Wing—if I could have that in the rap industry, I think females would be at such a better state in the hip-hop community. I want all my sisters and peers to feel like they're the best and can conquer the world. I should start a Wing for the rap industry, right?
You were at the Grammys 12 years ago in 2005. Do you have any memories from when you were there? Misa Hylton styled me, who styled everyone from Missy Elliott to Mary J. Blige to Lil Kim. She made me these pink leather booty shorts with a deep v-cut jacket to match. I also wore these thigh-high rose gold pink leather boots. Fat Joe ditched me. He was like, "We're going against The Black Eyed Peas, we're never going to win." But I went, and I sat all the way in the back next to Musiq Soulchild. We were drinking and laughing, but he left after 15 minutes! So I sat there by myself for the rest of the show, and The Black Eyed Peas won. I think I went to an after party, but I don't really remember. By that point, I had so many of the free martinis floating around, I'm not sure where I went! But it wasn't about winning, I was just happy to be acknowledged. Same goes for today, to be nominated not once but twice after all that I've been through and so many people telling me, "You're done; no one comes home from prison is able to come back; you're not rapping like people rap now." But we rap how we rap and are true to us, and it turned into something that wasn't just a dope club record, but also an inspirational record where kids are putting 'all the way up' on their caps and gowns, or people like me who are running their life away on a treadmill are playing it and thinking that nothing's going to stop them.
What's the last thing you do before you go to bed? As much as I can, I try to pray and acknowledge my blessings.