Selena Gomez's Go-To Power Move, Apparently, Is Wearing Her Exes' Clothes
She's doing fine, just fine.
---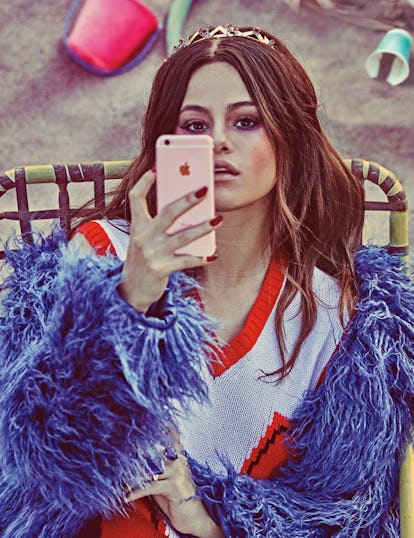 Selena Gomez has been keeping busy since her recent split from Abel Tesfaye, better known as The Weeknd. She has biked around Los Angeles on her mint green fixed-gear bike (both with and without her other notable ex, Justin Bieber); she attended a hockey game (Bieber's hockey game, to be precise); and she went to church (with Bieber).
Amid all the time she's been spending with Bieber—they have reportedly been on four "dates" in the past week, prompting rumors and anonymously sourced stories about their reconciliation—she has still managed to none-too-subtly remind everyone, and perhaps The Weeknd most of all, that the demise of Hollywood's foremost Renaissance nude-loving couple is still fresh. Gomez was photographed wearing The Weeknd's teal '80s-looking windbreaker on one of her bike jaunts on Halloween—the jacket, last seen on the singer himself while he was out on a walk with Gomez, even coordinates perfectly with her bike. After all, who among us has not declined to return a specific cool jacket or oversized sweater in the wake of a breakup?
But things get more interesting when one considers a recent selfie The Weeknd posted to his Instagram, in which he wears a black-and-white baseball jacket that bears an uncanny resemblance to the jacket Justin Bieber wore in 2013 when he showed up unannounced at Gomez's 21st birthday party, accompanied by Jaden Smith and a single rose, in the midst of an apparent off-period during their on-again, off-again saga. The Weeknd posted his selfie just hours after their breakup was reported over the weekend. Since then, however, he's been spotted in the club, sans jacket, avec a new woman who is neither Gomez nor Bella Hadid, who doesn't care, anyways.
Regardless of the subliminal messaging of one baseball jacket, "Abel is not upset about Selena and Justin hanging out," an "insider" told E! News. (After all, he has continued liking her posts, even if he unfollowed her family on Instagram.) "Their relationship was over before they were hanging out. Abel is not dwelling over anything." (More recently, other "sources" told TMZ The Weeknd initiated the breakup several weeks ago, as their relationship had already grown taut due to the pressures of his tour schedule and her film schedule.)
On Wednesday, after Gomez cheered on Bieber from the bleachers at his hockey game, she was again spotted in an ex's look—only this time it was Bieber's, and it was a hockey jersey. Perhaps Gomez simply doesn't own a hockey jersey of her own, or perhaps she's accumulating trophies from fallen exes, carrying them around town with a look of sheer joy on her face as an emblem that she is doing fine, just fine.
A brief history of Justin Bieber's dating timeline: