Selena Gomez and The Weeknd: A Robust Post-Breakup Timeline
Selena Gomez and The Weeknd have reportedly ended their 10-month-long relationship, but the two seem to be moving on very quickly.
---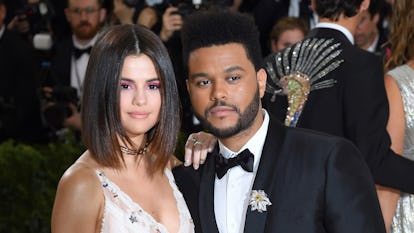 Karwai Tang/WireImage/Getty Images
In the week after a 10-month-long relationship that felt like it went on for years, Selena Gomez and The Weeknd appear to have already moved on. While the Met Gala—where they made their official debut as a couple—feels like forever ago, and despite the fact that the two very recently took things to the next level by sharing an apartment and adopting a puppy, Selena Gomez and The Weeknd are reportedly over. While there's no official report yet on who will get custody of their pup, moving on does not seem to be much of a burden for either of the pop stars thus far.
Both pop stars have been very busy. The Weeknd is performing on an international tour, and Selena has had her hands full with a whirlwind of press due to the rekindling of a platonic friendship with her ex Justin Bieber, the release of her new single, and opening up about her experience with lupus.
While TMZ reported on October 24 that Justin Bieber had been hanging out with Selena Gomez at her house, it was also reported that The Weeknd was totally fine with it, and was not present because he is currently on tour. But when she was spotted less than a week later on October 29, hanging out with her ex at a post-church meal, alarm bells went off for fans of the couple, signaling that the end was nigh. According to People, Selena and The Weeknd have been discussing the end of their relationship for a few months, and while she and Bieber are nothing more than platonic, that old saying about couples who pray together and stay together rings louder and louder in the ears of "Jelena" hopefuls each day. As Selena would say, "the heart wants what it wants."
Two days before the breakup was announced, and the very same day Selena was spotted at brunch with her ex, Justin Bieber posted this captionless zen selfie to Instagram. What ever could have been on his mind? Had he already known that Selena and The Weeknd were done?
The day after her brunch with Bieber, NBC aired an interview with Savannah Guthrie, in which Gomez discussed her struggle with lupus and kidney transplant, donated by close friend and fellow actor Francia Raísa. After receiving support online in response to her emotional interview on NBC, Selena appeared to be taking the breakup well, and posted videos on Instagram of herself biking past a high school while blasting her new single, "Wolves," on October 30.
The Weeknd, on the other hand, was spotted in a video obtained by TMZ, rebounding in the club with a new girl who is definitely not Selena on October 30 in Toronto. She is definitely not Bella Hadid, either (and don't ask Hadid what she thinks about the now-fizzled relationship because, according to her mom, she doesn't care). While he has yet to unfollow Selena, fans spotted that The Weeknd recently unfollowed all of her family and friends on social media. Coupled with the fact that Selena had not been to her now ex-boyfriend's latest shows on tour, it's safe to say that the two are not gearing up to get back together any time soon.
It remains to be seen which Canadian cutie Selena will end up with next, but in the meantime we can only hope that we will eventually get a follow-up to her rendition of this post-breakup classic.
Related: Selena Gomez and Francia Raísa Reveal the Story of Their Kidney Transplant In a NBC Interview