Selena Gomez and Francia Raísa Reveal the Story of Their Kidney Transplant In a NBC Interview
It's their first interview since the surgery.
---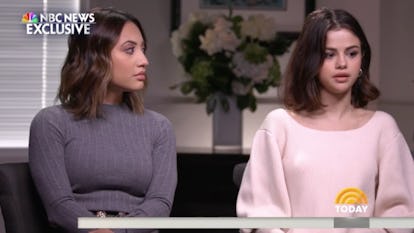 NBC News
After sharing that she had undergone a kidney transplant using a kidney donated by her close friend Francia Raísa, Selena Gomez promised her fans that she would tell them the full story "soon." Apparently, that "soon" is sooner than we thought: Selena and Francia recently sat down for an emotional interview about the procedure with NBC anchor Savannah Guthrie that will air next week.
Savannah teased a short clip from the interview on Friday's episode of Today. In the clip, a tearful Selena sits next to Francia and says, "My kidneys were just done. That was it. And I didn't want to ask a single person in my life, and that was the day I came home when I found out. And she volunteered and did it."
Later on in the video, when Savannah asks Selena about her feeling that Francia saved her life, the "Wolves" singer responds: "Because she did. That's—that's it." She adds, "I guess I got to the point where it was really kind of life or death."
The interview will air in full on Today on Monday and Tuesday morning, and on the NBC Nightly News on Monday night.
Selena, 25, revealed to her fans that she had undergone the operation over the summer in an Instagram post in September that included photos of her and Francia holding hands in side-by-side hospital beds, and another of her surgery scars. "I'm very aware some of my fans had noticed I was laying low for part of the summer and questioning why I wasn't promoting my new music, which I was extremely proud of," she wrote. "So I found out I needed to get a kidney transplant due to my Lupus and was recovering. It was what I needed to do for my overall health. I honestly look forward to sharing with you, soon my journey through these past several months as I have always wanted to do with you. Until then I want to publicly thank my family and incredible team of doctors for everything they have done for me prior to and post-surgery."
She continued, "And finally, there aren't words to describe how I can possibly thank my beautiful friend Francia Raísa. She gave me the ultimate gift and sacrifice by donating her kidney to me. I am incredibly blessed. I love you so much sis. Lupus continues to be very misunderstood but progress is being made. For more information regarding Lupus please go to the Lupus Research Alliance website: www.lupusresearch.org/ – by grace through faith."
Francia, 29, also shared the photo of them together in the hospital on Instagram. "I am beyond grateful that God would trust me with something that not only saved a life, but changed mine in the process. This was part of our story, and we will share it soon, but what is important now is that this is not the only story," she wrote. "For more information regarding Lupus, please go to the Lupus Research Alliance website: www.lupusresearch.org — Love you sis, so glad we're on this journey together. ❤️ xx"
Related: Francia Raísa's Instagram Post About Donating a Kidney to Selena Gomez Will Make You CRY