Selena Gomez Reveals She Received a Kidney Transplant This Summer
The donor was her longtime friend, actress Francia Raisa.
---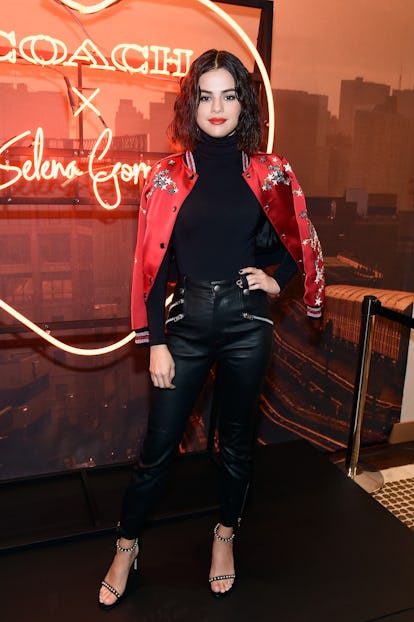 Kevin Mazur/Getty Images
Earlier this year, Selena Gomez released a handful of new songs, including the Talking Heads-sampling "Bad Liar." But aside from a few days when she was spotted shooting her new Woody Allen film with Timothée Chalamet and Elle Fanning, as well as a memorable appearance at the Coach Spring 2018 show, Gomez has been more reclusive than one might expect for an artist with a new, ubiquitous contender for song of the summer.
In an Instagram post on Thursday, Gomez addressed the questions about her whereabouts face-on, revealing that earlier this summer, she underwent a kidney transplant as part of her ongoing treatment for lupus. "Some of my fans had noticed I was laying low for part of the summer and questioning why I wasn't promoting my new music," she wrote in the new post, assuring her fans she was "extremely proud" of the new tracks. "I found out I needed to get a kidney transplant due to my lupus and was recovering. It was what I needed to do for my overall health," she added.
Gomez's explanation captions an image of herself in a hospital bed, hand-in-hand with her friend, the actress Francia Raisa, who donated a kidney. (In the second image of the post, Gomez reveals a gnarly looking incision site—that is one way to get a doctor's note excusing all radio-promo absences.) Their friendship is a well-documented one: Earlier in the summer, Raisa hitched a ride on Gomez's celebratory birthday road trip; and perhaps most fortifying of all shared best-friendship experiences, they attended a 2013 Beyoncé show during her Mrs. Carter tour. (Raisa, 29, was a regular on The Secret Life of the American Teenager throughout its four-season duration.)
"There aren't words to describe how I can possibly thank my beautiful friend Francia Raisa," Gomez wrote on Instagram. "I am incredibly blessed. I love you so much sis."
Gomez plans to share further details of her "journey through these past several months, as I have always wanted to do," she assured her readers in Thursday morning's post. Over the past two years, since she first publicly revealed her diagnosis in 2015, he musician and actress has been open about her struggle with the autoimmune condition and the psychological toll it takes; last year, she took her leave in the middle of a world tour to focus on her health, checking herself into a rehab facility in Tennessee (an experience she detailed in a recent Vogue cover story).
"My self-esteem was shot. I was depressed, anxious. I started to have panic attacks right before getting onstage, or right after leaving the stage. Basically I felt I wasn't good enough, wasn't capable," she told Vogue in the April story. But she entered treatment, and has been seeing a therapist regularly: "I wish more people would talk about therapy," she said. "We girls, we're taught to be almost too resilient, to be strong and sexy and cool and laid-back, the girl who's down. We also need to feel allowed to fall apart."
Behind the scenes of Selena Gomez's W magazine cover shoot: