Like Selena Gomez, Emma Roberts Considers Her Dream Coach Bag
The actress, fresh off the Toronto film festival, took in Coach's Spring 2018 show—and imagines her personalized Coach bag.
---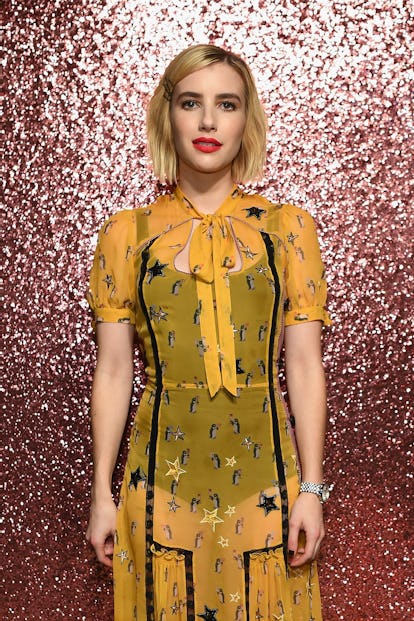 Dave Kotinsky
The Coach Spring 2018 show was, in a word, sparkly.
There was the set, a black glitter-encrusted carpet that filled the cavernous event space—Basketball City, Pier 36's very enjoyably-named recreation hall—which was decorated with a centerpiece installation that included a dilapidated house frame, a few stray walls tilted at a precarious angle, and a vintage car, all covered in that same dark glitter.
There were the clothes, an update on designer Stuart Vevers' Americana-fueled aesthetic. His signature boxy jackets and prairie dresses were given an evening upgrade, without losing the cool factor, as slouchier fits were embellished with crystal appliques and glittering fabrics. The shows were also twinkly, an ongoing trend of the week at large.
And then there was the front row, predictably star-studded as ever. Sitting pretty behind a velvet rope—a fashion week first by many accounts—was Selena Gomez, the celebrated face of the brand and arguably one of the biggest celebrities to make a front row appearance this week outside of Tom Ford's showing. The singer—again, comfortably separated from the general public thanks to the aforementioned velvet rope—chatted with her seatmates Anna Wintour and bestie Petra Collins. Further down the row, James Franco made a low-key appearance in a yellow flannel shirt, separated by the rest of the celebrity set by a good 20 seats.
Franco had just come into town from the Toronto film festival, where he premiered his film the The Disaster Artist. Also fresh off the festival was Emma Roberts, looking not even slightly rumpled from the busy weekend up North.
"It was really fun. I love Toronto," Roberts said. "I actually just did a movie there for two months called Little Italy, which is a romantic comedy, so it was fun to get to go back there. I had a movie called Who We Are Now with Zachary Quinto and Julianne Nicholson, and I am obsessed with both of them. They make me life so hard, which is ironic because the movie is so sad. And yet, I had the most fun time out there promoting it with them."
Roberts was taking a moment post-show to greet Vevers backstage before heading outside into the madness that surrounds any venue where Gomez is currently inhabiting. And there were hundreds of fans hoping to get a glimpse of the singer and her self-designed Coach bag. It was backstage that the actress, who noted she "loves" Gomez's design, pondered what an Emma Roberts handbag might look like. "I love any mini-bags," she said. "I used to like big bags because I could carry so much stuff, but now I am all about the mini-bags. So I would definitely do a mini Emma bag."
In the meantime, she already had a pretty great bag to tote around—and one that looked completely new. "Well, that's because Stuart had made it for me last night and then brought it to me when I arrived at the show," she explained. "I feel very lucky. It feels quite surreal to have been such a fan of shows my whole life and want to go to shows, and then to have Stuart hand delivering a purse to me for Coach's fashion show is kind of amazing."
Speaking of, what did she think of the show? "I am obsessed," she said. "I'm going to go out and say this is one of my favorite fashion week shows that I've ever been to. Between the hair and makeup, the looks, and the music, I was really feeling all of it. Every Coach show, I want everything, but this one even more so, because there were more pants than normal. I'm a pants girl. And I liked that there were clothes you can wear to an event and clothes you can wear to a friend's barbecue."
The sparkles also helped. "I did reach down on the ground and touch the sparkles, because I didn't know if it was sparkle carpet or real sparkles," she said. "I will tell you, it was real sparkles."
James Franco Used to Pick Up Girls Working at a McDonald's Drive Thru