Selena Gomez's Coach Collection Is Here, and Comes With Some Inspirational Messages
The singer has collaborated with the brand on a small collection of leather goods and accessories.
---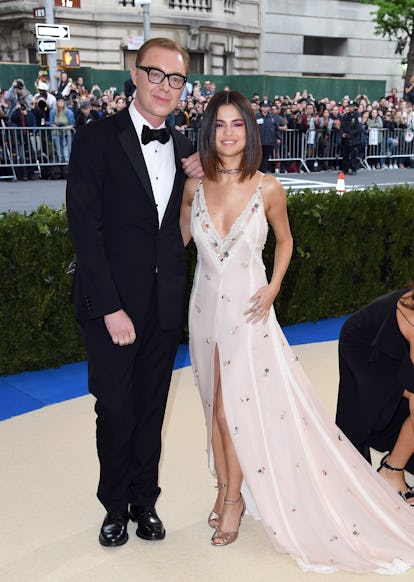 Karwai Tang
The new era of Selena Gomez, handbag designer, is here.
Today, Coach unveiled the long-awaited Coach x Selena Gomez collection, a limited offering of small leather goods and accessories, including that holiest of items: the Selena Grace bag. Co-designed by Gomez and Coach creative director Stuart Vevers, the Selena Grace is a chic, lady-like double-handled carryall available in three new colors: Selena Black Cherry, a dark purple hue, Selena White, a creamy off-white, and Selena Red, a proper cherry red. The bag also features a hangtag featuring the singer's signature, as well as a patch fastened inside the bag with the message, "To be you is to be strong."
But it's another saying embossed on the bag that may just break the Internet: "Love yourself first." Sound familiar? Yes, Gomez's very famous ex, Justin Bieber, had a hit song called "Love Yourself" last year. But before we get ahead of ourselves, Bieber didn't even write the ditty—Ed Sheeran famously had songwriting credits on that one—and it's a phrase that Gomez has had tattooed in Arabic on her back since 2014. Case closed.
The collaboration, which also features an offering of wristlets, key-chains, and coin purses, comes nine months after it was first reported that the multi-hyphenate—and most followed person on Instagram—had signed a deal with the brand. "Stuart Vevers—he's an angel," Gomez told InStyle for her September issue cover interview. "He was just so open at figuring out our collaboration. If I'm working in film or writing or producing or fashion, I want to be surrounded by the best people so I can grow. I'm really proud of what I created."
The Coach x Selena Gomez collection will be available for pre-order online beginning on August 14th, and will hit stores on September 1st—just in time for back-to-school shopping. Additionally, beginning this Friday, avid Gomez fans—Selenators, for the Internet set—can enter online or in-stores to win a signed Selena Grace bag, with one grand prize winner also receiving a trip for two to meet Gomez in person during New York Fashion Week.
See images of Gomez's new bag, and more, here:
Related: Selena Gomez's First Coach Campaign Has Arrived, and It Was Shot by Steven Meisel
Watch all of W's trending videos, here:
Selena Gomez's Style Evolution, From Disney Days to Fashion Forward Superstar
Selena Gomez arrives to the 23 Annual IMAGEN Awards on August 21, 2008 in Beverly Hills, California.

Getty
Selena Gomez arrives at the Teen Choice Awards 2009 held at the Gibson Amphitheatre on August 9, 2009 in Universal City, California.

Getty
Selena Gomez arrives at the 2009 ALMA Awards at Royce Hall on the UCLA Campus on September 17, 2009 in Westwood, Los Angeles, California.

Getty
Selena Gomez arrives at the People's Choice Awards in Los Angeles, California on January 5, 2011.

Getty
Selena Gomez arrives at Nickelodeon's 23rd Annual Kids' Choice Awards held at UCLA's Pauley Pavilion on March 27, 2010 in Los Angeles, California.

Getty
Selena Gomez attends the "Justin Bieber: Never Say Never" Los Angeles Premiere at Nokia Theatre L.A. Live on February 8, 2011 in Los Angeles, California.

Getty
Selena Gomez arrives at The 53rd Annual GRAMMY Awards held at Staples Center on February 13, 2011 in Los Angeles, California.

Getty
Selena Gomez arrives at the Vanity Fair Oscar party hosted by Graydon Carter held at Sunset Tower on February 27, 2011 in West Hollywood, California.

Getty
Selena Gomez arrives at the 2011 American Music Awards held at Nokia Theatre L.A. LIVE on November 20, 2011 in Los Angeles, California.

Getty
Selena Gomez arrives at Nickelodeon's 24th Annual Kids' Choice Awards at Galen Center on April 2, 2011 in Los Angeles, California.

Getty
Selena Gomez attends the 2012 Nickelodeon Kids' Choice Awards at Galen Center on March 31, 2012 in Los Angeles, California.

Getty
Selena Gomez arrives at the 2012 Vanity Fair Oscar Party at Sunset Tower on February 26, 2012 in West Hollywood, California.

Getty
Selena Gomez arrives at the 2012 Teen Choice Awards at Gibson Amphitheatre on July 22, 2012 in Universal City, California.

Getty
Selena Gomez arrives at the 2013 Billboard Music Awards at MGM Grand Hotel & Casino on May 19, 2013 in Las Vegas, Nevada.

Getty
Selena Gomez attends the German premiere of 'Spring Breakers' at the cinestar Potsdamer Platz on February 19, 2013 in Berlin, Germany.

Getty
Selena Gomez attends the 2013 Vanity Fair Oscar party at Sunset Tower on February 24, 2013 in West Hollywood, California.

Getty
Selena Gomez attends the 2013 Teen Choice Awards at Gibson Amphitheatre on August 11, 2013 in Universal City, California.

Getty
Selena Gomez attends the 2014 LACMA Art + Film Gala Honoring Barbara Kruger And Quentin Tarantino Presented By Gucci at LACMA on November 1, 2014 in Los Angeles, California.

Getty
Selena Gomez arrives at the "Rudderless" – Los Angeles VIP Screening at the Vista Theatre on October 7, 2014 in Los Angeles, California.

Getty
Selena Gomez arrives at the 2015 Vanity Fair Oscar Party Hosted By Graydon Carter at Wallis Annenberg Center for the Performing Arts on February 22, 2015 in Beverly Hills, California.

Getty
Selena Gomez attends the premiere of 'Getaway' presented by Warner Bros. Pictures at Regency Village Theatre on August 26, 2013 in Westwood, California.

Getty
Selena Gomez attends the 2014 American Music Awards at Nokia Theatre L.A. Live on November 23, 2014 in Los Angeles, California.

Getty
Selena Gomez attends the "China: Through The Looking Glass" Costume Institute Benefit Gala at the Metropolitan Museum of Art on May 4, 2015 in New York City.

Getty
Selena Gomez attends the 2014 Vanity Fair Oscar Party hosted by Graydon Carter on March 2, 2014 in West Hollywood, California.

Getty
Selena Gomez arrives to the 2015 MTV Video Music Awards at Microsoft Theater on August 30, 2015 in Los Angeles, California.

Getty
Selena Gomez attends 2015 Glamour Women Of The Year Awards at Carnegie Hall on November 9, 2015 in New York City.

Getty
Selena Gomez arrives at The 58th GRAMMY Awards at Staples Center on February 15, 2016 in Los Angeles, California.

Getty
Selena Gomez arrives at the 6th Biennial UNICEF Ball at the Beverly Wilshire Four Seasons Hotel on January 12, 2016 in Beverly Hills, California.

Getty
Selena Gomez arrives at the 2015 American Music Awards at Microsoft Theater on November 22, 2015 in Los Angeles, California.

Getty
Selena Gomez arrives at the 2016 Vanity Fair Oscar Party Hosted By Graydon Carter at Wallis Annenberg Center for the Performing Arts on February 28, 2016 in Beverly Hills, California.

Getty