Selena Gomez Signed a Reported $10 Million Deal with Coach
Selena Gomez, Instagram's most followed star, just cashed in on her influence with a mega-deal with Coach.
---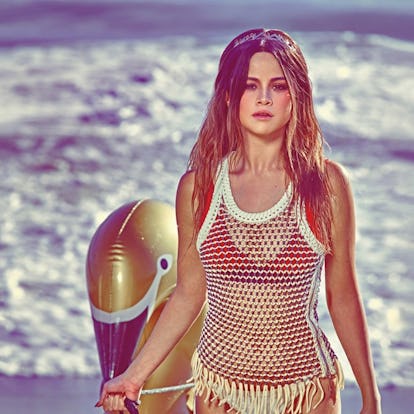 Photography by Steven Klein. Styled by Patti Wilson.
In the influencer economy followers are currency, and no one is richer than Selena Gomez. The pop star and actress is the most followed person on Instagram, and she's just cashed in on her title in a big way. She's reportedly signed a $10 million dollar deal with Coach to be the new face of the company. The deal also reportedly gives Gomez the possibility to design her own line with the brand.
Despite being widely admired, Gomez's flirtation with high fashion has been tentative. She was recently one of the faces of Louis Vuitton's Series 5 campaign, but she shared the spotlight with several models. Aside from that, Gomez's previous forays into fashion included a line with K-Mart, a deal with Adidas Neo, and a nail polish selection with OPI.
Which sorts of makes her stand out against the rest of Instagram's top most followed celebrities. Beyoncé and Cristiano Ronaldo both at one point had deals with Armani. Nicki Minaj served as the face of Roberto Cavalli for a bit. Kylie Jenner is one of the current faces of Alexander Wang, and her sister Kendall is, well, pretty much everywhere in fashion at the moment. Bieber has his CK underwear ads, and Kim Kardashian's is Balmain's muse.
The only others with anywhere near Gomez's Instagram clout without a high (or at least higher) fashion deal at this point are Ariana Grande (who, did, at least have a MAC Cosmetics campaign), Dwyane "The Rock: Johnson (which, actually could be a great opportunity for the right brand, maybe…), and Taylor Swift (who, if she's not too expensive anyway, seems to prefer to keep her appeal alligned with products that are totally mainstream and attainable).
The deal also caps off something of an image makeover for Coach. The brand has recently undergone a massive business realignment. The company recently slashed the number of department stores their products are available in. The move was in part to avoid the fate of its products ending up deeply discounted on the clearance rack with the ultimate goal of repositioning itself as a higher end brand. All of this comes as Coach just capped off its year-long 75th-anniversary celebration, and, reportedly, tried to merge itself Burberry. An unsuccessful attempt, but Coach is clearly thinking big at the moment.
Selena Gomez too has gone through a period of reinvention. She spent a good chunk of 2016 out of the spotlight while dealing with anxiety, but has recently reemerged in the public eye. Most notably with a moving speech at the American Music Awards.
"I think it's safe to say that all of you know my life whether I like it or not. I had to stop because I had everything and I was absolutely broken inside," she told the crowd after winning the trophy for Favorite Female Artist — Pop/Rock. "If you are broken you do not have to stay broken."