Selena Gomez's First Coach Campaign Has Arrived, and It Was Shot by Steven Meisel
The singer appears moody and backseat relegated in the Fall 2017 images.
---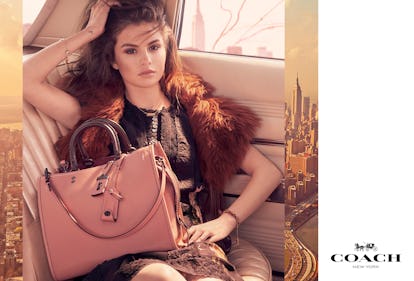 Get ready to see even more of Selena Gomez.
Today, Coach released its Fall 2017 advertising campaign—the first fronted by Gomez since signing a reported $10 million deal with the brand back in December. So what does a $10 million campaign look like? Let's break it down.
Since taking over the helm of the brand in 2013, creative director Stuart Vevers has assembled a all-star crew, led by photographer Steven Meisel, to execute the Coach advertising images, and this go-around is no different. Meisel once again has lensed the campaign, with Karl Templer styling, creative direction by Fabien Baron, makeup by Pat McGrath, and hair by Guido Palau.
The theme of the campaign is a girl about to embark on a road-trip—thought apparently not one she'll be piloting. The images see Gomez slumped in the backseat of a car, specifically, a 1976 Plymouth Fury, further cementing Vevers' seeming obsession with vintage vehicles, which have appeared both as cartoon-like imagery on clothing and full-scale as runway show centerpieces. The clothes, the intended focal point of the pictures, include frilly, floral dresses and shearling toppers, both new classics for Coach under Vevers' creative direction. "Selena is a rebel and a romantic, a dreamer and a doer who boldly charts her own course," said Vevers in a statement about the new campaign. "To me, she speaks to a generation; she connects."
Gomez's participation will extend beyond the print images, as well. To coincide with the fall collection launch, the brand will also debut three short films, each based around a key bag style. Each film will be focused around Gomez preparing for a night out on the town.
If there was any doubt about whether that major investment will pay off, look no further than this year's Met Gala. Gomez wore custom Coach to the event—where she also debuted her new romance with The Weeknd—and posted three images of herself wearing the gown (with @Coach tagged, of course).
By the next morning, they would make up the top three most liked pictures from the entire event. It's good to hang out with the most popular girl on Instagram.
Behind the Scenes of Selena Gomez's W Magazine Cover Shoot
Selena Gomez Wore the Perfect Summer Outfit