Stuart Vevers Gives Coach a Cool New Spin
As Coach celebrates its 75th anniversary, Stuart Vevers, an Englishman obsessed with all things American, talks about his plans for the classic brand.
---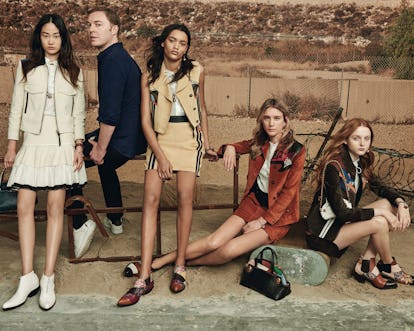 Photographer: Chris Colls Stylist: Patrick Mackie
Of all the public figures fashion designers have cited as inspiration, Bruce Springsteen has got to be among the most unlikely. Beat-up leather jacket, worn jeans and a T-shirt, scuffed boots—he dresses like the guys he sings about: solid types who work hard, spend Friday nights in a bar, and wouldn't know taupe from mauve. But Stuart Vevers, 42, the English designer charged with engineering a "reset" at Coach, the American leather-goods house, looks at Springsteen and sees the distilled essence of style—a personal signature based on clothes that are reliable and unself-conscious, with an integrity that rises above the trends. **
In the end, the choice of Springsteen as muse seems no more surprising than Coach's declared mission these days: to provide the world with what Victor Luis, the company's president and CEO, calls "American luxury"—a term that not so long ago would have been dismissed as an oxymoron. European, aristocratic, formal, rendered in precious materials, in limited quantities, luxury has traditionally come at a price high enough to ensure that not many people could afford it. "Exclusive" is an adjective you don't hear much anymore, but there was a time when it was routinely—and unapologetically—broadcast as a selling point. And though political correctness has put a damper on its use in advertising, the concept lies just beneath the polished and buffed surface of the most prestigious brands.
"American luxury" still has a vaguely brazen, pretender-to-the-throne kind of ring, as if the country that gave the world denim had suddenly decided to dress up in brocade. The philosophy behind this strategy is luxury without the elitism. "I'm not interested in making a lesser version of European luxury," Vevers says. "I want to make a different version of -luxury"—not exclusive but "inclusive," priced within the reach of many more people. Where luxury has been a grown-up affair, Vevers celebrates youth culture and its sense of unlimited possibility, which Americans of all ages seem to consider their lifelong prerogative.
Since his arrival at Coach five seasons ago, Vevers has introduced patchwork-leather baseball jackets, biker jackets, high-top sneakers, a limited-edition collaboration with Peanuts, and silk peasant tops and miniskirts in tiny floral prints reminiscent of "everything from Little House on the Prairie to Badlands." He thinks of the clothes as "youthful," not so much indicative of an age as of a frame of mind that's optimistic, with a disregard for the rules. "Maybe the old codes aren't relevant anymore," he says. He seems an unassuming revolutionary—tall, with close-cropped red hair, dressed in a gray sweater and jeans, with a thoughtful intensity and a kind demeanor. "I've been privileged to work at some of the finest luxury brands at their highest moments, and the idea of challenging that and doing something different and pushing things in a new direction is exciting to me."
Born and raised in Doncaster, in South Yorkshire, the industrial north of England, Vevers describes his background as modest, with parents who left school at 15 and wanted something better for him and his younger brother, Martin. At art school in nearby Carlisle, Vevers received a general training in architecture, fine arts, illustration, graphic design, and fashion. At age 19, he moved to London to continue his fashion studies and pursue a career. Part of that education, he claims, was immersion in club culture. "I just went out all the time," he says. "That's how I learned about fashion and found out a lot about myself."
Vevers eventually landed stints at Bottega Veneta, Louis Vuitton, Mulberry, and, most recently, Loewe, where he was tasked with revitalizing the Madrid leather-goods house. In 2013, he was recruited by Coach. On the basis of his résumé, he was an obvious choice, since he already understood leather. But, more important, he also had an appreciation for the American Dream—uncomplicated by the backlog of disillusionment most of us have acquired in the course of dealing with American reality.
For the five years preceding his arrival at Coach, Vevers took annual vacations in the United States, venturing on road trips, following the glamorous examples of Bonnie and Clyde, Thelma and Louise, Peter Fonda and Dennis Hopper. "Well, not quite a road trip," he allows. Since he doesn't know how to drive, he and a friend explored the country via Amtrak (which in this day and age seems like an accomplishment). They would disembark at "the most random places," sometimes on the basis of nothing more than the time of day. "You sleep on the train and then get off at 10 in the morning, and you just happen to be in the middle of nowhere. And normally, the trains come maybe every couple of days, so you spend time in that place, then get back on the train at the same time two days later." The adventures that ensued helped to shape his version of America, together with the mix of impressions formed by the American music (the Beastie Boys, Janet Jackson) and movies (My Own Private Idaho, Pretty in Pink, Manhattan) he loved growing up. "Working Girl is one of my favorite films of all time," he says. "I love the idea that anything is possible, that you can achieve anything if you put your mind to it."
Coach was founded in New York in 1941 as a small, family-owned manufacturer of wallets and billfolds, with offices and a factory on West 34th Street. Shortly after, Miles Cahn and his wife, Lillian, both of whom had a background in handbag production and distribution, joined the company, and by 1950 they were running it. Coach credits Miles with the idea of building a product line around glove-tanned leather, then more commonly used for baseball mitts, processed to become softer and more supple with use. It was Lillian who suggested that they branch out into bags for women. In 1962 they hired Bonnie Cashin, a designer who was at the forefront of a new genre: American sportswear.
Cashin had a knack for reconciling the whimsical (vivid colors, contrasting linings in madras plaid or raw silk) with the practical (bags within bags, bags with an outer pocket for tickets, tips, or lists). In the first of a series of seasonal brochures that spanned the 12 years Cashin steered the brand, Coach described her style as "elegant casual." Cashin announced the crusade she would wage on behalf of busy women like herself, "very much involved in activity outside of the home," whose purses contained not only money but everything they needed to be their own secretaries and beauticians. Her solution was a family of coordinated "things for carrying things": wallets, "junk sacs," coin purses, key holders, notebooks, eyeglass cases, clutch bags, and "even a flask," all of which fit inside her Cashin Carry totes, modeled on a paper shopping bag and collapsible, for packing flat in a suitcase.
The totes were a runaway success, so universally copied that Women's Wear Daily quoted a rival manufacturer, who, apparently without qualms, declared, "It's the biggest bag in my line this season!" By 1965, Coach was turning them out in three sizes and 14 colors. The press was rhapsodic. "She might have invented suburbia as a fashion influence," the Chicago Tribune asserted. "I had not talked to her for five minutes before I recognized that rare thing—an individual with a point of view so passionately held that it amounts to a philosophy for living," said a writer in the Belfast Telegraph.
In any number of ways, Cashin seems to have been ahead of her own time and relevant to ours, with innovations we now take for granted as part of fashion's standard vocabulary. She made creative use of industrial chain. She devised a turn lock—inspired, she claimed, by the fasteners on the cover for a convertible—which became the brand's signature hardware, identifying a product as Coach without a logo or a visible label. She urged women not to choose black (though Coach offered it) just because it would go with everything—a fashion strategy she condemned as "pure dull"—and to resist buying items to match, opting instead for colors that would harmonize.
Before the thirst for luxury became epidemic in the 1980s, Coach was a brand that everyday Americans aspired to. Luis recalls first seeing the company's ads in The New Yorker and wondering when he graduated from high school whether he could afford a Coach briefcase. (He didn't get the briefcase, but he did receive a Coach wallet in college as a gift.) Coach has the virtue of having figured in the lives of an especially broad customer base over the course of several generations, for whom the brand remains enshrined in memory—and that is something a company can't buy.
This spring, as part of its 75th anniversary celebration, Coach will offer a selection of refurbished vintage bags with Paddle8, the online auction house. Coach stores now reference New York, with giant black and white photos of the city proclaiming the brand's hometown (a new flagship opens this year on Fifth Avenue). There is still a workroom on the premises at the company's headquarters, on West 34th Street, staffed by five master craftsmen and eight patternmakers from a half-dozen countries, whom Massimiliano Arbo, the Florentine who oversees them, describes with pride as an extension of the design team. The company will soon move from its original building to a new tower overlooking the High Line, in Chelsea, but for the time being the archives are housed in a climate-controlled basement room, where Jed Winokur, the brand's archivist, tends to a selection of bags and other products. Displayed in glass cases are items dating from the 1940s to last season, and, apart from a few relics of their particular eras (a transistor radio case, a desktop lighter), most are sufficiently classic that they are difficult to date. There are men's dopp kits, attaché cases, overnight bags. Cashin's collections are easily identified by their colors and contrasting linings. By the mid-'70s she's gone, and the palette turns earth-toned; the bags become less structured, more bohemian. In the '80s there's a bag commissioned as part of the uniform for United Airlines flight attendants.
And then come bags in exotic skins, needlepoint, jacquard woven with a signature C, as, in 1996, Coach branched out under Reed Krakoff's direction. There are new items (a dog carrier) and collaborations with artists (Laurie Simmons, James Nares). Together, Krakoff and Lew Frankfort, then chairman and CEO, steered Coach into territory it would eventually share with Michael Kors and other brands that might not qualify as "luxury" in the mind of the industry observer whose attention is trained on the top tier of the market but that nonetheless represent something valuable and desirable for their own following. There were people who aspired to Coach, and then there were those who aspired to Hermès or Gucci or any number of other "designer" brands. Now Luis and Vevers want those people, too, and they aim to get them not by raising prices but by creating products with a cool factor.
"The French have chic," Vevers says. "Americans have cool. It's in their psyche. Like biker—it's eternally cool. I'm playing with things that we already know and have a nostalgia for, but I'm putting them together in a way that feels fresh." With Vevers, Coach is making the move from accessories brand with occasional outerwear to full-range fashion house, with men's and women's clothing and shoes, shown on a runway. He has intentionally avoided creating a total look that might be construed as the "Coach silhouette"—instead, the collection is a group of loosely related items that can stand on their own or work together, with no agenda beyond "enjoying fashion." In an era that fetishizes handbags, he has scored big with the Swagger Bag, currently being spun out in an array of four sizes, new materials, and contrasting three-color combinations. Vevers took the name from Canadian skateboarders he follows on Instagram.
The brand's history and its heritage are, he claims, a "touchstone," but in the end, his goal is to make something "completely contemporary." For fall, he designed a group titled Super Vintage; the pieces looked like they might have been Coach, from an indeterminate past that he invented. "We all have nostalgia for things that aren't necessarily there, for things that aren't real," Vevers says. "So it's a fictional nostalgia sometimes." Similarly, the flagship stores will house an area that's a throwback to an era that never was, where leather craftsmen, wearing aprons that Vevers designed, repair and refurbish customers' own Coach bags—a service that used to be performed out of sight, in the factory, with a weeks-long wait; they also monogram and personalize new bags. In a gesture that seems a flashback to some more ceremonious time, salespeople place the bag you've asked to see on suede mats they unfold on the countertop.
Coach today is a brand that seems to be speaking with a single voice—not Vevers's voice but the voice of consensus on the part of his team. At a mid-December review of samples for the spring men's collection, a dozen members of the design studio gather around a table too small to seat them all. Vevers, restless, moves from a seat at the table to another along the windows, at times standing, as if to view the coats from a distance, the way a passerby might see them on the street, or sitting on the floor to examine the shoes up close. Keith Warren, the director of women's ready-to-wear, whose English accent echoes Vevers's, occupies the seat closest to the fit model, as designers for different categories present their progress, beginning with Tony Ngo, the senior director of men's ready-to-wear. A lightweight zip-front shearling bomber jacket with rectangular patches: "The collar is too small," Ngo says preemptively. Vevers: "It's a cute thing, though." Warren wonders if "a tighter vintage fit" might be better—"I'm thinking Bruce Springsteen in the '70s. Because that's what gives it personality. Otherwise, it just turns into a mushy luxury product."
Were Springsteen to wander in, he would need a translator to help him interpret all the references ricocheting around the room. Giorgio Armani, Prada, PF Flyers: Any resemblance to these is to be avoided. L.L. Bean: This is fine. Warren pronounces one enormous jacket "daft Patagonia," which is good.
A blue plaid mohair sweater and a matching cardigan—like a twinset for men—follows. A woman sitting away from the table suggests that "they might be good for girls too." A blonde wearing glasses, green nail polish, and suspenders agrees: "I like guys' sweaters. They're much more flattering." Vevers has brought an approach that back in the '70s would have been labeled "unisex," with certain styles made in a broad range of sizes, for both men and women.
A comparison of three boots brings on a brief brand-identity crisis, as Warren wonders aloud, "Is it too basic? I don't know where our personality comes in." Vevers asks whether the leather should be sanded? Treated? "To me, it looks a bit poor," Warren says. "I don't mind unlined," Vevers replies. "But it needs to be more than well made; it has to be thought through." Laura Santisi, who heads the team for shoes, chimes in: "We were all attracted to the beat-up one. It just looks like something Bruce Springsteen should wear."
Though Vevers came to Springsteen's music in the late '80s, he now finds himself listening more to the mid-'70s classics like "Born to Run." He describes himself as "an obsessive pop fan." Music for him is more than entertainment. "There's some kind of relationship between what I love in music and what I love in fashion. People can be very dismissive of a three-minute pop record. But I think the perfect song can be the kind of thing that stays with you your whole life—like the music you heard when you first kissed, like your favorite piece of clothing growing up."
He tries out a leather backpack with lacing and a woven pocket, mashing it to test its shape. "I don't know about you," he says to the assembled team, "but for me, it doesn't do what was in my head. It's too sophisticated and polite." Various members attempt to zero in on exactly what's wrong with it, but no one can figure out how to save it, and in the end it dies for lack of enthusiasm, a casualty of the editing process. If Springsteen carried a backpack, it wouldn't be this one.
Photos: Stuart Vevers Gives Coach a Cool New Spin
Stuart Vevers, with photographer and Coach muse Frances Tulk-Hart (second from right) and models.

Photographer: Chris Colls Stylist: Patrick Mackie
Coach muse and actress Atlanta de Cadenet Taylor (second from right), with models.

Photographer: Chris Colls Stylist: Patrick Mackie
Coach muses Tulk-Hart, DJ Kitty Cash, and singer-songwriter Sophie Auster, with models. All muses and models wear Coach (throughout).

Photographer: Chris Colls Stylist: Patrick Mackie
All muses and models wear Coach.

Hair by Ben Skervin for Oribe at Streeters; makeup by Frankie Boyd for Dior at Tim Howard Management. Set design by Stefan Beckman at Exposure NY. Models: Valery Kaufman and Harleth Kuusik at the Society Management; Hyun Ji Shin, Lameka Fox, and Madison Stubbington at IMG Models.

Digital technician: Mike Bogart; photography assistants: Dean Podmore, Jimi Franklin; fashion assistant: Karly Grawin.

Photographer: Chris Colls Stylist: Patrick Mackie
Hair by Ben Skervin for Oribe at Streeters; makeup by Frankie Boyd for Dior at Tim Howard Management. Set design by Stefan Beckman at Exposure NY. Models: Valery Kaufman and Harleth Kuusik at the Society Management; Hyun Ji Shin, Lameka Fox, and Madison Stubbington at IMG Models. Digital technician: Mike Bogart; photography assistants: Dean Podmore, Jimi Franklin; fashion assistant: Karly Grawin.