Selena Gomez and Justin Bieber Are on Speaking Terms Again — Thanks to Church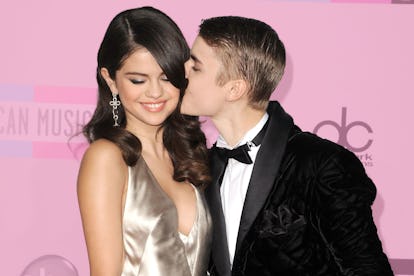 Composite. Steve Granitz/Getty Images
As they say, the Holy Spirit works in mysterious ways. Selena Gomez and Justin Bieber, who famously dated on and off for a few years before finally calling it quits in 2014, are reportedly back on speaking terms, thanks in part to their mutually held religious beliefs.
Per separate reports in Us Weekly and Entertainment Tonight, the duo is rekindling a platonic friendship partially due to the fact that they attend the same the church. Selena was apparently the one who initially encouraged Justin to become a member of the youth-leaning Hillsong Church, which is a favorite among many Hollywood stars.
"Selena is still with The Weeknd, and she only sees Justin as a friend," a source told ET. "Selena is the one who got Justin involved in this church. It was her attempt to help turn his life around, and it really did help. He's really committed to it and has formed a strong network. So, they have a lot of mutual friends now from that."
Her outlook on life after her lupus diagnosis and subsequent kidney transplant also apparently contributed to this rekindling with the Biebs. "Selena is simply trying to make peace with Justin after her illness," another source told Us Weekly. "He has been great to her since her surgery and they are on good terms right now. They got back in touch recently through their friends and have seen each other at church….The community there is pretty tight-knit and Justin and Selena have a lot of mutual friends who brought them back together."
Both publications were quick to note that Selena and The Weeknd are still very much a happy couple, so don't expect a third-act betrayal involving Justin. In fact, The Weeknd reportedly "doesn't care" at all about the duo reconnecting. Thus, seems like Selena can have both that same old (friend) love and new romance.
Related: Did Justin Bieber Cancel His Tour to Dedicate Himself to God, or Just to "Ride Some Bikes"?
All the Famous Women Justin Bieber Has Been Spotted With Over the Years: