Kris Jenner Finally Opens Up About Her Daughters Pregnancies: "It's Like a Faucet That We Turned On and Won't Turn Off"
She saved it for the Kardashian's E! holiday special, of course.
---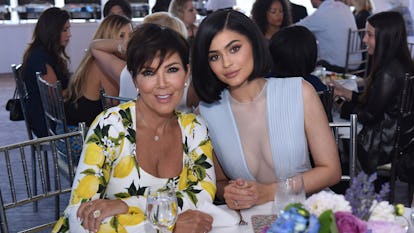 Vivien Killilea/SinfulColors/Getty Images
When you are Kris Jenner, matriarch of the most famous family in America, how do you narrow down just one thing that you are thankful for come the holiday season? Well, we found out on Sunday evening, when, in lieu of typical Keeping Up With the Kardashians hijinks, E! aired the much-hyped A Very Kardashian Holiday special..
The special was so hyped, both by the network and the Kardashians themselves, that many speculated that the family might finally address or—gasp—confirm the rumors that both Kylie and Khloe are pregnant, in addition to Kim's already confirmed pregnancy-by-surrogate. So, did Santa come early?
Not quite. But we did get one particularly telling scene, featuring Kim, Kylie, and Khloe, sharing Thanksgiving dinner (what "holiday" the special was focused on was a bit unclear), and explaining what the were grateful for that year. After Kylie announced she was thankful for Kris, the momager broke down in tears. "I used to pray that one of you guys would have a baby; now it is like a faucet that we turned on and it won't turn off," she said, "The fact that I have all of my grandchildren, it has been the most amazing journey to watch your kids because it is truly the meaning of life."
So not exactly a confirmation, but that may be all we're getting until Christmas Day. Or, the actual birth announcement. Who knows with this family.
What the special did reveal, however, is some insight into Kardashian family Christmas traditions. Among them: gingerbread house decorating, ice-skating, and, of course, Kris's infamous, over-the-top Christmas Eve party. And it seems this year that Kim is taking over, complete with control over the guest list. So who has been naughty and who has been nice? Making the cut this year: Tom Hanks, Hailey Baldwin, Cindy Crawford, and old family friends, the Hiltons.
Related: [The Kardashians Spent Thanksgiving Preparing For Motherhood and Promoting Their Black Friday Deals] (https://www.wmagazine.com/story/kardashians-thanksgiving-black-friday-deals)
Watch: Here Are the Real Heroes of the Kardashian Jenner Family Empire