Kylie Jenner Reportedly Wants to Be Completely Out of the Spotlight While Pregnant
"Her body is changing and she's very self-conscious about it."
---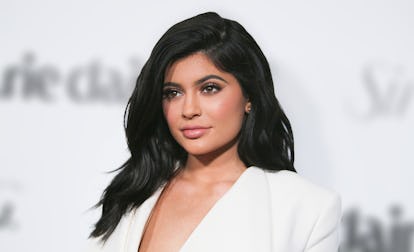 David Livingston/Getty Images
Who needs a red carpet when a Netflix queue and Seamless concierge are equally enticing options.
Kylie Jenner is reportedly learning this all too well in recent weeks, as she's pulling a 180 from her usual spotlight—and social media-loving tendencies—in order to lead a much quieter life while pregnant with her first child. Per a report in People, Jenner—who, as a reminder, has not yet confirmed or denied her pregnancy with her boyfriend Travis Scott—is eschewing the public eye while her body is changing.
"Kylie is only trusting her closest friends and her sisters right now. She wants to reveal things on her own terms but she's of course having fun teasing everyone. She knows all the attention is on her and her baby bump, but she won't share until she wants to," one of People's legion of sources explained. "Her body is changing and she's very self-conscious about it. She's always been insecure that she's not as curvy or pretty as her sisters."
However, another source continued to say that Jenner's boyfriend of about a year, Scott, has been nothing but a devoted presence to her during this time. "Travis is so excited about the baby. They're both trying to enjoy this time for themselves and keep it private as long as they can. They know it's going to be a frenzy when they do come out," this source explained. "Travis is crazy about Kylie and he feels so lucky to have her and the baby. The family has been welcoming—they know how important it is to Kylie that everyone gets along…They spend time away from the spotlight and he's been supportive."
As we wrote earlier this week, reports about Jenner's pregnancy have bordered on fan fiction at this point—there are a slew of rumors that include she's having a girl (or a boy), that she threw herself a massive yet secret baby shower, and that she and Scott are actually engaged. Keeping up with the Kardashians has really just reached a whole new level.
A Celebration of Kylie Jenner's 20 Years of Not Letting the Critics Get Her Down