The Kardashians Spent Thanksgiving Preparing For Motherhood and Promoting Their Black Friday Deals
Never a day off for these ladies.
---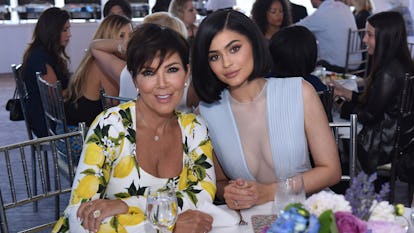 Vivien Killilea/SinfulColors/Getty Images
If all the pregnancy rumors are to be believed, next year's Thanksgiving at the Kardashian-Jenner household will be a bit more crowded, with Kylie, Khloe, and Kim all welcoming new babies in the new year. So this year, before the chaos of three new infants descends upon the family, the ladies of Calabasas did what they do best: host an over-the-top affair and promote cosmetics on social media.
The youngest of the sisters, Kylie, hosted Thanksgiving dinner, posting a series of Snapchats showcasing her many dessert offerings and the tablescape: lip-kit inspired chairs in different shades of pink paired with plenty of white flowers, and white china plates with the words "Thankful" engraved on them. She also posted a video of mom Kris Jenner casually lounging in a white, fluffy swing, presumably digesting post-meal. Then she also shared a quick shot of playing cards with the caption, "Family Taboo." Celebrities, they're just like us?
Based on social media clues—which were scarce, a rarity for a big Kardashian holiday; perhaps too many baby bumps to hide this time around—Kourtney, Kendall, and Kim were all in attendance, which each of the sisters posting some type of image of the food up for grabs. Meanwhile, Khloe hosted her own dinner party in Cleveland, where she lives with boyfriend and alleged soon-to-be father of her children, Tristan Thompson, where she shared the entire process of making her Thanksgiving feast on Snapchat.
One thing the sisters did not hold back on, however, was promoting their Black Friday deals on their various cosmetics brands. Kim revealed that she would be restocking all three of her fragrances for the occasion, as well as offering thirty percent off her KKW contour kits, as well as free shipping on fragrances. Meanwhile, Kylie is one-upping her big sister, with forty percent off her lipkits. Hey, diapers don't come cheap.
Related: Kim Kardashian Reveals Her Skincare, Makeup and Fitness Secrets (Including Why She Endorses Wearing a Girdle)
Here Are the Real Heroes of the Kardashian Jenner Family Empire