Kim Kardashian Reveals Her Skincare, Makeup and Fitness Secrets (Including Why She Endorses Wearing a Girdle)
Beauty guru Kim Kardashian tells all.
---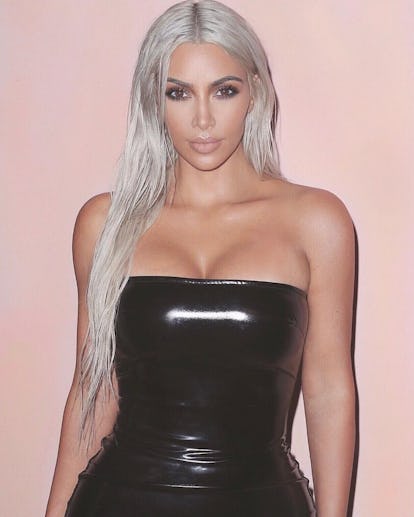 @kimkardashian
Earlier today, Kim Kardashian released the campaign for her much-anticipated KKW fragrance, but she was already one of the biggest names in beauty. And it makes sense: no one knows how to look good in the public eye better than Kardashian.
So, how does she do it all? In a candid interview, the mogul reveals breaks down her skincare and beauty product essentials, her best tips and tricks for a flawless glow, and why wearing bold brows with platinum locks in the ultimate beauty look.
Medicine cabinet snapshot:
I change my skincare up all the time because I love to use new products. I wash my face with a foaming cleanser. I need it to foam!
I love Dr. Lancer cleanse ($55, neimanmarcus.com). Then I use a hyaluronic acid and then a La Mer serum and then a thick moisturizer on top that changes from either Guerlain or Dr. Lancer moisturizer. After I have a clean face, even if I'm going for a fresh look, I use my KKW beauty contour sticks to warm up my face, then highlight.
Good skin starts with:
Moisturizer! I am obsessed with thick moisturizer like Guerlain.
Best advice from your dermatologist:
Exfoliate. I love my dermatologists, Dr. Lancer exfoliator.
Best advice from your facialist:
Wear sunscreen.
SPF of choice:
I love Dr. Barbara Sturm Sun Drops ($145, bergdorfgoodman.com).
Makeup miracles:
I can't live without my KKW Beauty Lip Liner that is coming out soon! I love to overline my upper lip.
Most underrated product:
Kevyn Aucoin concealer (we all need it, lol) and Tarte Shape Tape.
Never leave the house without:
Warmed up skin! I use my contour sticks and blend it to give my face warmth and when I don't have time for a full face of foundation.
A good hair day starts with:
Ouai dry shampoo.
My hair colorist always says:
Put Olaplex on my hair since it's been so bleached.
Nails must be:
Hydrated! Always use cuticle oil. I love this bottle called Nail Magic. It makes me happy because it's such a big bottle! I also love little cuticle oil pens like SpaRitual.
Beauty from the inside out:
I take Dr. Barbara Sturm Skin Food ($95,nordstrom.com) for beauty from the inside out.
Exercise obsession:
I work out for an hour and a half. We weight train so hardcore.
Drink of choice:
Just water. I'm trying to drink lots of water, but I recently had a matcha latte and it was so good.
Product that you picked up from the pros:
It's from Chris Appleton and it's to make sure I don't overheat my hair and it has to be hydrated, so every night I have to put Olaplex on it and sleep in it.
A woman should smell like:
My new Crystal Gardenia fragrance.
Appointment you'd love to nab:
Anastasia for brows! Every time I see her my life changes and my brows look heavenly.
Spa-cation at:
Any Aman hotel because they are gorgeously serene and have the best spas.
TSA-friendly essentials:
I love bringing mini products anyway. La Mer has the best travel-size products. When I travel, I bring a little bag filled with their hand cream, serum and moisturizer and fully hydrate on the plane.
In-tub must-read:
I love reading magazines and never get the time, so I would take advantage of a fun time for a good magazine, even a home mag like Architectural Digest.
Best advice from mom:
Always wash your makeup off and use a warm washcloth.
Best-kept beauty secret:
Wear a girdle or waist trainer! I wore them a lot after I had my babies. I will even workout in them when I want to slim my waist out.
Beauty myth you'd like to debunk:
The beauty myth that your brows should always match your hair. I completely disagree. It can be more flattering if your brows are darker than your hair to warm up your face. Dark brows can be bold especially if your hair is platinum.
7 Times Kim Kardashian's Hair Was Ahead of the Game in 2017
Sporting an ultra sleek, shoulder grazing bob at the 2017 Met Gala, Kardashian proves she can rock any hair length.

Getty.
Taking her hair to new lengths, Kardashian shows up at the Balmain event with slick straight, ultra long locks.

@chrisappleton1
Experimenting with color, Kardashian takes on the the pastel pink rocked by other A-listers Cara Delevingne and Nicki Minaj.

@kimkardashian
Kardashian goes platinum blonde during New York Fashion Week, showcasing her freshly dyed locks at the Tom Ford Spring 2018 show.
As the new bombshell waves of the red carpet, Kardashian rocks a signature, sleek high ponytail

@kimkardashian
Returning to a shoulder skimming lob, Kardashian tries on her platinum locks for a change.

@chrisappleton1
Unveiling on Snapchat an even shorter bob, Kardashian took to social media to ask her fans, "Do we like it or is it too short?".

@kimkardashiansnap