The Best Wellness Spas in America According to Gwyneth Paltrow, Nicole Richie and More
From Gwyneth Paltrow to Nicole Richie, here, a celebrity approved health and wellness resort guide to plan your fall escape.
---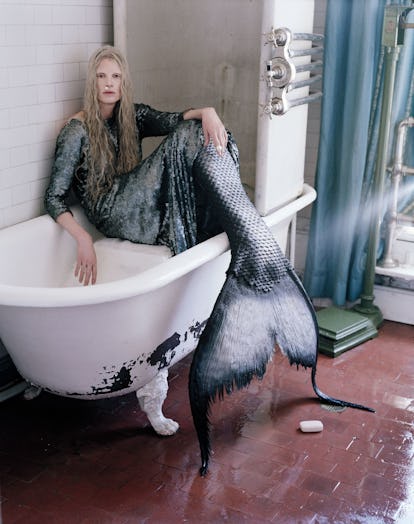 Photographer: Tim Walker Styled: Jacob K
While a day trip to the spa or a fresh cut may seem like the ultimate and at times necessary indulgence, why not take it one step further with a luxurious wellness retreat approved by Hollywood's elite? From Victoria's Secret Angel Lily Aldridge's favorite rustic farm resort in the hills of Tennessee to the world-renowned Ranch in Malibu adored by actress Brooke Shields, these A-listers know how to relax in style. And if you prefer a more scenic getaway explore model Julie Hoomans' prefered Utah valley resort, or plan the ultimate girls weekend at the luxurious Mii Amo spa in Arizona approved by none other than wellness guru Gwyneth Paltrow. Here, a celebrity approved health and wellness resort guide to plan your fall escape.
The Blackberry Farm
Head to Walland, Tennesee where Victoria's Secret Angel Lily Aldridge resides when she wants to relax. Sharing that they have "a beautiful spa and fabulous food", the wellness center also covers all areas from athletic training to nutrition planning to stress reduction.
The Ranch Mailbu
A world-renowned health and wellness spa recommended by model and actress Brooke Shields located in Mailbu, California focuses on physical, mental and spiritual life transformation.
Ojai Valley Inn
From Himalyan salt stone massages to Shangri-la body treatments, relax in luxury like A-lister Nicole Richie, whose personal favorite activity at the Ojai, California facility is the Stretch Therapy session.
Amangiri
For a model approved spa getaway, head to the valley of Canyon Point, Utah where Dutch beauty Julie Hoomans relaxes. With over 31 locations worldwide, each Aman resort prides itself for designing centers for peach and tranquility in some the world's most beautiful backdrops.
Mii Amo
For a Gwyneth Paltrow-approved wellness retreat with friends, head to Mii Amo in Sedona, Arizona, for a luxurious spa experience and journey customized to your personal needs. "It's incredible, I love it there so much," raved the Goop guru herself.
[#article: /articles/59b540723ac57551cefc7af6]||||||