Nicole Richie Dishes On All Things Beauty, From Her Biggest Beauty Regret to Her Best Skincare Advice
The actress and fashion designer opens up about her beauty and skincare routine.
---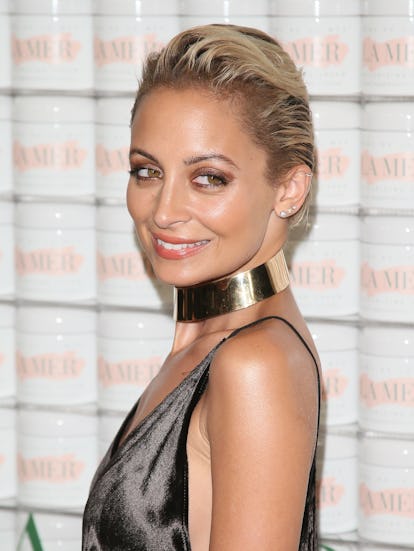 Photo by Getty.
After nearly a decade from her masterful days of The Simple Life, Nicole Richie is making her grand return to TV with the new show Great News. With a very different look. While in the past, Richie has sported a variety of hair colors and makeup trends, today she's much more of a minimalist. Here, the fashion designer and TV star opens up about everything beauty, from her favorite spa getaway and ultimate skincare secret to her biggest beauty regrets.
Your look in three words:
Inviting, enticing, exciting!
Medicine cabinet snapshot:
Biologique Recherche's face wash, serum, and moisturizer, and a mask a few times a week.
Good skin starts with:
A good diet, drinking lots of water and grape seed oil.
Best advice from your dermatologist:
Stay away from the sun!
Best advice from your facialist:
Focus on stimulating the muscles of your face rather than paralyzing them.
SPF of choice:
Biologique Recherche Protection U.V.
Makeup miracles:
Clé de Peau Beauté Concealer.
Most underrated product:
Lucas Papaw Ointment.
Never leave the house without:
Bobby pins and sunglasses.
A good hair day starts with:
Washing my hair with Kevin Murphy's Young.Again.Wash shampoo & conditioner and Honest Beauty's Truly Restored Leave-In Conditioner.
My hair colorist always says:
Choose one thing to do to your hair. If you are going to bleach it – that should be the your one thing.
Nail product:
Nailtiques' nail strengthener.
Beauty from the inside out:
A good diet and drinking lots of water.
Exercise obsession:
Drink of choice:
Pressed Juicery's Green Juice + Coconut Water for hydration.
Product that you picked up from the pros:
Sheila Stotts' hairbrushes.
A woman should smell like:
Clean.
Spa-cation at:
Ojai Valley Inn & Spa. I really enjoy their Stretch Therapy Session.
TSA-friendly essentials:
I have a 15 minute regimen for the plane which includes but nor limited to: Latex Gloves, EO Lavender Sanitizing Spray, Ponaris Nasal Emollient, Lucas Papaw Ointment, Emergen-C, my own tea, Biologique Recherche moisturizer, and a face mask.
In-tub must-read:
As a Man Thinketh by James Allen.
Best advice from mom:
"Never leave the house without lotion and cash."
Beauty Blunder:
I wish I hadn't shaved off my eyebrows when I was 13.
Definite doppelgänger:
Raven Simone & Shaquille O'Neal.