Nicole Kidman Look-Alike Model Julie Hoomans Shares Her Best Beauty Secrets
Here's a tip from a pro: Use Bepanthen Ointment on your lips to make them super soft without looking glossy. That, and other tips, from the Dutch beauty.
---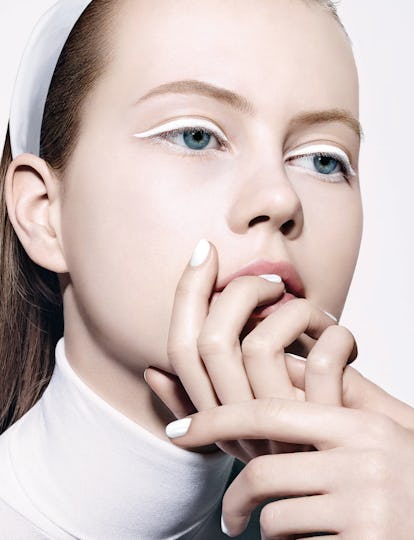 Photo courtesy of Dior.
Model Julie Hoomans, who is a ringer for a young Nicole Kidman, is a runway regular, walking in over 30 shows this season from Carolina Herrera in New York to Louis Vuitton in Paris. From protective hair serums to Bepanthen lip ointments, a tip she picked up from Dior makeup pro Peter Philips, the Dutch beauty is always looking to keep her look soft and natural. And when Hoomans isn't taking a barre class or working out under the sun, she would rather be relaxing at Mario Badescu's spa. Here, Hoomans shares her favorite beauty, hair and skincare products that she cannot live without.
Your look in three words:
Fresh, natural, calm.
Medicine cabinet snapshot:
I use Bioderma Sensibio H20 to clean and Embryolisse Rich Moisturing Cream to moisturize my skin.
A good hair day starts with:
I use Iles Formula Finishing Serum on damp hair after showering, it makes my hair silky & soft and it protects my hair at the same time.
Makeup miracles:
I can't live without Diorskin Star concealer, I use it every day!
Nails must be:
Nude. I don't have a favorite brand, but any nude that suits the color of my skin.
Sheet mask or mud mask:
To be honest I never have the patience for a mask, I much rather use a nice facial oil like the Clarins Lotus Face Treatment Oil.
Bronze or blush:
Between the two…blush! Preferably a light tone that doesn't stand out too much but does give you that healthy glow.
10 Models Reveal the Beauty Products They Can't Live Without During Fashion Week
Beauty from the inside out:
I believe eating lots of fruits & vegetables definitely helps my skin look better.
Exercise obsession:
In winter, I like doing Bikram yoga or a barre class, and in summer I prefer doing my work-outs outside in the sun.
Drink of choice:
I recently discovered kombucha and I totally love it!
Product that you borrow from the boys:
Men's deodorant.
Product that you picked up from the pros:
Peter Philips once gave me the tip to use Bepanthen Ointment on my lips, it makes your lips super soft without making them look glossy.
A woman should smell like:
Prada's Infusion D'iris (the original one).
Appointment you'd love to nab:
Facialist Mario Badescu and Rachel Bot colorist at Cutler.
Spa-cation at:
Amangiri, because its amazing!
In-tub must-read:
At the moment, anything by Haruki Murakami.
Best advice from mom:
Never use too much make-up.
Your most searing beauty q:
How do I get my hair less fluffy?
Definite doppelgänger:
Nicole Kidman in her younger years.
Related: The Beauty Secrets of Supermodels