In Her 40s, Gwyneth Paltrow Has a Completely Different Understanding of What It Means to Be Beautiful
"We do want to maintain our best physical selves, not to be sexually desirable to a 30-year-old man for the rest of our lives, but for our own self esteem and our own relationships and our own lives."
---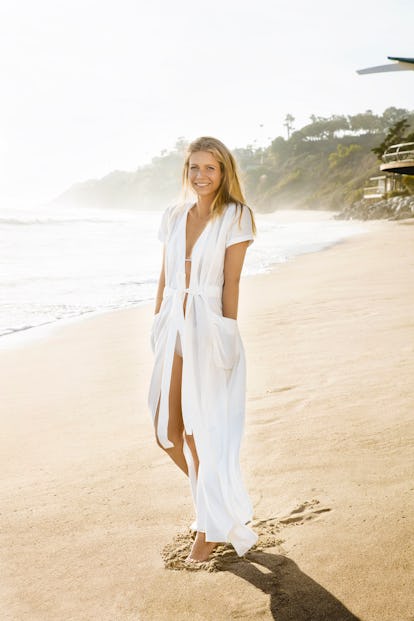 Brigitte Sire
Gwyneth Paltrow projects otherworldly perfection: she's an award-winning actress, the guru behind a healthy lifestyle empire, and a mother. But, the truth is she's also just another person who hasn't started a post-holiday cleanse yet. Fortunately, Paltrow has a team of experts on call to help her, and now that team is now offering advice in Goop's new book, Goop Clean Beauty ($18, amazon.com), and their annual online offering, The Detox Guide. Here, Paltrow talks about the benefits of detoxing, how she feels about getting older, and the moment she started questioning the contents of beauty products.
In your forward to the new book you compare the enigmatic quality of beauty to that of love: "… you know it when you see it–but that only really holds when it's in the flesh." How did you reach that conclusion after coming of age in an environment where there is a more singular definition of beauty? As you grow older everything becomes less binary. You really start to see and appreciate nuance and complexity. Many of us, especially as women, grow up in a culture in which there's a right way to look and a wrong way to look, but I think there's a really beautiful thing that happens with age, which is that you start to understand and categorize beauty in a different way. You really do see that it's an internal process. Accepting yourself and feeling beautiful really has so little to do with the outside and with measurable pulchritude. If you really like yourself, you really feel beautiful. For a lot of women, life forces us into that point of view, but it's such a beautiful lesson to be forced into. That's why doing the Clean Beauty book was so important because we do want to maintain our best physical selves, not to be sexually desirable to a 30-year-old man for the rest of our lives, but for our own self esteem and our own relationships and our own lives.
Were there specific women in your life that were jaw-dropping to you with this kind of self-loving beauty? So many! My mother's female friends had so much of that nuance and stylishness and elegance. I was so captivated by Anjelica Huston when I was young, who I would see at these parties my parents would drag me to in the '80s where I'm sure everyone was doing coke in the bathroom [laughs]. There was like this set of women in Aspen—my dad had a restaurant there—who were just so beautiful, like Jane Buffett and Anjelica Huston and Goldie Hawn. They all didn't look like Christie Brinkley, but you could tell that they felt beautiful and interesting. That's why I think Diane Von Furstenberg is the most beautiful, attractive woman on the planet, because when you get anywhere near that woman you feel that she is attracted to herself. She's so in her skin and so sensual and there's such a freedom in her being who she is. It's stunning, she's breathtaking.
Why do you think it's so difficult for women to embody that? I think we're all taught that looks are something we have to rely on and in some ways are a measure of our worth. We hang onto the messaging until you start to get wrinkles and then you're like, "Oh, wait a minute…." Like I remember about two years ago I was driving somewhere and this really attractive young guy was next to me in his car, he was probably 28, and I looked at him and literally it was like he looked right past me. Like there was no, "There's a pretty girl in that car." I was like, "Holy shit, he just saw a middle-aged lady in a car." [laughs] I swear it was so fascinating and I was like "Oh. Wait. So, I have to let go of being that person." And what does that mean? Especially when you've been a cultural figure of "prettiness." So life kind of starts to shift your view and with that comes the shift in the importance of it. But part of it is you just can't get that information until you're 40.
When people talk about detoxing and clean living they say how it makes them think more clearly or sleep better. What does it feel like for you? What do you notice? Before the holiday I was testing all the detox content for the book and I did a seven-week detox, which was super long and super intense. By the end of it I felt completely different. Now, throughout the holidays, I totally bombed it and drank every night and ate bread and cheese and everything fried and the difference in how I feel… it's truly astonishing. Personally, I love doing a big detox once a year and getting to that point of feeling incredibly clear-headed and where I'm not exhausted or searching for vocabulary words or wanting to take a nap at four. When you do a deep long detox—it's really f–king hard by the way, by the sixth week of this detox I did before Christmas, I was ready to kill someone–but I felt "Oh, right. I have autonomy over my health. It's my choice." Look, am I going through Christmas and New Years without drinking alcohol? No, I'm not. I want to eat almond toffee and pumpkin pie and stuffing for god's sake and whatever else. I'm going to make that choice and then I'll back off it again when I don't feel well.
Is there are one magic week during a detox when you really feel the benefits? The first week is generally really hard because you feel the toxic load. You feel your body releasing all the toxins into your system to eliminate them and it can be really brutal. Usually somewhere in the middle you start to feel really good and toward the end you know it's ending, so you start to get a bit itchy.
In the book you mention how you got into clean living when your father was ill. Did you clean up your beauty routine at the same time? Beauty was actually later. I never took into consideration that I was being this fanatical organic macrobiotic-eating weirdo yet I was slathering my highly-absorbent largest organ with all kinds of parabens and endocrine disruptors and known carcinogens. It took me a while to make that synapse. It was really when I first had my daughter: I would give her a baby massage every night in this beautiful French-smelling baby cream and then I was like "What's in here?" Like, I don't even know what I'm putting all over my baby and that's when I switched to everything organic for her. Then, for me, I was like the last priority, but once I started to really learn about it in the past few years, now I'm pretty careful.
You've developed this sort of clean living posse around you. Is there a common thread among the people you let into your health life? They are people at the forefront of whatever it is they're talking about. Like Alejandro [Junger, MD] was the first person I had ever heard from about a detox program and protocol, and about gut health. I think these are people who are all constantly trying to move the needle. And there is something instinctual, too. Like sometimes I meet someone who people say I have to meet, they are are really famous, and everyone loves them, but I meet them and I have bad vibes, I'm not into it.
When you look at the next two weeks in front of you what's your workout schedule going to be like? What will you be eating? What have you been obsessed with lately? [laughs] I've been bad since Christmas vacation, I've got to get back on the wagon! I'm kind of a creature of habit, so I drop my kids at school and I go straight to Tracy Anderson before I come to work because I know it, I love it, and then I mix in some heavier weight training I do for my back pain a couple times. I'm going on a girls trip this weekend to a spa in my favorite place in Sedona called Mii amo. It's incredible, I love it there so much. You can choose a spa menu for food, but we always end up with nachos and a giant glass of wine, so I'm thinking after this girls weekend I'm going to go fully back on the wagon.
When you're looking at the clean beauty space, where do you see it progressing from here? I can probably kiss this goodbye now, but I would like there to be some regulation around some of the ingredients that we're allowing in personal care. Though there is a bipartisan bill that's supposed to go on the floor that even all the big beauty giants are behind, so I hope there is some regulation. At Goop, something we're excited about is the spiritual wellness and detox. I can't say too much because we're in development and people copy us all the time, but these are real consumer goods, products that help with getting off negative energy.
Related:
Gwyneth Paltrow's Timeless Elegance on the Red Carpet
Gwyneth Paltrow looked elegant in a long ivory-colored satin slip dress and matching shawl timeless style at the premiere of 'Jefferson in Paris' in 1995.

WireImage
The actress attended the 68th Annual Academy Awards in 1996 with then-boyfriend Brad Pitt wearing another classic look: a cream-colored, sequined spaghetti strap gown.

WireImage
For the premiere of 'Shakespeare in Love' in 1998, Paltrow was both sweet and edgy in a sheer, beaded lilac-colored dress.

Getty Images
All eyes were on the actress when she arrived to the 1999 Academy Awards in a pink Ralph Lauren ball gown with a streamlined bodice, princess ball skirt and diamond chocker. That night, she won the Oscar for Best Actress for her role in 'Shakespeare in Love'.

WireImage
Paltrow wore a gothic-glam look by Alexander McQueen at the 2002 Vanity Fair Oscars Party,

WireImage
Showing off her amazing post-baby body at the 'Sky Captain & The World Of Tomorrow' UK premiere, Paltrow wore a strapless mid-length, champagne-colored dress with a waist cinching grey belt.

Getty Images
At the 2005 Academy Awards, Gwyneth Paltrow wore a blush-colored silk corset gown by Stella McCartney, which accentuated her flawless, fair skin.

Patrick McMullan via Getty Images
The actress looked divine in this dusty rose-colored Zac Posen gown at the 2007 Oscars. The pleated sheer and silk neckline and mermaid train detailing of the gown fit her like a glove, and a pop of red lipstick was the perfect accent.

Patrick McMullan via Getty Images
Paltrow showed off her long legs in black lace Balmain mini dress at the UK premiere of "Iron Man."

UK Press via Getty Images
At the Country Music Awards in 2010, Paltrow stood out in a beaded, ombre Atelier Versace gown with a high slit that accentuated her phenomenal figure.

FilmMagic
For the national premiere of "Country Strong," Paltrow wore a black Chado Ralph Rucci dress with a playful hemline that showed off her Lanvin heels.

FilmMagic
At the 84th Annual Academy Awards, Paltrow wore a white, one-shoulder Tom Ford column dress with matching cape, with a slicked-back ponytail and side-swept bang.

Getty Images
At the 49th Annual Goldene Kamera Awards, the actress wore a figure-hugging, glistening, fuchsia-colored Prada gown.

WireImage
The actress attended a cocktail party hosted by Michael Kors in celebration of his Regent Street flagship store opening in London in a semi casual look by the designer.

Dave Benett/Getty Images for Michael Kors
See how Bella Hadid relaxes at home: