Everything You Need to Know Before Going Blonde, According to Margot Robbie's Colorist
Celebrity colorist Tracey Cunningham breaks down how to achieve and maintain a flawless platinum blonde hair color.
---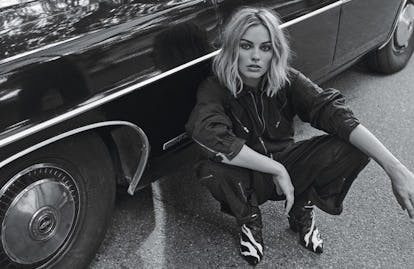 Photographs by Craig McDean, Styled by Melanie Ward
Blonde hair has never been more popular. And celebrity colorist Tracey Cunningham, who works with Emma Stone, Gwyneth Paltrow, Kim Kardashian, and W's November cover star Margot Robbie, has some advice for anyone looking to take the platinum plunge.
Before you run to your nearest colorist, Cunningham recommends starting with highlights. "You can get the platinum look with highlights, it's really the best way to go," she says. "You do bleach it, but you don't want to add a bleach base, because bleach bases end in disaster and short haircuts."
Her personal technique is to use a combination of foil and balayage highlights. "I highlight with foil and then I balayage on the ends, so I do a double combination." It's a process that Cunningham picked up when she was just getting started as a colorist. "I learned how to balayage, but I really liked the results of foil and I liked how the balayage looked on the ends, so I started incorporating it and now everyone does it," she said. "It makes it look really natural, like you just went to the beach."
To transform Robbie's hair into a bright shade of blonde, Cunningham used this technique. "We did two highlights in a row, I did one full head of highlights," she said, "and then I just went through and re-highlighted the top, just picked up all the dark pieces and re-highlighted and then that way she still had a little bit of depth."
While it may seem daunting to maintain blonde locks, Cunningham has a few simple tips: always use Olapex shampoo and conditioner ("It's great and it's for people who don't color their hair too because everybody blow drys and styles their hair."), put a filter on your showerhead("Blondes get so dull because of all the minerals in the water."), and get a gloss between appointments.
In Cunningham's experience clients listen–and come back for more. "I think once they dip their toe in it, putting a few [highlights] around their face, they get addicted," she says.
The Best Color-Protecting Shampoos, Conditioners, and Masks for Platinum Hair
Watch: Margot Robbie Dressed Up as James Franco in "Spring Breakers" For Halloween, and Loved Getting Away With It