Kardashian Fans Insist Kylie Jenner's Pink Christmas Tree Has a Secret Meaning
But, like, maybe she just likes the color.
---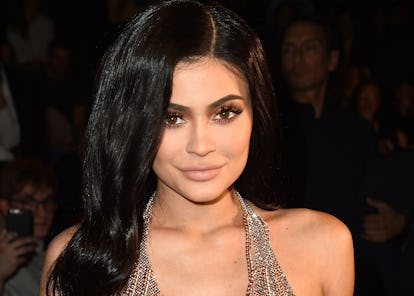 Nicholas Hunt/Getty Images
Kylie Jenner has been very, very secretive about her rumored pregnancy thus far. The reality star hasn't confirmed or commented on her and boyfriend Travis Scott expecting their first child in early 2018, though there have been many signs (and rumors) pointing to Kylie adding a new member to the Jenner-Kardashian clan. So fans have started to rely on subtle hints in Kylie's Instagram feed for any info about the alleged pregnancy, and her latest post has some wondering if she knows the baby's sex.
On Thursday, Kylie posted a picture of her brand new, very pink, 20-foot Christmas tree, which was designed for the makeup mogul by artistic director Jeff Leatham, according to People. Jenner captioned the photo of the rosy tree, "Thank you @jeffleatham & his team for making my XMAS dreams come true! 20 feet of magic! Even more perfect in real life … " (The recent KUWTK holiday special also showed Kris Jenner scooping up holiday decor for her youngest child, as Kylie advised via FaceTime.) But could the collection of rose gold ornaments be a nod to Kylie expecting a baby girl? People did report back in September that the star was having a girl, so the color scheme would make sense. Of course, it could also just mean Kylie, like the rest of the world, prefers the trendy hue over traditional holiday shades.
The last time the Internet got excited that Kylie (and her big sister Khloe) were expecting turned out to be based on a false lead. When family matriarch Kris posted a photo of nine gifts for her grandkids, fans did the math — six grandkids plus the little girl Kim and Kanye have confirmed is on the way, meant the two extra presents (Burt's Bees baby gift sets) had to be for Kylie and Khloe's future children, right? But Kris insists there's no meaning behind the number, and the sets were actually a gift to her, straight from the company. She explained after seeing Oprah name the sets one of her favorite things (and putting great trust in the talk show host's taste, like all Americans), she went to buy a few, only to find them sold out. She then leapt into action, calling the company, who sent her the collection of baby sets. Mystery solved.
So, fans will probably have to wait until the actual births of the next generation of Kardashian-Jenners to see if all the clues they've been collecting were pointing them in the right direction, considering Kylie reportedly has no plans to "publicly address" the rumors until then.
A Celebration of Kylie Jenner's 20 Years of Not Letting the Critics Get Her Down