No, Kylie Jenner Is Not In Labor Right Now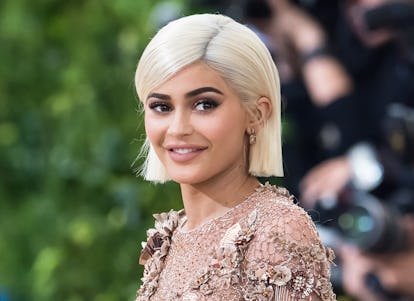 Photo by Gilbert Carrasquillo/GC Images
Even though it seems like Kylie Jenner has been probably-pregnant (but is she? She is. But is she?) for approximately one thousand years, she's actually not due yet and is not in labor, per TMZ. "Kylie Jenner is NOT at the hospital right now pushing out her first child, despite increased online speculation swirling that she's in labor," reports their source. Rumors apparently started rumoring on January 12 that Kylie had checked into Cedars-Sinai in Los Angeles, where all the Kardasha-babies are birthed, and that her boyfriend and most likely father of her child Travis Scott was on a plane to be with her, but apparently neither of those things are real. "We're told it's definitely not true," reports TMZ. Oh, okay.
Of course, count on Kylie Jenner to send the entire Internet into a tizzy on a Friday afternoon before a long weekend. This is, after all, the same person who had just about the whole world anxiously checking their Instagram feed all of Christmas Day in hopes of a pregnancy reveal, finally. The end result? A large group shot of the Kardashian clan, all clad in decidedly un-festive attire of jeans and variations of a white t-shirt. As for the youngest Jenner? Nada. Not a single appearance, let alone bombshell revelation that we've been waiting for. Seems like a reoccurring theme with this one…
So what is Kylie Jenner doing these days? Posing for magazine covers and working on her makeup line and having 100,000,000 followers on Instagram. She's busy, okay? She can't just pop out babies every time we need news.
One thing's for sure: when this baby finally appears (probably on Keeping Up With The Kardashians, if ever), the Internet is going to melt all the way down.
Related: Kylie Jenner Is Keeping Her Pregnancy a Secret Because She's Lived Her Life Publicly
A Brief History Of All the Times the Kardashians Have Gone Blonde
Kim Kardashian steps out in a blonde lob alongside husband and rapper Kayne West during Paris Fashion Week in 2015.

@kimkardashian
Kendall Jenner looks unrecognizable with her blonde wig walking alongside Gigi Hadid who also sports a brunette wig after the the Balmain Fall 2016 show in Paris.

@kendalljenner
Known for her ever-evolving hair colors, the youngest of the Kardashian/Jenner crew wears her locks in long, tousled waves.

@kyliejenner
These days, Kim Kardashian can regularly be seen sporting her blonde locks and poses alongside with singer Fergie and model Chrissy Teigen backstage during Fergie's "M.I.L.F" music video.

@kimkardashian
Khloe Kardashian, the most regularly blonde of the whole family, wears her long platinum locks sleek straight with a nude lip.

@khloekardashian
Sporting dramatic platinum blonde locks during New York Fashion Week, Kim Kardashian steps out for the Yeezy Season 3 show.

@kimkardashian
Kylie Jenner takes on a silver platinum shade, wearing a sleek, middle-parted pony in tousled wet waves.

@kyliejenner
As the most recent Kardashian to go blonde, Kris Jenner debuts a chic platinum blonde pixie.

@kimkardashian
Khloe Kardashian takes her blonde locks to new heights, sporting perfectly tousled air-dried beachy waves.

@khloekardashian
At the 2017 Met Gala, Kylie Jenner showed up in a side-swept chin grazing blonde bob.

@kyliejenner
After debuting silver platinum locks during New York Fashion Week, Kim Kardashian styles her locks in an ultra sleek high pony.

@kimkardashian
Posing alongside sister Kendall, Kylie wears her blonde locks in soft, polished curls.

@kyliejenner
While she may have temporary tried on a platinum pixie, Kris Jenner starts off the New Year with freshly dyed tousled do.

@krisjenner