Paris Hilton Does Kim Kardashian Drag For Yeezy Season 6 Campaign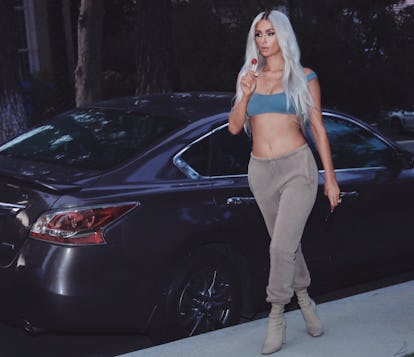 Courtesy of Yeezy
If at first glance it looks like it's just Kim Kardashian starring in the new campaign for Yeezy Season 6, look harder. It's actually Paris Hilton. Yes, in a move that simultaneously breaks the internet, ends any lingering rumors of a feud, and completely upends the space time continuum of the reality TV celebrity tabloid industrial complex, Hilton dons her best Kardashian drag to promote Kanye West's latest collection.
While West himself has kept a low profile since late 2016 and has forgone regular fashion show, his Yeezy brand has continued to put out regular collections and debut them via untraditional means. Yeezy Season 6 original made its debut when Kim Kardashian herself wore multiple looks from the collections out and about in Los Angeles over a span of a few days allowing the paparazzi to capture her image. The official campaign takes the idea a step forward by enlisting Hilton and a few other Karashian-look-alikes and social media stars to reenact the paparazzi shots.
Kardashian debuted the images of Hilton on her on Twitter, calling her former boss the "OG":
Other models involved in the campaign include Yovanna Ventura, a Miami-based model who has been linked to both Justin Bieber and The Weeknd in the past:
Sarah Snyder previously dated Jaden Smith, and was seen late last year grabbing dinner with Leonardo Dicaprio:
[#instagram:https://www.instagram.com/p/BemixDVBM4Z/?taken-by=sarahfuckingsnyder]
Sami Miro is a fashion designer who previously dated Zac Efron for a number of years:
Abigail Ratchford is apparently known in some circles as "The Sweetheart," and has appeared in the pages of Playboy and Maxim before.
The Clermont Twins, Shannon and Shannade, are alums of the 14th season of Bad Girls Clubs
Amina Blue is a former video vixen who previously walked in the Yeezy Season 4 show:
Madeleine Rose is a makeup artist:
Lela Star isn't shy. She's an adult film actress as well as a newly minted, well, shoe model:
Kristen Noel Crawley is a former beauty columnist turned beauty brand entrepreneur:
We can't find all that much information onf "@Chinqpink," but here she is as well:
Here's a look at some of the side-by-sides of Kim and her Kim-a-bes:
Instagram users who have patterned their look after Kardashian (or any of her sisters) have increasingly become underground social media powerhouse influencers in their own right in recent years, so it only makes sense for the Kardashian clan to find a way to use that to their advantage.
But of course it was Hilton who is the headliner here. In the early '00s, Hilton pioneered the sort of 21st century fame that Kim and her family would come to perfect. In fact, it was Hilton who first gave Kardashian a taste of fame. She hired a young Kardashian as a closet organizer and then started bringing her along as a plus one to events during a time when her friendship with Nicole Richie was on the outs.
Rumors of a feud have circulate for years, but the two sides have mostly maintained that they're on good terms. Hilton even recently said she'd invite Kardashian to one of her three planned weddings to fiancé Chris Zylka. We're going to take this as proof that Kardashian RSVP'd "yes" already.
So far West has not announced plans to hold a Yeezy Season 7 during any of the upcoming fashion weeks, but Kardashian did also retweet a message claiming "Fashion Weeks needs Kanye" this evening.
Related: Paris Hilton Invented Everything You're Doing in 2017, and She Knows It
28 Times Celebrities Dressed Up as Other Celebrities on Halloween
Jessica Biel as Justin Timberlake (and Justin Timberlake as a microphone), Halloween 2019.

Courtesy of @jessicabiel
Stormi Webster as Kylie Jenner, Halloween 2019.
Tracee Ellis Ross as DJ Quik, Halloween 2019.

Courtesy of @traceeellisross
Nina Dobrev as Billie Eilish, Halloween 2019.

Courtesy of @nina
Anastasia Karanikolaou and Kylie Jenner as Christina Aguilera and Britney Spears, Halloween 2019.

Courtesy of @kyliesnapchat
Avan Jogia and Cleopatra Coleman as Billy Bob Thornton and Angelina Jolie, Halloween 2019.

Getty Images
Rita Ora as rapper Post Malone, Halloween 2018.

@ritaora
Kylie Jenner as Christina Aguilera, Halloween 2016.

@kyliejenner
Beyoncé and Blue Ivy Carter as Janet Jackson and Michael Jackson, Halloween 2014.

@beyonce
Katy Perry as Freddie Mercury, Halloween 2015.

@aceoriolet
P. Diddy as Prince, Halloween 2012.

@diddy
Kim Kardashian and Joyce Bonelli as Anna Wintour and Grace Coddington with their children North West and Zeplin Black as André Leon Talley and Karl Lagerfeld, Halloween 2014.

@kimkardashian
Dua Lipa and Isaac Carew as Bianca and Mick Jagger, Halloween 2018.

(@dualipa)[https://www.instagram.com/p/Bpm0DnTBjwP/]
Winnie Harlow as RuPaul, Halloween 2018.

Getty Images
Paris Hilton as Miley Cyrus, Halloween 2013.

@parishilton
Harry Styles as Miley Cyrus, Halloween 2013.

@louteasdale
Chrissy Teigen and John Legend as Queen Elizabeth and Prince Charles, Halloween 2018.

(@johnlegend)[https://www.instagram.com/p/BpoGoyVF5zh/]
Harry Styles as Elton John, Halloween 2018.

Getty Images
Miley Cyrus as Lil Kim, Halloween 2013.

@mileycyrus
Kate Moss as Cara Delevingne, Halloween 2014.

@caradelevingne
Fergie and Josh Duhamel as Choupette and Karl Lagerfeld, Halloween 2015.

@fergie
Kim Kardashian in 2015 as Kim Kardashian in 2013.

@kimkardashian
Shanina Shaik as Rihanna, Halloween 2015.

@shaninamshaik
Miranda Kerr as Marilyn Monroe, Halloween 2015.

@mirandakerr
Neil Patrick Harris as Groucho Marx, Halloween 2016.

@nph
Victoria Justice as Amy Winehouse, Halloween 2015.

@victoriajustice
Aziz Ansari as The Weeknd, Halloween 2015.

@azizansari
Martha Stewart as Marilyn Monroe, Halloween 2016.

@marthastewart48