Kim Kardashian Has Been Wearing Yeezy Season 6 Clothes and Sharing Them on Instagram
She wore 9 outfits in one day.
---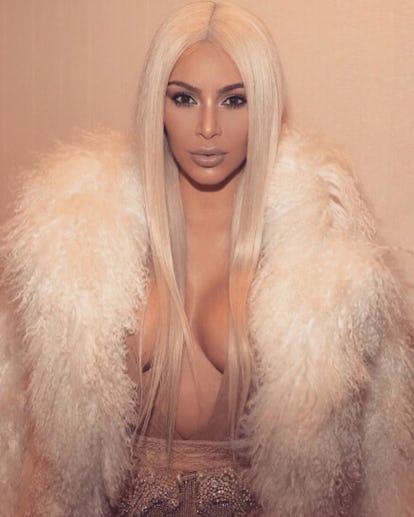 @kimkardashian
Update 11/30/17: Kim Kardashian has confirmed that she has indeed been wearing clothes from Yeezy season 6.
Kim Kardashian is a master of the reveal. While she usually uses her reality show Keeping Up With the Kardashians for all of her debuts and announcements, the savvy social media icon most recently took to Instagram to do so. Today, Kardashian slyly posted a photo of herself wearing one of the year's biggest trends — monochrome — in a head-to-toe beige look. While she simply captioned a photo of it on her Instagram with "YEEZY," the outfit is reportedly a part of Kanye West's awaited Yeezy season 6 collection, according to the fan account @yeezymafia, as HypeBeast notes.
Apparently, this isn't the first time Kim Kardashian has worn a look from Yeezy season 6. Kardashian has also stepped out recently in a handful of other looks presumably part of the same upcoming collection. All of them have been similarly monochrome as well in the muted neutrals West has made his signature for his Adidas-backed line.
Kardashian's recent outfits are seemingly as mysterious as the collection, which has been subject to much speculation over the past couple of months. It started in September when rumors swirled that West would be presenting Yeezy season 6 at Paris Fashion Week. That stemmed from a handful of Instagram users sharing a photo of beige socks (the same beige as Kardashian's outfit) emblazoned with "Season 6."
While some assumed the socks were an invitation to a show for season 6, a Yeezy rep later confirmed to Complex that "there is currently no show scheduled."
The last time West offered an update on his Yeezy line was one year ago, before he his hiatus after being hospitalized for exhaustion so it's understandable that he has taken his time in releasing the sixth collection. "I want to make pieces that can be timeless," he told Vogue of his creative process. "Pieces that you can pick up out of a vintage store in 20 years and say, 'Wow, I'm happy I have this.'"
West also revealed his plans to open a permanent outpost for Yeezy in— where else? — his wife's native Calabasas, which was the inspiration for season 4. "I believe the first one will be in California, since that's where I stay now," he said. "I can go by there most often, check in, get the vibe. But I want to do 200 stores in the next year. That's just me saying what I want. I'm not saying what can definitely happen but you might as well just state out loud what you want. That'll put you one step closer to getting it."