Everything We Know—And Don't Know—About Yeezy Season 6
A real "will he, won't he" situation.
---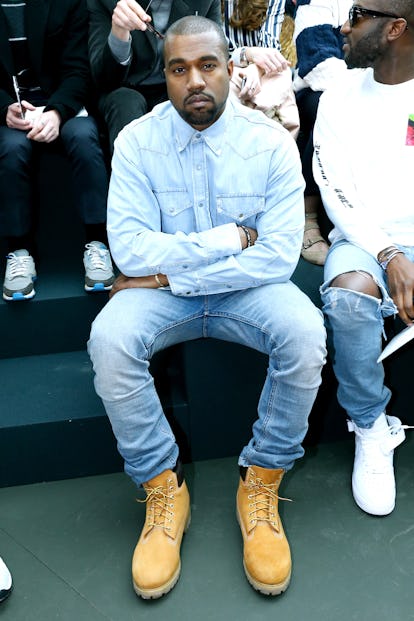 Getty
It's been especially hard to keep up with the Kardashians these days. Is Kim really having another baby by surrogate? Is Kylie pregnant? Is Khloe pregnant? Even with a whole new season of the hit TV series set to debut on Sunday, it seems like we may never get to the bottom of it all.
And, as it turns out, it is just as hard to keep up with Kanye West, as well. Though it is probably safe to say that he isn't pregnant—though with this family, anything is possible—there is still a giant cloud of mystery surrounding the rapper these days. Namely, will he or won't he be showing Yeezy Season 601 as part of Paris Fashion Week?
Here's what we know: On Wednesday, an Instagram account called The Business Fashion—not to be mistaken with Business of Fashion—shared a picture of a tan sock with the words Season 6 written in white along the ankle, alongside the caption "Yeezy Season 6" with the "side eyes" emoji (interestingly, also the emoji that Tristan Thomas, the alleged father of Khloe's baby, tweeted immediately following pregnancy rumors). The Kanye West fan account @DondaCreate also posted the same image (it is unclear which account posted first), but has since deleted the picture.
Immediately following the post, websites like Hypebeast and Highsnobiety picked up the news, with the former reporting that "a source now confirms that Kanye's YEEZY Season 6 will be making its way to this year's Paris Fashion Week as a showroom display." If true, a showroom visit would be quite a departure from the traditional Yeezy format, which has included a complete Madison Square Garden takeover and last year's disastrous giant fashion field trip to Roosevelt Island. Simply put, it would be much more pared down than the Kanye extravaganza we're used to—perhaps even without an appearance from the rapper himself, who it seems is skipping the city following his wife's traumatic robbery last year.
However, at this point, that is all speculation. Those handling press for the show in seasons past had no confirmation of a show for this season, and what's more, Complex has reported that a Yeezy rep did confirm to the outlet that " there is currently no show scheduled."
So, that may be one Kardashian-adjacent query we can put to rest. However, this is Kanye West we are talking about. Truly anything is possible.
Related: Khloe Kardashian Is Reportedly Pregnant With Her First Child With Tristan Thompson
Kanye West Just Wants to Bring Joy to the World Like Will Ferrell in 'Elf'