Kanye West Makes Nice with the CFDA for Yeezy Season 5
Rapper and designer West moved his show to avoid conflicting with Marchesa. Meanwhile, his wife is starting a book club.
---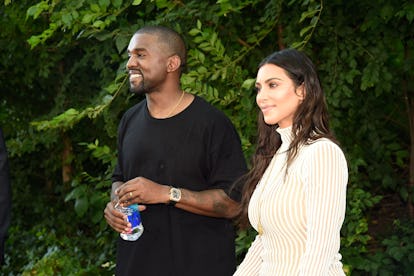 Kevin Mazur
Correspondents Dinner, White House This May, Donald Trump will attend his first-ever White House Correspondents Dinner as president. But he'll be short a few toasts: The New Yorker and Vanity Fair have both pulled out of sponsoring their respective pre-and after-parties in Washington, D.C.
Givenchy Short one creative director after Riccardo Tisci, who had been at the brand for nearly 12 years, stepped down when his contract expired Jan. 31. We're sure wherever he goes next, Beyoncé, Nicki Minaj, and Kim Kardashian will follow.
Kardashian, Kim Starting a book club. Chrissy Teigen's invited. Jen Atkin's invited. So are you.
Maugham, Syrie The early-20th-century interior designer who inspired Karl Lagerfeld's latest show at the Grand Palais was an early feminist, refusing to allow her high-society status to deter her from work — the decadent mirrored set was an homage to her work at Coco Chanel's home on 31, rue Cambon.
Simons, Raf What it was like to walk in the Belgian menswear deity's first New York Fashion Week show, according to one of his runway veterans, art student Ted Le Sueur.
West, Kanye After a swift backlash about his Yeezy Season 5 time slot — without consulting the CFDA, he scheduled the show for 5 pm Feb. 15, directly conflicting with Marchesa — West has moved his upcoming show two hours earlier. That, of course, by no means indicates the show will start at 3 p.m.
Yachty, Lil The 19-year-old rap wunderkind is now a creative director; though Fall 2017 wasn't his first fashion week, it was his first at the helm of Nautica, where he's helping revitalize the '90s sportswear brand. Putting the '90s back in the brand might be a tall order for someone born in 1997.
Photographers "Always Ask" Kate Moss to Take Her Clothes Off