Yes, Kanye West Will Show Yeezy Season 5 at New York Fashion Week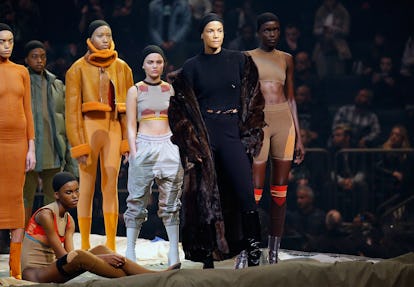 He's baaaaaack.
Kanye West has once again popped up on the New York Fashion Week schedule, with Yeezy Season Five taking place on Wednesday, February 15th. West joins a packed day of shows that includes Michael Kors, Derek Lam, Anna Sui, Marchesa, Thom Browne, and West's own fashion idol, Ralph Lauren.
It appears as though West may be taking note of past criticisms. Unlike prior seasons, the news of his show comes with more than just a few hours notice–and with an announced venue, no less.
Yeezy Season 5 will be held at Pier 59 Studios, where several other brands will also be hosting their own runway shows over the course of the week. It's a far cry–and not to mention, a much more convenient one–from September's spectacle, which brought the fashion masses over to Roosevelt's Island on a particularly sweltering day. It's also decidedly more intimate than what he's done in the past, particularly last February's The Life of Pablo listening party meets Vanessa Beecroft tableau held in a completely packed Madison Square Garden.
Still, as with past Yeezy shows, West's fashion showing will no doubt be one of the most buzzed about events of fashion month. Recently, the typically loquacious West has gone nearly radio silent following last November's hospitalization, when he spent nine days in the UCLA Medical Center for rumored exhaustion. The hospital stint came just a few weeks following wife Kim Kardashian's robbery in Paris, where the 36-year-old was held at gunpoint in her hotel room.
While Kardashian has slowly returned to social media over the past few weeks, West has stayed away from the spotlight–save for one very public trip to Trump Tower to visit then President Elect Donald Trump. It is rumored that West will be skipping the upcoming 2017 Grammy Awards on February 12th, despite his eight nominations for The Life of Pablo.
West may be using that extra time to perfect his execution. The venue may be mundane than the rapper is used to, but its proximity to Chelsea Piers–skating rink, driving range, swimming pools, et al.–lends itself well to West's penchant for grandeur. During Yeezy season, anything can happen.
Kanye West Explains His Personal Connection to Will Farrell
Yeezy Season 4 Requested "Multiracial Women Only" At His Open Casting Call. Here's Who Attended