Lagerfeld's Latest Diss
In case you missed them, here are the top style stories from the week
---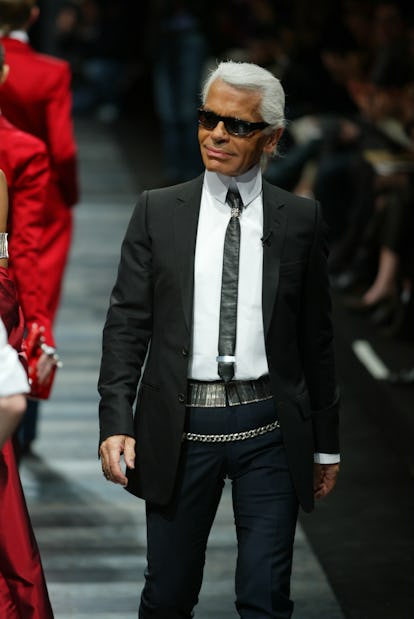 Aniston, Jennifer Wore color and pattern at the same time; stopped the presses.
Beyoncé Has already abandoned her pixie cut. That was fast. Extensions forever!
Chaos to Couture Despite controversy, the Costume Institute exhibition proved to be one of the most popular of all time.
Chung, Alexa Signed a deal with cosmetics company Eyeko; leaves fans wondering how long we'll have to wait for haircare products.
Delevingne, Cara W's September cover girl has reportedly auditioned for a role in 50 Shades of Grey. Well, she's got the on-camera skills for sure.
Hermès Designed a $12,900 basketball. Why not?
Herrera, Carolina Collaborated on a collection of pajamas with designer Arielle Shapiro; we've never wanted a nap more.
J. Crew Drafted set designer Shona Heath to create a London flagship like no other. Good choice, Mickey.
Merkel, Angela The German chancellor is the latest victim of Karl Lagerfeld's critique; now has something in common with Adele, Pippa Middleton, and Michelle Obama.
Leto, Jared Is now the new face of Hugo Boss's fragrance; demonstrates that our Jordan Catalano fantasies are legitimate.
Mera, Rosalia The co-founder of Zara, who was also named the world's richest self-made woman, passed away at age 69.
McQueen, Alexander Has teamed up with Damien Hirst to celebrate the 10th anniversary of the skull scarf. How fitting.
Nike Accused of being racist over tribal tattoo-inspired leggings. AGAIN.
Olympia, Charlotte Now designing shoes for little girls. Fortunately, none of her signature platforms included.
Rocha, Coco Follows in Beyoncé's footsteps by cutting her hair; may or may not have a bob next week.
Wet Seal In the oddest collaboration news of the week, the retailer is partnering with ABC TV shows on a collection. Do with this news what you will.