Karl Lagerfeld's Barbie Treatment
In case you missed them, here are the top style stories of the week.
---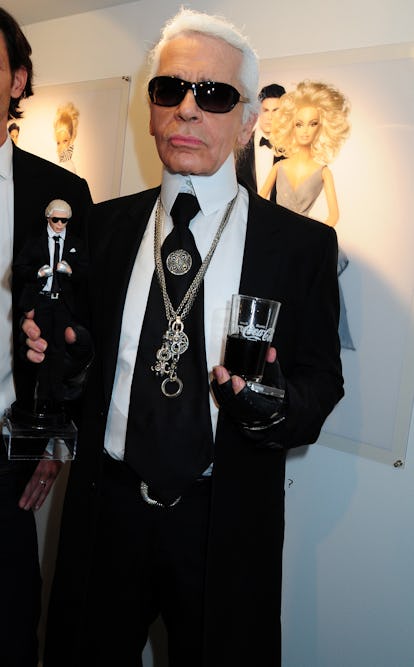 Bosworth, Kate The blonde actress launched a new app called Style Thief to the delight of fans that would love to steal her look. Killer body not included.
Campbell, Edie The model takes a casual nap on top of an armored horse in Alexander McQueen's Fall 2014 ads. Nothing to see here.
CFDA Released the finalists in this year's Fashion Fund, including Wes Gordon, Tanya Taylor, Paul Andrew, Edie Parker, Gigi Burris, and more. Congrats, kids.
Clauson, Hailey The famously young model makes a comeback now that she's of age. It's about time.
Ellingson, Lindsay The Victoria's Secret angel got married to Sean Clayton in a Sophie Theallet gown. Stay tuned for her guide to planning a wedding titled, "Lindsay's Secret."
Fox, Langley The illustrator-slash-It-girl teamed up with Everlane on a collection of simple tanks. Modeled them herself, of course.
Frankel, Bethenny The former Real Housewife wore her daughter's PJs on Instagram. At least she didn't leave the house.
Gorga, Melissa The current Real Housewife presented her line of HSN jewelry without wearing her daughter's pajamas.
Hadid, Gigi Stars alongside plenty of pretty progeny in Tom Ford's new ad campaign. Hello, Patrick Schwarzenegger.
Hudson, Kate Goes goth-ish. We'll take it.
Lively, Blake Launching a GOOP-inspired lifestyle website called Preserve. Will provide advice on consciously coupling.
Lagerfeld, Karl Getting a Barbie doll makeover from Mattel. Fendi does not approve.
Ocala The town in Florida creates a law that bans sagging pants. Paris to follow suit.
Ripa, Kelly Reveals the recipe to her flawless skin: Botox. Well, there's Kelly's Secret.
Rent the Runway Adopts a Netflix-style model for distributing accessories. House of Handbags, anyone?
The Face Naomi Campbell's TV show may be cancelled. Someone intervene now, please.
Westbrook, Russell The basketball player is designing a collection of tight tights in collaboration with Barneys and Jordan. Get in line, boys.
Zara Plans to make fast fashion even… faster. Who knew that was possible?