Karlheinz Weinberger's Flash of Angst
In Karlheinz Weinberger's new monograph, Rebel Youth, the self-taught photographer captures Swiss teens from the '60s with aggressive rockabilly style. Weinberger—who passed away in 2006—was an outsider all his life and gravitated towards the James...
---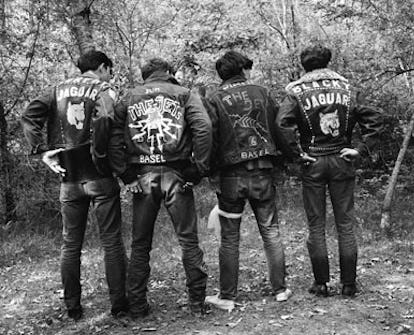 How were you first exposed to Karlheinz Weinberger's work, and what led you to editing Rebel Youth? Martynka Wawrzyniak: Around 10 years ago Jack Pierson showed me a copy of Weinberger's first [self titled] monograph. At the time I was the co-editor in chief of Issue Magazine and we featured some of Weinberger's work. In late 2008 I saw the Karlheinz Weinberger: Vintage Prints, Belt, Jackets, Couples, etc., show at Anna Kustera and was instantly reminded of how much I loved this work. Anna mentioned that Weinberger had passed away and that his previous monograph was selling for over $900—I was determined to edit his next book!
Bruce Hackney: Back in 2002, when I was the director of Nicole Klagsbrun Gallery, a co-worker showed me this booklet published by The Photographer's Gallery in London. On the cover was an arresting image of this grungy biker sporting a jacked up wardrobe topped off with a swastika pendant. After devouring the images in that booklet, I decided I had to find a way to show the work in New York. I got in touch with Weinberger's Zurich gallerist and proceeded to put together a mini survey of his oeuvre; from his beginnings as a "beefcake" photographer for a ground breaking homophile journal, through the "Halbstarke," to his images of hard core biker gangs. Because of his age and health at that time, Karlheinz wasn't able to come over for the show so I never got a chance to meet him in person; something I've always regretted.
MW: I went to the Weinberger Estate headquarters in the tiny Swiss village of Warth (outside of Zurich) and edited from a vast archive of vintage prints, color slides and negatives. Obviously I have many favorite images, but I am particularly drawn to some of the reportage-like, candid moments of kids lounging around on the grass outside, boys wrestling, piles of denim clad legs—you can almost smell the summer air! The cover image jumped out immediately, it just seemed like a perfect representation of the contents of the book, plus the fashion feels quite contemporary. We specifically wanted to use a color image on the cover as the book includes a lot of never before published photos in color.
In his forward John Waters refers to the youth as the "Verlaustan" (lice-infected ones) while Guy Trebay calls them the "Halbstarke" (half-strong). Can you explain the difference between these two terms for the same group? Patrik Schedler (Heads the Estate of KHW in Warth Switzerland): The word "die Halbstarken" represents the group of those young guys (mostly men), it is more ironic (because they saw themselves as really strong!), meanwhile the word "die Verlausten" is very disrespectful, because it calls them kind of dirty, unwashed, stinky… as sick as untended animals are. The adjective "verlaust" means: full of lice, lousy. You can compare it a little with "gay" and "queer." The young rebels began to name themselves as "Halbstarke," but they never used the word "verlaust" for describing themselves.
The oversized belts are really something else. How do you view the significance of fashion in the portraits? BH: I've always understood the Halbstarke "fashion" as completely intuitive element: these kids just wanted to wear anything that made them stand out, let them feature their "rebel" idols around their necks or around their waists, and thumb their noses at the Swiss bourgeois.
BH: I think the differences are mostly practical and somewhat cultural. The Swiss have a deep affinity for their landscape and their agrarian roots hence Karlheinz shot a lot of these pictures at local festivals and the State circus, the Knie. Some of the other locales—St. Petersinsel, Bad Ragaz—were camping spots for rival gangs to hold a sort of rebel retreat—a Halbstarke summit meeting of sorts. They'd drink, dance, etc. in these bucolic settings. The "studio" was actually his apartment and his attic. Not only did he photograph there, his home was also a de facto clubhouse. He'd invite them over, play rock and roll music and put on a slide show of the images he shot.
Rebel Youth (Rizzioli, 2011) is available now at amazon.com
All images ©The Estate of Karlheinz Weinberger, from Rebel Youth, Rizzoli New York, 2011.