Karlie Kloss is Joining Bill Nye (as in The Science Guy) on New Show
Bill Nye is getting a new fashionable sidekick in the form of model Karlie Kloss. She'll serve as a correspondent for his new Netflix show.
---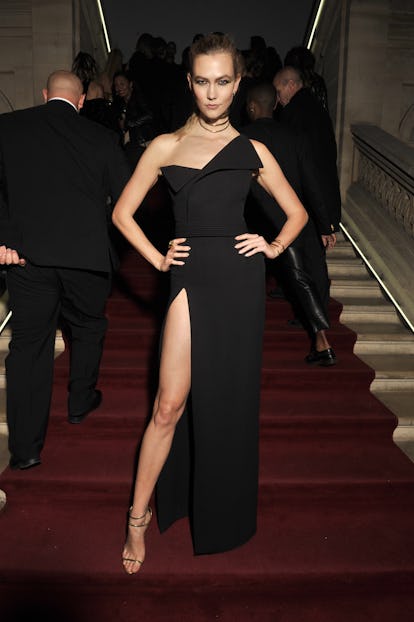 Thanks to millennials' thirst for nostalgia and objective data, few people are having more of a renaissance than Bill Nye the Science Guy. The former PBS kid's show host has spent the past few years smacking down Republicans about the reality of climate change, debating creationists on the merit of the theory of evolution, popping up at the White House Correspondent's dinner and taking a requisite turn on Dancing on the Stars. His comeback has been rewarded with, what else, a Netflix show.
Unlike his PBS show, however, this time around he'll have some very sophisticated help in the form of Karlie Kloss. The model was announced as one of five correspondents for the show entitled Bill Nye Saves the World.
Yeah, move over Taylor. Karlie has a new BFF, and his name is Bill (Bill! Bill! Bill!).
Filling out the rest of what we guess we now have to call the #NyeSquad is engineer Emily Calandrelli, scientist Derek Muller, and comedians Joanna Hausmann and Nazeem Hussain.
Though the show was only announced back at the end of August, we've already got our first teaser trailer.
"Bonjour," Kloss says while standing in front of Paris's Arc de Triomphe. "Karlie Kloss here and I have some very exciting news to share. I get to be part of the one and only Bill Nye Saves the World show on Netflix this spring. We'll be talking about every nerdy thing you can dream of."
Kloss, who is currently enrolled at NYU's Gallatin School of Individualized Study, is something of a nerd. Two years ago the former Victoria's Secret model enrolled in a part-time class for programming at the Flatiron School. She soon began taking private lessons and became so enamored that she then teamed with the school to help start and underwrite a Kode with Klossy scholarship programs. Open to young women, the scholarships cover costs for the same program that Kloss started with. The Kode with Klossy program then evolved into coding summers camps held in three cities for girls between 13 and 18.
We were going to say Kloss will certainly be a more chic sidekick than the giant rat that assisted Nye his first go around, but, apparently, the giant lab rat was on Beakman's World, a ripoff show on CBS. Nye was only joined by random children on his show. Still, with all apologies to random children, Kloss certainly is chicer than random children.
According to press material, each episode of the new series "will tackle a topic from a scientific point of view, dispelling myths, and refuting anti-scientific claims that may be espoused by politicians, religious leaders or titans of industry."
The new Kloss-improved show will debut sometime in Spring 2017.