Karlie's On the Tube
In case you missed them, here are the top style news stories of the week.
---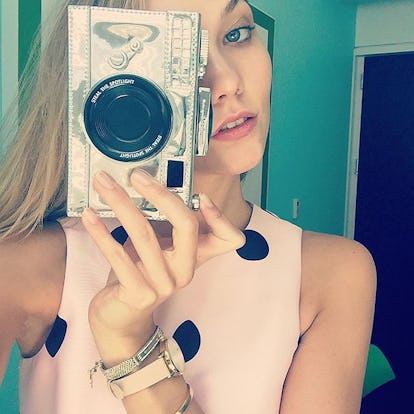 Anderson, Jonathan The fashion designer curated an online exhibition and sale of photographer Ian David Baker's work. Because running an eponymous brand and the Loewe fashion house wasn't enough of an outlet.
Band of Outsiders Is selling off everything. And we mean everything: from intellectual property rights to inventory. Stay tuned for the sample sale.
China: Through the Looking Glass The Costume Institute exhibition will be extended due to popular demand. Get in line now.
Christie, Gwendoline The Game of Thrones actress stars in new Vivienne Westwood campaign.
Degeneres, Ellen Collaborated with GAP on an empowering children's collection.
Dolezal, Rachel The former NAACP leader is now supporting herself as a hairstylist, specializing in braids.
Fiorucci, Elio The legendary Italian fashion designer passed away.
King, Jaime Gave birth to her second son. The baby's godmother, Taylor Swift, has surprisingly not taken to social media to celebrate. Yet.
Kloss, Karlie Launched her own YouTube channel. Because 2.8 million Instagram followers weren't enough.
Mansur Gavriel The fashion label launched two new soon-to-be-sold-out handbag styles.
Millennials Are buying more denim than any other demographic. Still not buying cars or houses, though.
Murphy, Carolyn The supermodel stars in Peter Copping's first campaign for Oscar de la Renta.
Obama, Malia Is interning at HBO this summer and looking generally fabulous. Stay tuned for her move to Brooklyn, coming soon.
Perry, Katy Is taking to Twitter to sell her fragrance, and involve herself in Taylor Swift and Nicki Minaj's "misunderstanding."
Proenza Schouler Cast a crew of supermodels in the brand's Fall 2015 campaign shot by David Sims.
Rihanna Wore pajamas to work.
Schumer, Amy Wore a poncho. Hey, if Rihanna can wear pajamas…
Seward, Vanessa Realized that this Internet thing may catch on. Launched e-commerce.
Solid and Striped Hired its first design director in order to go full lifestyle, against the advice of Ben Stiller.
Swift, Taylor Saw the success of the Costume Institute's exhibition and is now launching a clothing line in China.
Taylor, Tanya Won the US Woolmark Prize for women's wear. Congrats!
Tinker Tailor Moda Operandi co-founder Aslaug Magnusdottier's latest startup is shutting down after a year. Better luck next time.
Underage Models Are so hot right now. Again. Guess no one told Peter Copping.