Céline Model Karly Loyce On Her Beauty Splurges
It's all about the hair. And Opium – Yves Saint Laurent's Opium.
---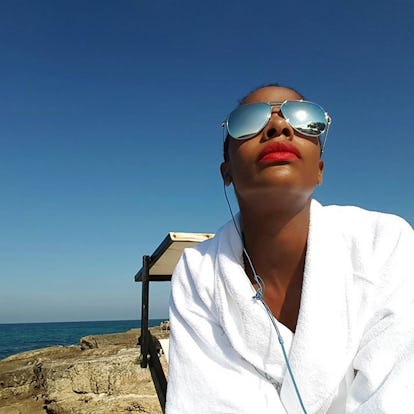 The model Karly Loyce enjoyed a busy spring season, notching appearances at Chanel, Stella McCartney and Giambattista Valli, to name just a few. The Martinique native also appears in Céline's spring campaign (after appearing in fall's) and in an editorial by Craig McDean in W's February issue. You won't be surprised to learn she prefers to splurge on hair care.
Your look in three words: Relaxed, cool, natural.
Never leave the house without: My signature scent!
Beauty from the inside out: I try to eat healthy every day since your skin can react easily from your diet. I focus on lean proteins with fresh vegetables.
Exercise regime: I love to throw down a yoga mat and practice yoga and pilates, especially in my own space!
Snack of choice: I love Cojen in Paris. Their healthy juices are amazing!
Beauty essentials: I really love La Roche Posay. They have many different products to choose from, no matter what your skin type or condition. I like to use their cream cleanser and Nutritic Intense moisturizer.
Skincare splurge: I splurge mostly on my hair care regime because I love to constantly try new treatments and oils.
Favorite hair brands: Oribe and R+Co are some of my favorite hair products used on and off set. They are made by the pros, so you really are getting the best of the best!
Pharmacy find: Nivea and La Roche Posay. Simple products that really work!
In-tub must-read: I'm more of a music girl in the tub. I like to close my eyes, and take that time to relax.
Always in your suitcase: I never travel without a jar of natural shea butter. It's the perfect on-the-go moisturizer and is one of the secrets to keeping my hair healthy and conditioned.
Fragrance of choice: Opium by Yves Saint Laurent.
Best advice from mom: Apply moisturizer every day on your entire body to have fresh, smooth skin.
Best advice from the pros: Have a facial once a month. You have to clean your skin regularly, and have a professional do extractions and specials masks is an investment for us models.
Beauty icons: Naomi Campbell.
Photos: Céline Model Karly Loyce On Her Beauty Splurges