It Girl, It Trend: Slumber Party
Style-setter Kate Foley models fall's dreamy pajama trend.
---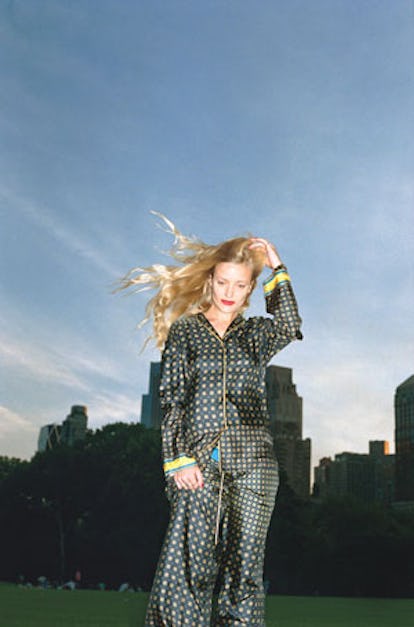 Even as a young girl growing up in an idyllic British village cottage, Kate Foley had a rebellious streak when it came to what she wore. "My mum and granny would always try to get me into cotton dresses and really cute, girly stuff, and I'd be throwing a tantrum in my old T-shirts and ratty old leggings and trainers," says the 22-year-old native of Slindon, in West Sussex. Clearly Foley never lost those early predilections. As a buyer for Opening Ceremony for the past year and a half, she has kept to her fashion guns—just as she did in earlier incarnations as a leather jacket–clad teenager visiting the local tattoo parlor ("It was the thing to do," she says) or as an assistant to stylist Charlotte Stocksdale. These days she has her eye on an Aurélie Bidermann wheat chaff ring, Louis Vuitton and Charles Anastase playsuits, and anything from Carven's fall collection—but she can just as easily lend her downtown cool to autumn's pajama-inspired look, as she does here. With her white-blonde hair and camera-ready bone structure, Foley could tumble out of bed and head straight to almost any event on the social calendar—though she's more likely to be found at Hotel Delmano and other casual haunts in her Williamsburg, Brooklyn, neighborhood. "I'm not hugely bothered about being at this or that," she says. "There's something going on practically every night, so you can kind of dip in and out."
It Girl, It Trend: Slumber Party
A look from Céline's resort 2012 collection
Stubbs & Wootton's silk velvet slippers
Hair by Wesley O'Meara for Tresemme at the Wall Group; makeup by Andrea Helgadottiir for Illamasqua at the Magnet Agency.