Katy Perry and Sasha Lane's Stylist Has Solved the Biggest Holiday Party Quandary
The perfect new evening bag, which can actually hold everything you need, is here, thanks to a collaboration between Jamie Schneider Mizrahi and cult-favorite accessories brand Hunting Season.
---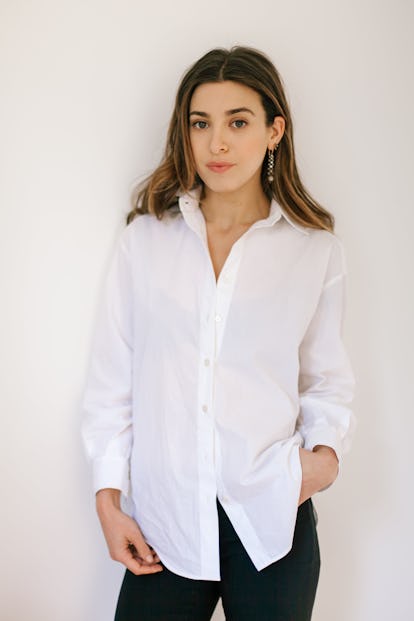 If there's a well-dressed woman in Hollywood, chances are she's worked with Jamie Schneider Mizrahi. Over the years, the in-demand stylist has dressed everyone from singer Katy Perry and model Kate Upton to up-and-coming actresses Riley Keough and Sasha Lane.
Now, Mizrahi is launching a capsule collection of bags, just in time for the holiday season, with Danielle Corona's chic, label-less accessories label Hunting Season. "It was very organic," she explained. The stylist had long been a fan of the brand, regularly recommending them to her clients for red carpet events. And, was a fan of Hunting Season personally. "I have been using the compact clutch for evenings as have a lot of my friends," Mizrahi shared.
The collaboration, which includes a drawstring pouch, the compact, and the roll, a cylindrical evening clutch, is available in three colors of velvet–the perfect textile for a holiday party look. "I love velvet," Mizrahi said, "It helps add something special to an outfit."
Even though they're made out of velvet, Mizrahi wants everyone to remember that they can be carried year-round. "The bags can actually hold everything you need!" she exclaimed!
See the Hunting Season x Jamie Schneider Mizrahi Collection
Here, Mizrahi shares more of her obsessions:
Describe your style: Relaxed, comfortable and timeless (for the most part).
Daily uniform: Vintage Levi's by Re/Done, gray t-shirt, black cashmere sweater and loafers from The Row.
Favorite Stores in L.A.: The Line, Curve, The General Store, Barneys.
Favorite Vintage Stores in L.A.: Decades, The Way We Wore, Scout, Sielian's.
Style icon: Vanessa Paradis.
Best recent discovery: Manuka Honey on the go.
Last purchase: The Row black boots.
Lusting after: Celine tailored coat in taupe.
Something you always travel with: My lucky $2 bill.
Something you'd never wear: White leggings.
Favorite accessory you own: My Taffin engagement ring.
Most prized possession in your closet: My Yves Saint Laurent wedding dress.
Street style piece de resistance: Saint Laurent black knee length coat.
Music you're listening to right now: The new Tribe Called Quest album.
Cozy fire-side read: I've been reading Lives of the Artists by Calvin Tomkins.
Favorite film/recent film you loved: American Honey.
Favorite gallery/museum or exhibit: Kayne Griffin Corcoran gallery in Los Angeles.
Watch the latest episode of "In Bed With" starring Ellie Bamber: