Kate Hudson Says She "Kind of Liked" Those Brad Pitt Dating Rumors
But in reality, they haven't seen each other in four years.
---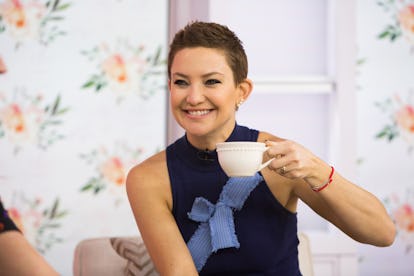 Nathan Congleton/NBC/NBCU Photo Bank via Getty Images
As glamorous as it may seem, being a celebrity comes with all kinds of baggage—namely, rumors. But, for Kate Hudson at least, every once in a while, there's one that's more amusing than offensive. The latest? That the actress was dating Brad Pitt, in the wake of his separation and impending divorce from his wife of three years, and partner of 12 years, Angelina Jolie.
The news item, which popped up earlier this year in January, was addressed by Hudson on Watch What Happens Live With Andy Cohen When asked about it, Hudson revealed, "That was the craziest rumor of all time."
As crazy as it may have been though, Hudson wasn't exactly bothered by it. In fact, she pretty much relished in it. "It was kind of an awesome rumor," she said. "I kind of liked it. I was like, 'OK, fine. We're having twins!'" Of course, Brad Pitt already has a set of twins of his own with Jolie, nine-year-olds Vivienne Marcheline and Knox Leon Jolie-Pitt, in addition to their first biological child 11-year-old Shiloh Pitt, and their adopted children 16-year-old Maddox, 13-year-old Pax, and 12-year-old Zahara. Hudson has her own children as well: 13-year-old Ryder Robinson with her Black Crowes frontman ex Chris Robinson and six-year-old Bingham Hawn Bellamy with her Muse frontman ex Matt Bellamy.
"There's nothing true to that," she said of the rumor. "As a matter of fact. I hadn't actually seen him in, like, four years." Instead, Hudson has been focused on her relationship with musician and Chief frontman Danny Fujikawa, who she made her red carpet debut with this past May at the premiere of her mother Goldie Hawn's film with Amy Schumer, Snatched.
Brad Pitt has been busy anyway, taking solace in sculpture—"There's a lot of manual labor, which is good for me right now," he told GQ earlier this year—and listening to Frank Ocean and Bon Iver. He's also been spending time self-reflecting. "I just started therapy. I love it, I love it. I went through two therapists to get to the right one,"he said. "Sitting with those horrible feelings, and needing to understand them, and putting them into place. In the end, you find: I am those things I don't like. That is a part of me. I can't deny that. I have to accept that. And in fact, I have to embrace that. I need to face that and take care of that. Because by denying it, I deny myself. I am those mistakes. For me every misstep has been a step toward epiphany, understanding, some kind of joy."
Related: Brad Pitt's Exes (and Tabloids) Apparently Can't Leave Him Alone
Kate Hudson, Actress and Activewear Entrepreneur, Explores the Sounds of Sequins in ASMR