Kate Hudson: Homegirl
What's Kate Hudson doing in the Pacific Palisades? Turning her childhood home into a plush crash pad for herself, her rock-star husband and their headbanging son.
---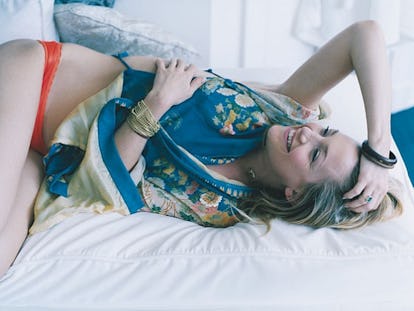 Seen from the front yard, Kate Hudson and Chris Robinson's house in the Pacific Palisades has an air of tidy East Coast propriety. It suggests cashmere twinsets, roast beef dinners and a subscription to The Wall Street Journal. But walk through the front door and the mood changes, as if a band of bohemians had arrayed their parents' house with souvenirs of a world tour. Graphic paintings of the Kama Sutra hang near a Georgian mantelpiece in the living room, and the dining room's traditional table is illuminated by a large—and vaguely sinister—all-black Murano glass chandelier. A whiff of incense emanates from the pool house out back, which, with its blaring rock music, pulses like the hippie heart of the establishment.
Hudson in the master bathroom.
"This is Chris's room," Hudson says brightly as she begins a tour of the property with a visit to the studio of her husband, founder of the multiplatinum rock band the Black Crowes. "Your man always has to have his own space."
Inside the small cabana, a thick sheepskin rug covers the floor, records and CDs crowd the shelves and, dead center, beneath a rustic candle chandelier, is an oversize Edwardian sofa covered in dark leather. It's one of the only things from Robinson's bachelor life to find a place in their conjugal home, because, as Hudson explains, it has a very particular sentimental significance to the couple.
"When we first met, this here is the couch that Chris had in his New York apartment," she says. "It's the couch where we first actually—" Hudson interrupts herself in the name of discretion and quickly recalibrates her explanation. "It was the only piece of furniture in his apartment" is how she decides to explain its role in their early courtship. "So we held on to it."
Just then, Robinson lopes in, wearing tattered jeans and silver polish on his toenails. "Honeeey," he whines in mock alarm. "You can't let the media into the heart of the Palisades leftist community. Don't you know the rules? It's us versus them. They're the new cops."
He turns, smiling, to the visitor with a tape recorder in his hand. "I'm Chris," he says, bobbing his head. "I was teasing."
As if to prove that he is willing to play nice with the press (although Hudson later whispers that he hates media intrusions), Robinson tells a story about listening to music with the couple's 19-month-old son, Ryder, in this room a few minutes earlier. (Ryder clearly has music in his blood: He likes to headbang to Lynyrd Skynyrd.) As if on cue, Ryder toddles past in a diaper, closely followed by a nanny.
"Hi, dude!" squeals Hudson. "Where you goin'?"
"Lemons," says Ryder intently, his long blond hair bouncing around his shoulders.
"You're going to get lemons?" she calls after him. "Making lemonade?"
Oblivious to her questions, Ryder dashes on toward his destination, a lemon tree just outside the door. Hudson and Robinson watch him go with the rapt attention particular to young parents.
Robinson breaks the spell first. He turns to me and says dramatically, "Forget everything you've seen here." He and Hudson share a loud, slightly strained laugh, as if to blot out this unexpected glimpse of their unusual but charmed life, their little corner of rock 'n' roll paradise.
It's the day after the red-carpet premiere for Hudson's latest film, the bayou ghost tale Skeleton Key, and when she sits down to chat underneath a poolside loggia, she yawns loudly and professes to be worn out. But she looks radiant, a carbon copy of her mother, Goldie Hawn, at her ditzy blond best. Hudson's hair is a tumble of spun gold, and her wide-set eyes are emphasized by a dusting of sparkly white powder.
During the course of the interview, Hudson is bubbly and relaxed, with an offhand confidence that belies her 26 years. Gracious and professional, she has the manners of true Hollywood royalty and takes pains to downplay her privileged background. Asked at one point if she was aware as a child of her mother's fame—and that of Hawn's longtime partner, Kurt Russell—she admits that she was, but insists that it didn't define the family's home life. (Russell is Hudson's father figure, since she isn't especially close to her biological father, musician Bill Hudson. "I see him every once in a while," she says of Hudson senior. "I run into him and stuff.")
"We just don't find our business that interesting," Hudson says, as if the family business were potato farming. "When I was growing up, we never talked about what our parents did. They never talked about their work when they came home. And it's still like that. Now when we go around the table, it's like, 'Ryder said "tattoo" for the first time.' That's the focus."
Hudson clearly adores her family, and she reveals none of the competitive stain that marks some mother-daughter relationships. Still, she says that even today she wouldn't think of asking career advice at a family reunion. "If I was turning to my parents," Hudson says wryly, "I don't know why I'd be paying 10 percent to my agent."
It's a savvy if not entirely credible remark, and it shows the quick wit and self-deprecating humor that have made Hudson one of Hollywood's most likable young actresses. She shot to fame five years ago with a memorable performance as rock groupie Penny Lane in Cameron Crowe's Almost Famous and established her box office benchmark with 2003's $100 million—plus hit How to Lose a Guy in 10 Days. After last year's forgettable Raising Helen and the uncharacteristically gloomy Skeleton Key, the upcoming romantic comedy You, Me and Dupree, which begins filming this month with Owen Wilson and Matt Dillon, promises to make better use of Hudson's unparalleled ability to light up the screen. Beyond that, she is beginning to craft her own vehicles and is developing a drama about a father-daughter relationship called Sleight of Mind.
"Katie always knew what she wanted," says Hawn. "She's very, very put together. I would give her advice if she needed it, but I don't think I have advice to give. You set your kids up right, and they give you advice."
Like her mother, Hudson seems determined to have both a career and a family. She admits that having a child complicates the logistics of her schedule but doesn't see a career hiatus as an option. The notion of hard work and self-sufficiency, which Hudson espouses at several points in her conversation, was clearly a central theme in her upbringing.
"Kurt and I were taskmasters," Hawn says when asked about her daughter's work ethic. "We let them all know when you come from a family that has succeeded, you have to do what you do a little better."
As energetic and optimistic as she is, though, Hudson admits that the responsibilities of grown-up life can at times become burdensome. "I have my breakdowns, like everybody else," she says. "I have moments when I just feel like I haven't touched the ground in months. Being a mother and a wife, you want to take care of everybody else, and then you forget about yourself. Sometimes that ends up showing itself in little miniature breakdowns, when you don't understand why you're emotional or why you can't get out of bed in the morning. You realize you've got to go do something for yourself."
One big thing Hudson did for herself two years ago was buying this house. After a long search in which she and Robinson unsuccessfully bid on five different Malibu properties, she finally found a nest to feather when she was six months pregnant with Ryder. One is tempted to say that fate delivered it to her, since it was Hudson's own childhood home, which Hawn had bought when she was six months pregnant with Hudson in 1979. The four-bedroom house was originally built for oddball director James Whale, whose life was dramatized in the film Gods and Monsters, and Hawn expanded it during the 12 years she lived there with Russell, their brood of four children—and a clutch of chickens in the backyard. "I can't explain how much I loved it," says Hawn. "The only reason we moved was because it became too small."
It was, as you might expect, a lively household. Hawn remembers that once when the children were young, she needed a new car and decided on a whim to test-drive a Bentley convertible. Accompanied by a minder from the dealership, she took it home for Russell to inspect, but when the front gates swung open, she realized with horror how the compound must have looked to a stranger. The yard was littered with tricycles, toys and a wooden treehouse, while the garage door was in splinters from where son Wyatt used it as a backboard for hockey practice. Russell, hearing her drive up, dashed out the front door in only his underwear, and all four children tumbled out after him.
"It looked like the Beverly Hillbillies," Hawn says, adding that to make matters worse, when she opened her car door—chipping its paint on a brick wall alongside the driveway—all three family dogs leapt into the car's leather-clad interior. "I looked at the guy with me and said, 'Don't worry, I'm buying the car,'" Hawn says, breathless with laughter.
Hudson, understandably, jumped at the chance to move back in. Robinson, though, was reluctant. "I said, 'Trust me. Please,'" Hudson remembers. "'You will love this house when I'm done with it.' And he said, 'All right, man, you're my wife. I trust you.'"
Hudson found herself flooded with memories, particularly of her maternal grandmother, and of the family's annual Christmas party: As a little girl she was captivated by Warren Beatty, and later she had her first crush, on a bartender named Kevin. Soon after she and Robinson moved in, Hudson walked out by the pool and, feeling the warmth of the brick patio beneath her bare feet, suddenly burst into tears. She explains that she and her brother used to soak up the warmth on those same bricks after swimming.
The house may have been full of memories, but Hudson and Robinson found that they were lacking other essentials—like a place to sit down. "We thought we had a lot more than we did," groans Hudson. "We took out all our wedding gifts for the first time, and we had a lot of stuff from our New York apartment, and other stuff from storage. And we had nothing! All we had were mementos of our travels. We were sitting in empty rooms on a stool."
Hudson met her future decorators, Robin Standefer and Stephen Alesch, through friends Ben Stiller and Christine Taylor, who had hired the former set designers after they worked on Zoolander. Their firm, dubbed Roman & Williams after the designers' grandfathers, has a style that could be summed up as lived-in eclecticism, with lots of patinated wood surfaces, rich textiles and piled-up books. It's a bohemian look perfectly in sync with Hudson's own taste. At their first design meeting, Hudson showed up with a sheaf of pages torn from old magazines and design books—only to find that Standefer's inspiration board included a number of the exact same images.
Hudson told the decorators she wanted a house that was livable but with a hint of formality—"comfortable but with one uncomfortable piece in the room" is how she puts it—and a touch of Asian influence. Standefer says Hudson was an ideal client, with "huge" patience for comparing fabric swatches and discussing passementerie for the upholstery.
"Kate and Chris realized they needed support," says Standefer, "but they're creative people. They wanted to be involved. And so it became kind of like an art project. It was inspiring, just to see them there. They're not precious. They really live."
Even though Hudson bought the house as a retreat from her and Robinson's peripatetic life, she admits that they spend only a fraction of their time there. The couple also rent a town house in downtown Manhattan, but most often they're traveling. The day after this interview, they hit the road for an ongoing Black Crowes reunion tour. Afterward, Hudson planned a quick jaunt to New York to promote Skeleton Key, then a brief stop in L.A. before heading out for more concerts. Hudson seems totally at ease amid all the flux, and she is devoted to touring with her husband.
"I kind of feel like I live vicariously through him," she says, adding the unexpected comment that her lifestyle on the road with Robinson is "more [who I am] than what I do for a living." It's the one subject she won't elaborate on, saying that her private life on tour with Robinson is "something in my life that nobody will ever really know."
The couple has been together for almost six years now. They married on New Year's Eve 2000, just nine months after meeting in New York. "My mom always said I was the little girl who would jump in the deep end when I didn't know how to swim," says Hudson. "That's kind of how I got married. I jumped in the deep end and figured he wouldn't let me drown. And he hasn't yet."
The starlet—rock star marriage may seem like a combustible pairing—and, in fact, rumors circulated last year that the marriage was in trouble—but Hudson says that what she and Robinson experience are the expected ups and downs.
"We're pretty well suited for each other," she says. "We're not perfect. I don't think any relationship is perfect, but we appreciate each other and respect each other. Your greatest hope and desire is that you're with someone for the rest of your life. Is it possible? I don't know. But even if, God forbid, we didn't make it, he'd always make me laugh. It's a beautiful thing."
At the end of the interview, Hudson heads upstairs to finish her house tour with a visit to her bedroom. But before she gets there, she stops at the wainscotted landing atop the stairs and points out Robinson's collection of vintage rock photographs. Surrounded by images of Jimi Hendrix and the Rolling Stones at their apex is a more recent snapshot, one of Hudson and Robinson on tour, stretched out in the back of a limo in all their bohemian finery. They're both laughing.