Kate Middleton Finally Realizes She Should Wear a Face Mask
Six months into the pandemic, and two weeks after the British government required them for English enclosed public spaces.
---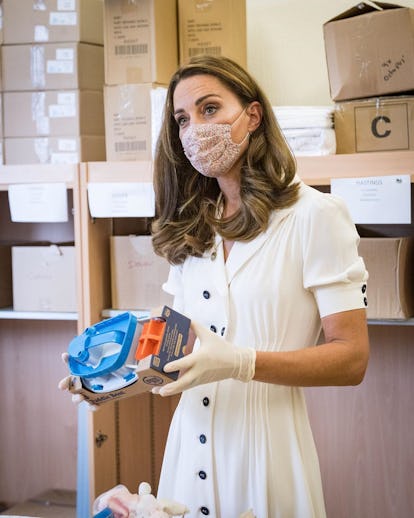 Courtesy of @kensingtonroyal
There are times when it's acceptable to remove one's face mask, and a brief photo op is arguably among them. That would be especially true for a public figure like Kate Middleton, who resumed her regular royal duties—which is to say meet and greets—in June, starting with a visit to a Fakenham garden center ahead of its reopening.
Since then, Middleton and her husband, Prince William, have kept (relatively) booked and busy. They've met with staff and volunteers at a local hospital, and even joined some for afternoon tea. They've met with two emergency responders and two mental health counselors to launch a mental health and frontline support fund in response to COVID-19. On her own, Middleton has met with parents and toddlers for a BBC segment, met with the staff of a children's hospice center, and gardened with families and volunteers.
Each engagement was intended to address the difficulties of the pandemic. And while the Duke and Duchess have (sometimes, sort of) kept (some) of the NHS's recommended 6.5-feet distance, on each occasion, they failed to wear a face mask.
So when Middleton and William turned up at a Sheffield food bank for baby supplies wearing masks on Tuesday, it marked a milestone: the very first time they've covered up during a mid-pandemic public appearance. The move made international headlines, and dominated the covers of tabloids like the Daily Express, the Daily Mail, the Daily Mirror, and Metro. Express even enlisted a body language expert to analyze Middleton's appearance, concluding from her "compensatory gestures" and "expressive eyebrows" that the mask increased the duchess's confidence and made her feel "more assertive." Naturally, the mask in question—a floral design by Amaia, which donates 30 percent of mask proceeds to the NHS—sold out.
And yet, by the next day, the mask was gone. Though the workers Middleton and William met with on a surprise visit to Wales didn't seem to mind; in fact, many of them weren't wearing masks either.
Thankfully, Middleton and William aren't done with mask-wearing just yet. Both pulled theirs out for the second time ever at another point on Wednesday—ironically enough while they were outside, even though the coronavirus is known to spread more easily indoors.
In fact, as of July 24, Britons are required to wear face masks before entering and while inside enclosed public spaces in England. There are several exceptions—like children under 11—but royals are not among them. And they seem to realize as much: Four days after the rule went into effect, Duchess Camilla became the first British royal spotted wearing a cloth mask.