Kate Middleton Dresses in Green to Meet Ireland's Most Important Dog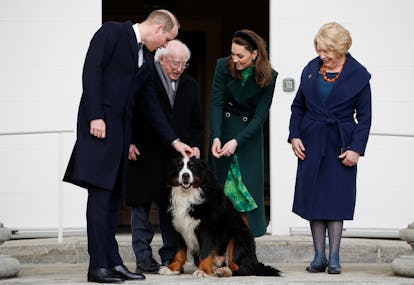 Despite all the supposed royal chaos, Prince William and Kate Middleton are still maintaining a regular schedule of royal engagement and tours. Although their latest international trip is a mere three-day jaunt across the sea to Ireland, it's historic for a few reasons. For one, it's the first official trip they've taken to the country as a couple. For another, they also met Ireland's most important dog.
As one of their first duties on the tour, William and Kate met with Irish President Michael D. Higgins. This might have been a relatively boring photo op if it weren't for the fact that Higgins is a fascinating character. Re-elected in the biggest landslide in Irish history, Higgins is a longtime left-wing politician who also happens to be a published poet and has been compared to Danny DeVito by the Internet. He also happens to have two very good Bernese mountain dogs, Bród and Síoda (that's Irish for "Pride" and "Silk," respectively) who frequently join him on official business.
The meeting with William and Kate was rightfully included on the dogs' official itinerary. (Síoda, however, was reportedly resting at home with a paw injury, but Bród is known for being the biggest ham in front of the cameras).
Appropriately for the Dublin location, Kate showed up in a green separates Alessandra Rich outfit, which she paired with a darker green coat from Catherine Walker.
Though Kate looked fittingly chic, it was Bród who took center stage for the official group portrait. He was, naturally, rewarded with pets.
The dog also joined the group for the ceremonial ringing of the Peace Bell.
Eventually, however, Bród decided he had other things to attend to.
The meeting was not all pets and bell ringing. It was also Kate and William's first international trip since the United Kingdom officially left the European Union. The choice of Ireland was not at all insignificant in light of Brexit. While Northern Ireland remains part of the United Kingdom (and hence is no longer part of the EU), the Republic of Ireland is its own independent country and remains part of the EU. The questions of how to deal with the Irish border was a significant sticking point during Brexit negotiations. Though Brexit was apparently discussed, the meeting was mostly symbolic. Not only are Kate and William royals, but the office of Ireland's president is seen as mostly ceremonial as well.