Kate Middleton Speaks Out in a PSA for Children's Mental Health Week
She's partnered with the Place2Be charity.
---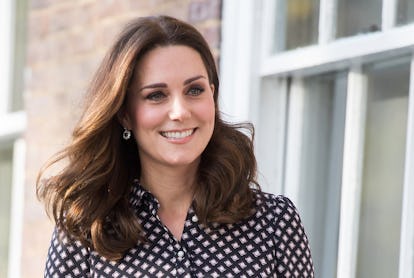 Samir Hussein/WireImage/Getty Images
Just a few weeks after taking a solo royal outing to visit a school in West London that works closely with British children's mental health charity Place2Be, Kate Middleton has partnered with the organization once again to continue her work of raising awareness about childhood struggles with mental health. The Duchess of Cambridge kicked off the UK's Children's Mental Health Week (its American equivalent is the first week of May) bright and early Monday morning by releasing a PSA, via the royal Twitter account, about her work with Place2Be.
"Childhood is an incredibly important moment in our lives. It is the time when we explore our personalities, discover the potential that lies within us and learn how we be ourselves. Our experience of the world at this early stage helps to shape who we become as adults and how we begin to feel comfortable in our own skin," the third-time mom-to-be says in the PSA. The video is filled with clips of Middleton painting and chatting with parents and students at Feltham's Reach Academy, some of whom also share their own experiences with mental health in the video. "Some children will be facing tougher challenges than others, but I firmly believe that while we cannot change their circumstances, we can ensure that every child is given the best possible support to ensure they fulfill their true potential," Middleton continues. "This is best achieved when we, the adults in their lives, work together to give children the emotional strength they need to face their futures and thrive."
The 36-year-old finishes the PSA with a call to action. "Schools and families occupy a special position at the heart of every child's life, and that is why I'm proud to support Place2Be's work this Children's Mental Health Week. Whether we are school leaders, teachers, support staff, or parents, we each have a crucial role to play," she says. "When we are open and honest with each other about the challenges we face, we can work together to ensure the children in our care have the chance to become the best versions of themselves."
Middleton has been a royal patron of Place2Be since 2013, in accordance with her, husband Prince William, and brother-in-law Prince Harry's commitment to advocating for improved mental health resources for children and adults alike. The duchess has made several other royal outings to increase mental health awareness in schools, community centers, and elsewhere. In November, just a few months before her visit to Reach Academy, for example, she visited London's Foundling Museum to learn about their art therapy programs and meet with families who have benefited from the museum's education and outreach program.
Related: Kate Middleton and Her Hair: Celebrating the Duchess of Cambridge's Bouncy Curls, Elegant Updos, and New Lob
17 of Kate Middleton's Best Hair Moments Over The Years
At the Charities Forum Event in London, Middleton unveils an even shorter version of her tousled lob paired with natural hint of blush on the cheekbones.

Samir Hussein
The Duchess of Cambridge debuted her newly chopped locks in her signature curls as she attends the first round on the opening day of Wimbledon 2017.

Photo by Getty.
Attending the Chelsea Flower Show press day in London in 2016, Middleton kept her hair in a tousled half up do.

Photo by Getty.
Wearing her hair in her signature blown out curls with a playful, braided headband, Middleton visits the Haida Heritage Centre in Canada in 2016.

Photo by Getty.
Attending a Christmas Day church service in King's Lynn, England, in 2015, Middleton wore her hair in a low bun with a soft smoky eye.

Photo by Getty.
Wearing her hair in a tousled high pony, Middleton attended the WW1 commemorative and Flying Day at Omaka Aviation Heritage Centre in New Zealand in 2014.

Photo by Getty.
Visiting the Christchurch City Council Buildings in New Zealand in 2014, Middleton wore her hair in a effortlessly tousled half do with a hint of blush on the cheeks.

Photo by Getty.
Attending the naming ceremony for the new Princess Cruises ship 'Royal Princess' in 2013, Middleton paired her tousled half up do with a chic black hat.

Photo by Getty.
Looking stunning at the official launch party for Team GB and Paralympics GB for the London 2012 Games, Kate Middleton's hairstyle pairs beautifully with her dark smoky eye.

Photo by Getty.
The Duchess of Cambridge wore her hair in natural waves while visiting the Tuvanipupu Island on their Diamond Jubilee tour in 2012.

Photo by Getty.
Arriving at the St. Andrew's School in Berkshire, England, in 2012, Middleton wore her brunette curls with side swept bangs and a nude lip.

Photo by Getty.
The Duchess of Cambridge looked radiant on her wedding day in 2011 wearing her hair in an elegant half up do with a hint of blush on the cheekbones.

Photo by Getty.
Celebrating her royal engagement to Prince William in 2010, Middleton wore her shiny, polished locks in soft curls with luminous skin.

Photo by Getty.
Wearing her brunette curls side-parted with a soft smoky eye, Middleton looked all done up at the wedding of Lady Rose Windsor and George Gilman in 2008.

Photo by Getty.
At the Cheltenham Festival in Gloucestershire in 2007, Middleton kept her look simple, wearing her tousled waves under a black beret.

Photo by Getty.
Attending the wedding of Laura Parker-Bowles and Harry Lope in 2006, Kate Middleton wore her brown hair in soft curls with a natural lip color.

Photo by Getty.
Kate Middleton at the premiere of 'A Street Cat Named Bob' in London, England, November 2016

Getty Images