Kate Moss Talks Her New Jewelry Collaboration With Ara Vartanian
The model worked with the jeweler on a collection inspired by old English legends.
---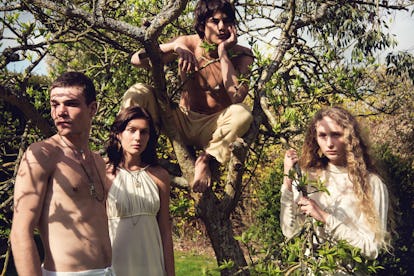 If you've always dreamt about raiding Kate Moss's jewelry box, now is your chance. The supermodel has collaborated with Brazilian jeweler Ara Vartanian on a new jewelry collection, available Wednesday, May 17th. Inspired by old English legends and the mystic, the pieces incorporate iconic symbols, such as swords reminiscent of St George, Patron Saint of England, who mythically slayed a dragon to save a Pagan town, crafted in 18 karat gold and set with rich stones including amethyst, citrine, garnet, and green goldstone. What's more, photographer Fenton Bailey shot four faces from the Kate Moss Agency—Elfie Reigate, Luka Isaac, Louis Baines and Anna-Lea Gardner—at the model's home for the campaign imagery and video. Here, Moss talks the inspiration behind the pieces, which will be available at the Ara Vartanian Flagship store in Mayfair, as well as Harvey Nichols and HarveyNichols.com, and shooting with her models.
How did this collection come about?
Ara was wearing a pendant and he explained to me that it was an amulet which brings good energy. I told him I loved it and he gave it to me there and then, and ended up having to make another one for himself—I felt so terrible! I said I wanted to make pieces like that: pieces that you can wear every day that mean something and make you feel special.
When did you first meet Ara?
I fell in love with one of his rings when I was in Brazil and they didn't have my size, so I went to Ara's studio and met him there. We've since become really good friends. I'm even godmother to his daughter.
What about his designs made you want to collaborate on a collection together?
Ara is so talented, it's so clever how he designs these extravagant jewels but makes them in such a modern way—you don't end up looking like an old lady with big diamonds, you can actually wear them and look cool. I wanted to collaborate so that everyone will know about Ara, and so that they will go to his store and see all of his other amazing things. But I've told him he must always keep pieces aside for me.
What was the inspiration behind the designs?
It all started because of Ara's pendant which I loved. He said it was a talisman, to protect you against danger. We wanted to design other pieces like that, which have good energy.
You shot the campaign with models from your agency—how did it go?
We had such a good day, it was the first time they'd all been together and they all got on so well and looked great together.
What are your own most-prized piece of jewelry?
I have so many, from antique pieces through to contemporary designs like Ara's. I once tried an emerald and diamond bracelet of his and couldn't leave the store without it, so that's definitely one of my favorites.
Related: Photographers "Always Ask" Kate Moss to Take Her Clothes Off