Kate Moss Will Be in the Love Actually Sequel
The model who is increasingly dabbling as an actress adds another credit to her blossoming IMDb page.
---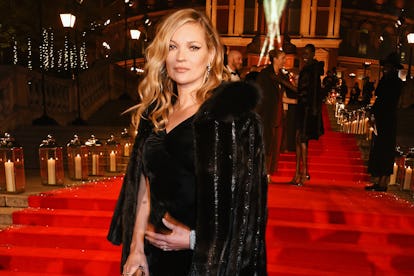 Dave Benett/Getty Images
Kate Moss's next high-profile appearance will be in a familiar spot: in front of a camera. Only this time, it's for a film and not a photo. The multi-hyphenate model (who has also tried her hand at photography, interior designer, model management, and music) is continuing her foray into acting with perhaps her most star-studded project yet. The current W cover star will be joining the cast of Love Actually for the short film of a sequel Red Nose Day, due out May 24 in the U.K.—on Red Nose Day, an event meant to bring attention to child poverty—and May 25 in the U.S., when the Comic Relief telethon will air on NBC.
The fashion icon's role was confirmed by a spokesperson for the event to WWD, but no other information was divulged about Moss's role, leaving a handful of questions. Will she be playing herself? Or, perhaps in a twist, Moss might become the love interest of another character opposite Hugh Grant, Colin Firth, Liam Neeson, Bill Nighy, Andrew Lincoln, or, even, Rowan Atkinson? Or perhaps Moss will share scenes with her fellow Chanel model Keira Knightly? Your guess is as good as ours.
What is known about the role is that it will mark Moss's third major acting role, if you include her appearance as herself in Zoolander 2 and last year's Absolutely Fabulous: The Movie, where she was accidentally knocked into the Thames river by the film's star and screenwriter Jennifer Saunders. (That's also not counting her many appearances in music videos, most recently for Elvis Presley).
Kate Moss, who has recently started testing out the waters of social media with the Instagram account for her talent agency—as WWD notes—gave her followers a Snapchat of her role in Red Nose Day. Apparently it partially involves Moss posing in front of a camera with a red nose, black cap, and leopard jacket.
So, it might not be too much of a stress, but Moss is always pro in front of any camera.
Photographers "Always Ask" Kate Moss to Take Her Clothes Off: