Kate Moss's New Jewelry Line Was Inspired by Her Travels, and Daughter Lila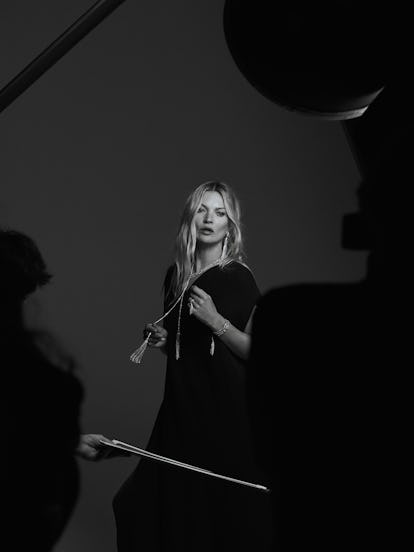 Courtesy of Messika
Kate Moss spent the past five months in the Cotswolds with a small quarantine pod: her boyfriend, Nikolai von Bismarck; her daughter, Lila Moss; a couple friends, and her dogs. She spent her days outdoors, taking walks and soaking in the countryside. Spending so much time with 17-year-old Lila was also a boon, and a bonding experience. "Having my daughter back was lovely, because that's not usually how it goes, is it?" Moss said on a recent afternoon phone call. "Usually they're off on their own. But I was like, 'She's all mine again.'"
Her current surroundings, however, signify a back-to-business mood. She's returned to the London neighborhood of Soho—perfect timing, considering Moss is launching her very first jewelry collection with Messika, the French haute joaillerie house. The Messika by Kate Moss line consists of 11 sets of earrings, necklaces, rings, bracelets, hat and nose jewelry, and even a few headpieces. XXL diamond hoops, mother of pearl and turquoise collars, and three-finger rings are on offer, alongside delicate, cascading earrings and baguette-cut diamond chokers. The collection, which Moss created alongside designer Valérie Messika, is, as the supermodel calls it, "eclectic." It was inspired, in part, by her travels as a teenager, the jewelry she accumulated along the way, and what Lila likes. "I trust her opinion. But when it comes to jewelry, she's newer," Moss said. "She's just a bit shinier than me, I think."
I heard some pieces in your own jewelry box inspired a number of the designs for the Messika by Kate Moss line. I'm curious what the stories behind those pieces are?
Yeah, the collection's got bits of my own collection in it. I've always loved jewelry, and I started collecting it quite young, so I've got things from when I was 18. At that time, I went to India while I was just traveling around, and I bought a lot of Indian jewelry. And then I got into more Art Deco things, especially Art Deco diamonds. I have big bangles, and then I have the more, you know, simple and fine things as well—like, a pavé diamond and platinum band—they're more delicate. They're the finer pieces that I would wear for an evening, or something.
Would you say that the bangles were influenced by your time spent in India, while you were traveling?
I think in India, and also spending summer in Ibiza, and when I'm on holidays. But I'm wearing the bangles today, I quite like bangles at the moment. And a cuff—a diamond cuff! I'm wearing the Messika, actually, the Art Deco bracelets which you can stack, but I've only got one. And I've got that with the Indian bangles, which I've got in my own collection. I just love mixing it all up, really.
It sounds like India was a huge source of inspiration for you. Did you spend a lot of time there when you were younger?
Yeah, I traveled around a bit, actually, with some friends. I love Indian jewelry, that's what really gets me, especially antique-wise. When I go into [antique jewelry dealers] S.J. Phillips and Bentley & Skinner, I find it quite hard to choose what I like more. That's why we did such an eclectic collection.
I wanted to ask if there were any editorials or photo shoots that played a part in the designs, but it sounds like it's more jewelry that you wear yourself, in your everyday life.
It's definitely more my jewelry. I mean, obviously sometimes when I go and shoot, I love the jewelry, and hopefully sometimes I get it and then it becomes my collection [Laughs]. I have had that happen before, when I can't leave without it. I'm like, I have to have it—but that's happened only a couple of times, really.
I'm also curious if your daughter helped you choose any pieces or played a role in the designs. Was she involved at all?
We've got quite different tastes at the moment. She's a teenager—she's got her own taste. But sometimes I do ask her, "What should I wear? Should I wear this one or this one?" And she knows, I trust her opinion. But when it comes to jewelry, she's newer—she's not so much into the antique jewelry like I am. She doesn't like Art Deco or bohemian styles.
What does she like?
I bought her Messika—she wanted the Gigi Hadid collection last year, so I got her that. She wanted, for her birthday, a diamond ankle bracelet. I was like, I've never heard of anything so decadent in my life. She wears it, and I'm like, Wow, that's kind of amazing. But I wouldn't even do that. They're quite out there, the kids these days. I mean, I would never, ever have a diamond ankle bracelet. I think we've got a diamond ankle bracelet in my collection, but it's more hippie. She's just a bit shinier than me, I think.
What is it like to launch a collection during a pandemic? Did you work on the Messika by Kate Moss collection remotely at all? Or was it already done at that point?
It was done by then, luckily. We did do Zoom calls, because [the designer, Valérie Messika] was in Paris. But mostly we were lucky—I was in Paris for a while, she came to London a few times and we got it done. But it's a shame because we have to postpone the events due to lockdown. That's a bore, but it is what it is. People will still see it. We're delaying it, but we'll get a party eventually.
This is a very random question, but I'm wondering what kind of mask you prefer to wear?
I like Susie Cave's line, The Vampire's Wife's masks. They're really beautiful—they're silk, and they come in their own little silk bags. They're really delicate and feminine—they don't hurt your ears, either.
Related: Naomi Campbell Recalls That Time She "Kidnapped" Kate Moss